Full Deck Solitaire
By GRL Games
Open the Mac App Store to buy and download apps.
Description
NOW 63 deliciously delightful solitaire games for your Mac! The new games and extra animated backgrounds are available as an In-App-Purchase on Mac OS X 10.7 or later.

Designed by a Mac and Solitaire loving Mom and Daughter, Full Deck Solitaire is a beautiful card game with an easy to use user interface. Sixty three uniquely different variations of Solitaire not seen in many other games keep even the most seasoned guru occupied. Statistics for each game let you know how many hours you have played, games you have won and your highest score for that game. A uniquely smart three level hint system lets you know if there are moves to play and will even shake the cards if you can't quite see that elusive move.

The game has an option of a classic background, your own wallpaper, or a gorgeous moving video of the ocean under the Moon with two more amazing animated backgrounds included with Game Pack One.

FREE Games include Klondike 3 Card, Klondike 1 Card, Vegas Solitaire, Freecell, Thieves Of Egypt, Forty Thieves, Red And Black, Royal Parade, Demon, Canfield, Canfield 1 Card Turn, Double Canfield, Spider 4 Suit, Spider 1 Suit, Spider 2 Suit, Pyramid, Tri Peaks Solitaire, Golf, Golf Around Corner, Gaps, Montana, Beleaguered Castle, Bisley and Mrs. Mop. Many of these classic games are unique to Full Deck Solitaire!

Game Pack One adds Clock Patience, Grandfather's Clock, German Clock, Captive Queens, Scorpion, Scorpion 2, Wasp, Three Blind Mice, Osmosis, Osmosis By The Book, Yukon, Russian Solitaire, Chinese Solitaire, Australian Patience, Fortress, Pyramid Golf AND Aces Up!

Game Pack Two adds Miss Milligan, Demons and Thieves, La Belle Lucie, Trefoil, The Fan, Super Flower Garden, Storehouse, Cruel Solitaire, Baker's Dozen, Spanish Patience, Castles in Spain, Portuguese Solitaire, Good Measure, Baker's Game, Eight Off, Penguin Solitaire, Seahaven Towers, Rank And File, Number Ten, Lady Jane, and Zerline!

Please write or visit our support page if you are having any problems at all. We want you to love this game!
What's New in Version 1.63
- fixes for Spider Solitaire
- Canfield detects end of game properly
- Mac OS X Updates
- Change to minimum supported version
Screenshots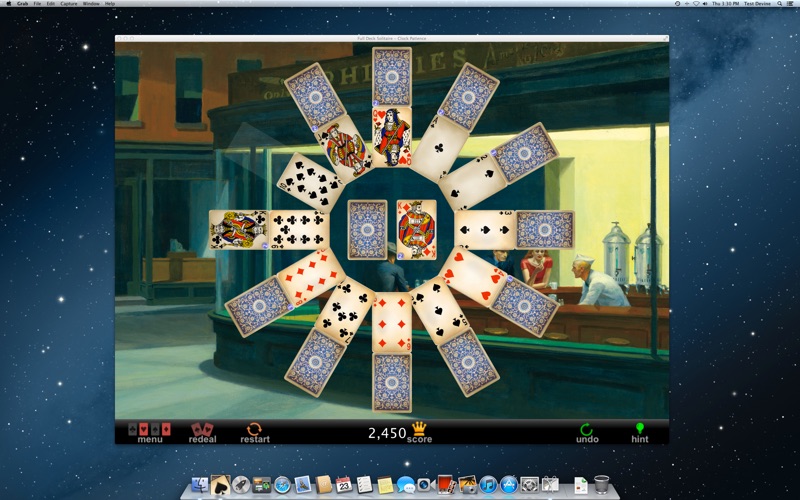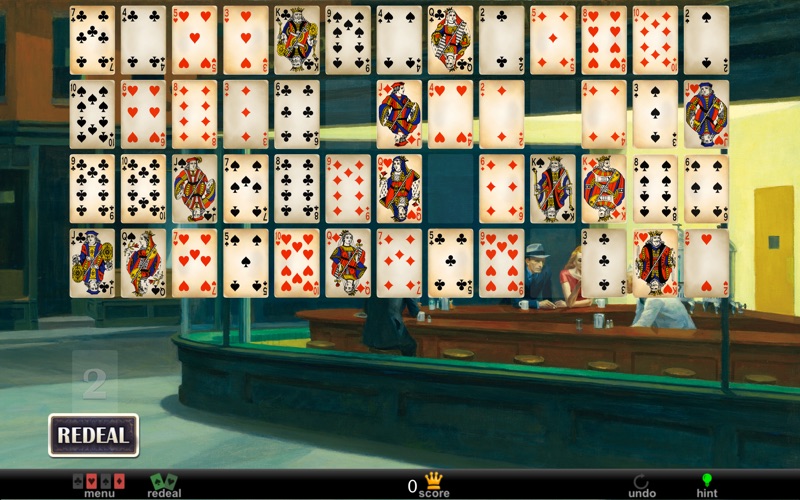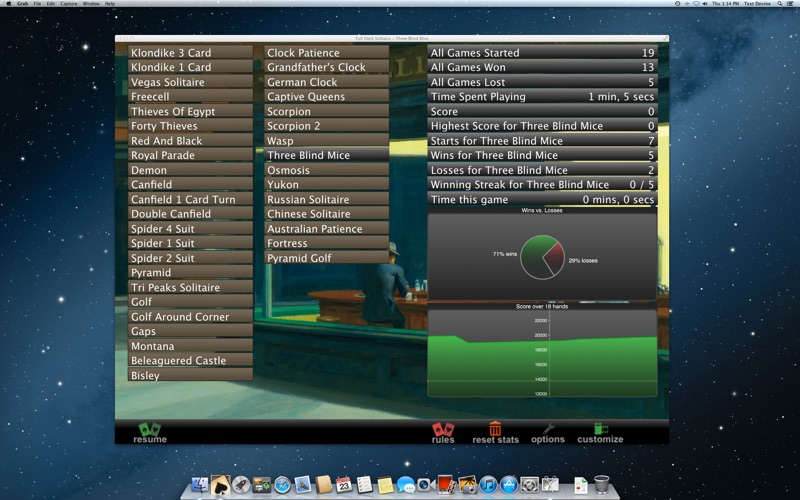 Customer Reviews
Enjoying it very much
I am enjoying playing Full Deck Solitaire very much. When my brain gets too cluttered up, it's nice to smooth things out by focusing on a game or puzzle for 10 minutes. I also play it sometimes when exercising on my recumbent stationary bicycle (which has a small table in front of it to hold my laptop). I find exercising by myself very boring, and Full Deck Solitaire takes my mind of it. I like the large menu of solitaire games. My aunt also plays it, and we have fun comparing notes on which solitaire games we like. I like the way the cards move on one click. I like the "auto" feature which organizes things quickly when that is needed. I have found that sometimes a "bug" appears on my version on my laptop, which causes the cards to do a pirouette when flipped, which strains the eyes to look at. But if I quit the game, it usually resolves itself. I love the "undo" option, in the cases when I mis-click. I think this is a great App! I am really having fun with it.
Background moving waves?
I love this background but it would be so much more wonderful IF there was ocean sounds of the waves or seagulls to be heard as well! The clarity of the cards and background also makes it easy to see. I have been playing for some time and just RECENTLY saw that the base card placard has the beginning card listed right in the space! DUH, I've been moving one of my next base cards to the far right because after a few cards have been added to the baseboard I had forgotten what I was looking for! So now knowing that it made the game more easy to play w/o making so many mistakes of forgetting what the beginning card was and skipping past it over and over! Thanks for the variety. I would like to see the 3 shuffles and a draw version in here that lets you fill empty spaces w/ any card, though. You name for this game is a similar version named "La Belle Lucie"
Sometimes irritating
For the most part it's a correctly-functioning collection of 40 or so versions of solitaire. But it's hard to play quickly. The layouts are concerned with appearance rather than comprehension; stacks of cards have to line up nicely, and the player can't tell at a glance which pile, e.g., is the reserve and which the foundation. Card movement is finicky, and while your eye will see that card A should be on card B, a single click will only move it to the first available space, and then the next, and then back to the first. How much easier it would be if a click selected a card or group of cards, and another designated its destination!

Automatic playout is too slow, and scoring, although mathematically correct according to the formula given in the game description, gives the appearance of being random in the actual operation.
View in Mac App Store
Free

Category:

Games

Updated:

Feb 17, 2016

Version:

1.63

Size:

21.7 MB

Language:

English

Seller:

GRL Games Inc
Compatibility: OS X 10.7 or later, 64-bit processor
Top In-App Purchases
Game Pack One$4.99
Game Pack Two$4.99