Full Fitness : Exercise Workout Trainer
By Mehrdad Mehrain
This app is only available on the App Store for iOS devices.
Description
● 24hr SALE! ONLY A DAY! ●

"Rated 4 out of 4 ... the best of its kind at the crowded App Store" - USA TODAY

The top selling fitness app of all time has returned! Becoming and staying fit has never been easier with the help of Full Fitness! Hundreds of exercises are explained with clear pictures, videos and text instructions all within the palm of your hand!

We understand personal trainers can be costly, but changing your workout routine is essential for keeping your body from growing accustomed to the same old exercises. If anything, adding some variety keeps things interesting and enjoyable - making it more likely that you will stick with the program.

For under the cost of a cup of coffee, Full Fitness not only provides instructions for hundreds of exercises, but it sorts them by body region, muscle of target, and the equipment needed. Use our easy-to-use exercise builder to create your own custom exercise routine, and then track your progress as you perform each exercise. Full Fitness allows you to log your exercises, view progress graphs, and email or backup the results online.

Not sure which exercises to perform? Use one of our 30 pre-defined routines to reach a particular goal. All of our routines are developed by licensed fitness professionals and come with complete instructions.

If you have no equipment available, or are more interested in cardio or stretches, Full Fitness has you covered! Tracking of cardio exercises, over 40 stretches and exercises and routines that require no equipment are all included! Full Fitness does even more. Track your food intake and body weight, schedule workouts, setup profiles to track more than one user, and more. This is the intuitive and beautiful fitness app you have been looking for!

FEATURES

● hundreds of unique exercises (more than any other app)
● clear images of people doing every exercise with full text instructions
● hundreds of video instructions for many of the more complicated exercises
● calorie tracker with over 90,000 food items
● cleverly designed logging feature to record and track each exercise
● ability to add your own exercise and track your progress
● exercises ordered by target (abs, arms, back, etc), muscle they target (deltoids, biceps, etc) or equipment they require (swissball, kettlebells, nothing, etc)
● 30 routines to reach various goals (weight loss, strength, ab definition, golf program, etc)
● ability to email your workout logs to yourself, back them up online or view them on the device
● graph your workout results to give yourself the encouraging boost you need
● stop-watch timer to keep track of your rest times in between sets
● weight monitor/BMI calculator and measurements tracker to view your progress
● schedule your workouts ahead of time so you never forget your workout routine
● ability to track MULTIPLE users
● iCloud support and the ability to import content from Full Fitness or original iFitness app
● workout sharing tool to share your workouts between other Full Fitness users

Unlike other fitness apps, everything is included - we do not believe in in-app purchases. Further, we are dedicated to providing regular free updates. The next update is under development. Write in and let us know what most interests you.
What's New in Version 3.1
With this update, we have fixed the most common bugs that have been reported to us at support@fullfitness-app.com. With the complete overhaul of the app in version 3.0, we expected that not everything would go smoothly - hopefully this addresses the issues many of you had. If something remains unresolved, please email us and let us know. We read everything, but because of the huge influx, we haven't had a chance to respond to all of them yet.

Just to remind our dedicated users - this is a passion project done by two developers. We never charge for updates or have in-app purchases. Your one time payment has kept this app running for over 5 years! Please help us out by leaving a new positive review, or updating an old review. It really helps us in keeping Full Fitness the leading fitness app on the AppStore.

Thank you.
iPhone Screenshots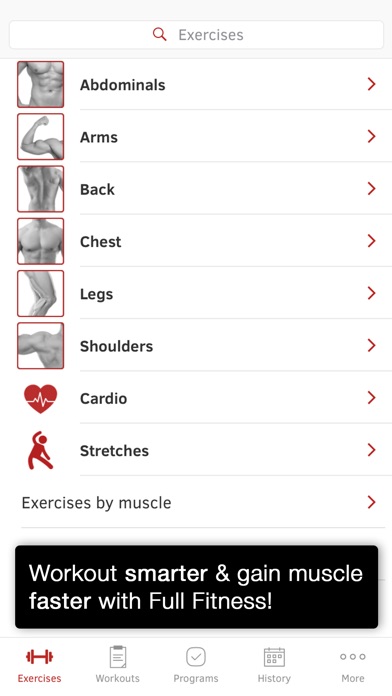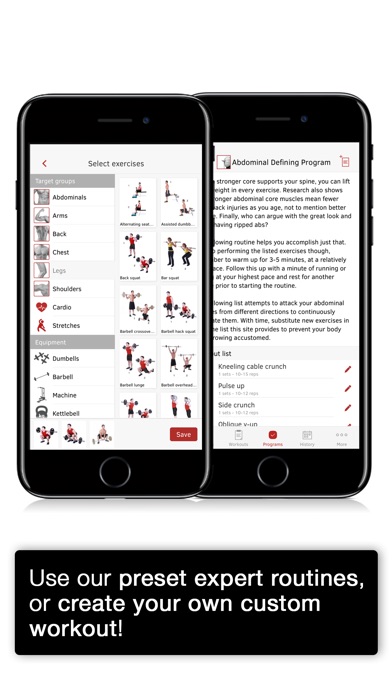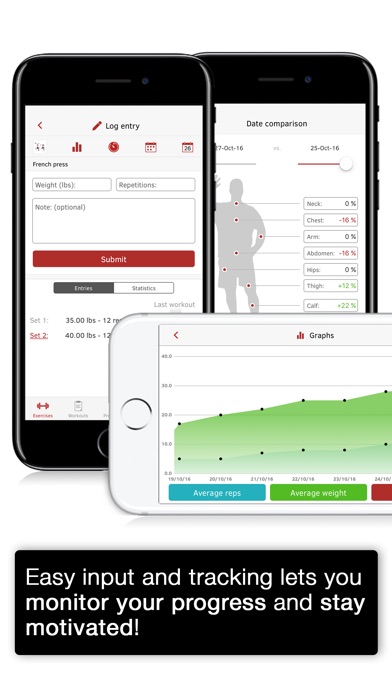 Customer Reviews
Thank you 3.1!!!
I among most, if not all, of the loyal Full Fitness app users were undoubtedly frustrated and turned off by the long awaited rollout of the apps version 3.0 that came out in November 2016. The app got a nice facelift but the usability of it took a nose dive and it was very hard to navigate workout history, review most recent information and even having to enter all the info for a set for each and every set was frustrating. Well it looks like the developers received plenty of feedback from it (I myself wrote a somewhat lengthy review of it) and version 3.1 is in! I took it for a quick test drive this morning before work and everything I asked for to be corrected has been. The workout history is in chronological order, the most recent lifts are on the log entry page and your weight and rep input stays in for easy re-entry. I can't wait to get back in that gym for a full workout and have my trusted, beloved and easy to use app back. Thank you to the developers for quickly correcting these major issue for the users.
I really really want to still love this app
Have used this for years. Loved everything about it. But now it works so so so slow, it's kind of a pain. I read about how the development team is only a couple of people--who have had some health issues and who now made a "long awaited update." (Not sure why people thought it needed changing.)

I saw in the reviews that people were unhappy, but then it sounded like they fixed some stuff?? Not sure what, because I still have lots of problems with it. As someone else mentioned, the history doesn't work at all for me. (can't even look at the cool graph anymore.). And whenever I go to change exercises there is a very long wait. And even when I go to record reps it takes like 20-30 seconds after I hit the submit button. What am I doing wrong? And if it's not me, then please just either fix it or offer the old version again. Please!! I really really don't want to change apps.
New Version
I like the new interface a lot. Things are cleaner and the app no longer crashes. That being said, the new version came with a a few huge problems. I use the "History" tab quite a bit to look at past workouts/progress. With the update, it is EXTREMELY slow loading, to the point that the app is almost unusable. Also, I wish they'd bring back the ability to simply tap enter when tracking sets of same reps/weight. You now have to enter it every time. I've also experienced workouts showing up as doubled, or being swapped to an incorrect date. Finally, again in the "History" tab, when you used to click 7 days, 14 days, etc, it would show which days over the past 7, 14, etc you worked out. Now, it simply shows your past 7 or 14 workouts. If these problems are fixed, this app is the best on the App Store for fitness tracking.
View in iTunes
$2.99

Category:

Health & Fitness

Updated:

Dec 20, 2016

Version:

3.1

Size:

105 MB

Languages:

English, Danish, Dutch, Finnish, French, German, Italian, Norwegian Bokmål, Portuguese, Spanish, Swedish

Seller:

Mehrdad Mehrain
Compatibility: Requires iOS 8.1 or later. Compatible with iPhone, iPad, and iPod touch.