Galaxy Control 2 Lite
By TopLineSoft Systems
This app is only available on the App Store for iOS devices.
Description
NEXT-GENERATION PATH-DRAWING GAME.

The game "Galaxy Control 2" is similar to "Flight Control" and other path-drawing games but "Galaxy Control 2" is more sophisticated game. The player of "Galaxy Control 2" is controlling spaceship traffic in some planetary system. The goal of the game is landing spaceships on proper planet with color matching spaceship's color, preventing collisions between spaceships, avoiding asteroids and staying away from the Sun. The spaceships in the game are capable to destroy asteroids by missiles. The planets are constantly moving by rotating around the sun. It is allowed to lose five spaceships in one game before the game is over. The player can select "Easy" or "Hard" game level and also select from three to seven planets present in the game.


GAME FEATURES:

* Astounding graphics: 3D planets and asteroids, burning sun, realistic explosions etc.
* Realistic sounds and several alternating music tracks on background.
* Random generation of planetary configuration for each game.
* Increase of game complexity.
* Danger warnings.
* Random asteroids with trajectory indication.
* Selection of "Easy" or "Hard" game levels (with/without planet and asteroid tracking lines).
* Selection among five planetary configurations providing different number of planets (from 3 to 7 planets in the game).
* Five spaceships can be lost before the game ends.
* Saving best game result.
* Missiles can be launched from spaceships to destroy asteroids.
* Continuation for already drawn path lines.
* Auto-Save and Auto-Restore (game can be closed anytime and next time the game starts it automatically restores state of play where it was interrupted).
* Game pause/resume.

What's New in Version 1.9
* Easy and hard game difficulty levels are added.
* Three-to-eight planet configurations selection is implemented.
* A number of bugs are fixed.
iPad Screenshots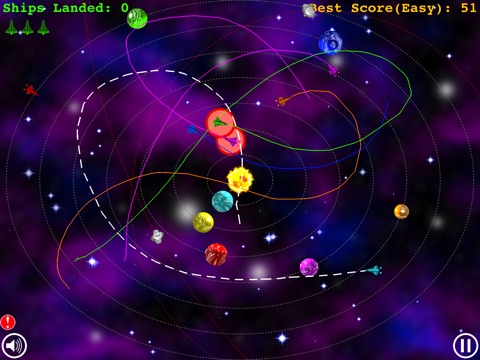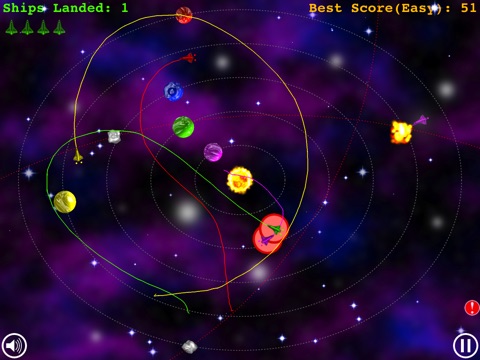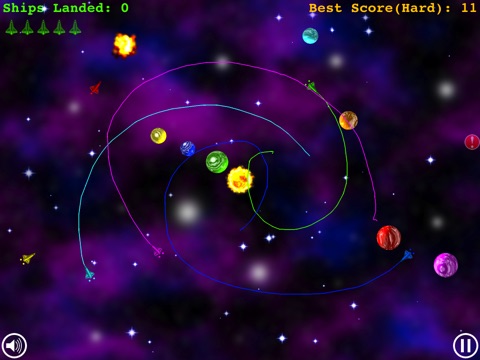 Customer Reviews
Family fun with planets and missiles
Galaxy Control 2 is landscape-orientation-only and is as fun for me on the iPad as Flight Control HD and Harbor Master HD. Though the graphics aren't as polished, the destinations all move around, which is an inventive twist that sets this game apart in its genre, similar to the uniqueness of Package Control. A cool thing is that you can touch the end of a path and extend it, without having to redraw the whole thing, so your hand is blocking less of the screen. Also, a handy "alert" sound effect occurs every time something either enters from the edge of the screen, or is about to collide with something else, along with a red "warning" circle near the entrance/collision.
~ ~ ~
You draw a line from the variously colored spaceships to wherever, attempting to intersect each one with a planet of identical color. Once they touch, the spaceship will vanish, representing a "landing"; accumulating "landings" is the point of the game. The spaceships all travel at the same speed and all look like the US Space Shuttle. The planets all have concentric elliptical orbits around a central star, yet in each new game, the planets have different sizes, colors, and speeds.
~ ~ ~
In this game, the biggest dangers are the asteroids that cross through this planetary system. A spaceship can pass through planets, but it cannot survive a collision with an asteroid, or the central star, or another spaceship. Every single spaceship has a really useful weapon: two straight-path missiles that can destroy an asteroid (or another spaceship). Double-tap on any spaceship to fire one of its two missiles. Dots behind each spaceship represent the number of missiles it has remaining.
~ ~ ~
During each game, the game can be paused, or the volume levels of the sound effects and music can be accessed. Before each game, you choose the number of planets (from 3 to 7) and whether or not the orbital paths will be visible (Easy mode = visible, Hard mode = invisible). It is much harder to play this game with invisible orbital paths, though the screen will be much less cluttered, so collisions will be easier to see early and avoid.
~ ~ ~
This app remembers the state of the current game when you completely close the app, whether you paused it first or not. Also, once you lose 5 spaceships, the game ends. For me, this iPad app was a delightful surprise and I recommend it to anyone who likes both astronomy and Flight Control HD or Harbor Master HD.
~ ~ ~
Incidentally, the iPhone version of this app (Galaxy Control) is limited as compared to the iPad version (Galaxy Control 2); there are always 5 planets with visible orbital paths, the difficulty escalates more slowly, and there are no missiles. The free version of each (iPad = Galaxy Control 2 Lite, iPhone = Galaxy Control Lite) is identical to its paid counterpart, except that the games all end prematurely by limiting the number of "landings" you can have to either 20 or 30.
View in iTunes
Free

Category:

Games

Updated:

May 24, 2010

Version:

1.9

Size:

10.8 MB

Language:

English

Seller:

TopLineSoft Systems
Compatibility: Requires iOS 3.2 or later. Compatible with iPad.
More iPad Apps by TopLineSoft Systems