Galaxy on Fire
By FISHLABS
This app is only available on the App Store for iOS devices.
Description
[Galaxy on Fire™, the original App Store classic that kicked off the most popular sci-fi series on iOS, is now available in a revised F2P version with re-balanced in-game economy and new features! Find out how it all began and learn more about the back story of Keith T. Maxwell, Mkkt Bkkt and Co!]

# # # STORY AND GAMEPLAY # # #
Galaxy on Fire™ is an epic space shooter and trader with adventure and RPG elements. In a huge galaxy with hundreds of planets and space stations, you take on the role of Keith T. Maxwell, a hot-headed fighter pilot who becomes a key figure in the Terran Forces' hard-fought war against an aggressive alien race known as Vossk. In the course of the game's main storyline, you'll be working your way up from gun-for-hire to squadron leader and stand your ground in all kinds of ambitious missions and assignments. During your adventurous flights you can collect loot from the enemy vessels you've taken down and sell it in order to equip your own craft with better weapons and power-ups. Besides the regular story missions, you will also be able to take on various freelance missions – sometimes dubious and sometimes lucrative – which will be given to you by shady alien characters.

If you want to progress faster, you can either obtain credit packs via in-app purchase or make use of a broad selection of offerwalls and other benefits. Of course, you can play the game fully without spending a single buck!

# # # TRUST THE MEDIA # # #
Galaxy on Fire™ has received raving reviews in almost all of the leading magazines and websites. While Pocket Gamer said that it is "phenomenally good [and will] change the way you think about mobile phone games forever", AppGamer proclaimed that GOF "is now an ambassador of the iPhone".

# # # TRUST THE FANS # # #
Thousands of fans have written 5-star reviews for Galaxy on Fire™ and called it "one of the best space fighter games on iTunes" (Oridin, 5 points out of 5) and "a fun game that allows you to play for hours" (Top Surgeon, 5 points out of 5).

# # # SPECIAL FEATURES OF GALAXY ON FIRE # # #
• 3D sci-fi shooter with trading system
• Vast universe with hundreds of planets and space stations
• Captivating story with lots of dialog and animated cut scenes
• 10 unique spaceships with different stats and capabilities
• Dozens of weapons, shields, drives and power-ups
• More than 20 hours of exciting game play
• Arcade-style survival mode

# # # JOIN THE COMMUNITY # # #
Get in touch with thousands of other Galaxy on Fire™ fans through our official website, forums and social media profiles!

Official DS Fishlabs Homepage - http://www.dsfishlabs.com/
Official DS Fishlabs Forums - http://forum.dsfishlabs.com/
Like GOFA on Facebook - http://www.facebook.com/galaxyonfire
Like us on Facebook - http://www.facebook.com/fishlabs
Follow us on Twitter - http://www.twitter.com/dsfishlabs
Check us out on YouTube - http://www.youtube.com/fishlabsgames

# # # PREPARE YOURSELF FOR THE NEXT ADVENTURE # # #
Don't miss the critically acclaimed sequel Galaxy on Fire 2™ and the two add-ons Valkyrie™ and Supernova™.

Download GOF2 HD (for iPhone 5, new iPad, etc) on the App Store - http://bit.ly/gof2hd
Download GOF2 SD (for older iOS devices) on the App Store – http://bit.ly/gof2sd-EN

# # # HARDWARE REQUIREMENTS # # #
Galaxy on Fire™ runs smoothly on the iPhone 3GS and all subsequent iOS devices. It requires iOS 4.0 or higher.
What's New in Version 1.1.6
WHAT'S NEW IN THIS VERSION?

• Re-balanced in-game economy
• Various creditpacks via in-app purchase
• Offerwalls and insterstitials to earn free credits

Don't miss the critically acclaimed sequel Galaxy on Fire 2™ and the two add-ons Valkyrie™ and Supernova™, featuring stunning console style graphics, over 40 ships with tons of equipment and a fully voice-acted storyline that takes over 20 hours to complete.
iPhone Screenshots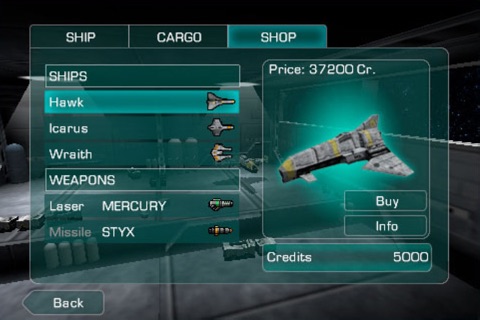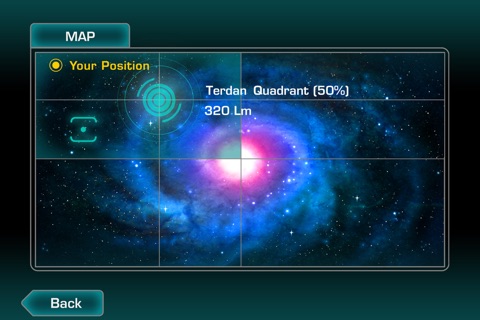 Customer Reviews
Was a good game until freemium came along
I loved this game it reminded me of playing wing commander in high school. It started out hard but if you kept playing you'd eventually be able to get yourself outfitted with a great ship and weapons. I recommended it to a friend who later chewed me out for trying to guile him into a freemium game. I checked my latest updates and saw they were "rebalancing" (breaking) the in game economy and pushing in app purchases(I think they were there before but the game allowed you to make enough cash on missions and loot that you only needed to use it if you were looking for a shortcut). Now, I dare not update for fear of having to deal with that nonsense. Such a shame it was a good game, but I can no longer recommend it seeing how it is a paid app and you now have to pay if you want to progress through the game at a reasonable rate.
This game...*mind explodes*
First off, I loved this game. Given the time of it's initial release, the graphics are understandable. I'm sick of those reviews who say "Gof2 was so much better...uggggghhhh!!!", well this was released years before iOS systems could handle graphics so shut your stupid mouths. The story is pretty good, the controls...iffy but works well after a while. God I remember playing this on my iPod years ago. I loved this game so much I bought gof2 on the first day of release. It's nice to go back and remember the past. Finally the music is well orchestrated, especially the planet/space station theme.
Not worth the download.
Diversity of weapons and performance upgrades is poor. Very poor. Zero strategy is involved.

Because of that and the 1980s-era enemy AI, there is zero strategy involved in battle.

Aiming fluidly is difficult because the controls haven't been tuned. This takes away even what little fun there is in mindlessly making bad guys go boom.

Most of the 'missions' are comically bad. The one that made up my mind to delete involved a deathmatch-type escort mission where you dogfight enemies until a timer runs out. A single enemy appeared, so I spent the biggest part of the 3-minute mission timer staring at a bland starscape.

The economy makes it extremely difficult to advance your ship's build. The trade system's wings are clipped by ridiculous travel fees. That pulsing IAP button might be tempting if the game was even mediocre.

Ship designs are bland, like the rest of the artwork.

The music is less awesome than this sentence.

So, we're pretty much down to the story, which means I've run out of nice things to say.

Conclusion: don't bother. The developers didn't.
View in iTunes
Free

Category:

Games

Updated:

Oct 01, 2012

Version:

1.1.6

Size:

23.8 MB

Languages:

English, French, German, Italian, Spanish

Seller:

FISHLABS
Compatibility: Requires iOS 4.0 or later. Compatible with iPhone, iPad, and iPod touch.
Top In-App Purchases
300.000 Cr.$2.99
50,000 Credits$0.99
120,000 Credits$1.99