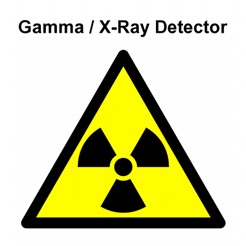 Description
OVERVIEW:
The application uses the CMOS Image Sensor of the iPhone 4/4s front camera to detect high energy photons generated by X-Ray or Gamma radiation sources.
Radiation measurements are presented as relative values. The image sensor is not a calibrated device to detect ionizing radiation in a perfectly reproduceable way which prevents absolute measurements in Gray (Gy) or dose equivalent in Sievert (Sv).

SETUP & STEPS FOR MEASURING:
1.) IMPORTANT: Make sure that visible light cannot hit the sensor by obscuring the camera lens, e.g. with a piece of black tape. The Sensor View needs to be completely dark and should merely show some noise.
2.) Place the device in a low radiation environment. The app needs to be in the foreground with an active display to be in measurement mode.
3.) Adjust the threshold slider to a value which sets the reading of the CPM to around 1-5 Counts Per Minute without a detected high energy photon. It is important that the threshold isn't set too low because the sensor noise could render the measurement results unusable. If the threshold is to high then the detector looses sensitivity.
4.) The image sensor noise depends on its temperature which implies that the threshold needs to be adapted accordingly.
5.) Position the device near to a radiation source to be measured.
6.) Because of the small size of the CMOS-Sensor it can take some time until a high energy photon hits the sensor. Plan for a longer measurement (several minutes) to detect weak radiation sources.
7.) Analyze the logged data by checking the CPM (Counts Per Minute), EPM (Average Energy Per Minute) and PEM (Peak Energy Per Minute) to identify radiation events. The application autodetects probable events and indicates them by a "+" sign in the log view.

MEASUREMENTS:
All readings are relative values by intention because the system isn't calibrated and consistent enough to calculate absolute values.
CNT - This is the overall count of activated sensor pixels. Even one high energy photon can activate several pixels which means that there is no direct correlation with the amount of X-Ray or Gamma photons hitting the sensor.
CPM - Counts Per Minute.
EPM - Average Energy Per Minute of the photons hitting the sensor during the measurement cycle. A reading significantly higher (delta > 10) than the threshold value identifies most likely a high energy photon event. EPM readings near the threshold indicate normal sensor noise.
PEM - Peak Energy Per Minute represents the highest value detected by the sensor within the last measurement cycle. A significant threshold delta (> 20) identifies an event which will be logged if the EPM criteria is fulfilled.
MCY - The Measurement Cycle is shown by a count down.

ONLINE MANUAL:
http://www.hotto.de/mobileapps/iphonegammadetector.html
The EVT Counter has been added which displays the High Energy Photon Events autodetected by the App [(EPM-Threshold) ≥ 10 and (PEM-Threshold) ≥ 20]. The resolution is limited to 1 event per minute.

Ratings and Reviews
science-geek amusement
As soon as I got this app downloaded, I tested it out near a CAT scanner. It was intuitive to use, read, and it showed big readings. Then I read the directions. :-)
Calibrating it to set the sensitivity was quick and easy.
Then this app led me on a science-geek scavenger hunt to find radioactive Fiesta™ ware for my sister who is an even bigger science-geek than I am. Getting readings in the antique store was a hoot. I think the owner had almost as much fun teasing me as I did 'scoring' a hit with some plates. Another customer warned me that I shouldn't be using that word out loud. :-)
Right now I'm attempting to get a reading from my smoke detector, but I don't know if the two 'hits' in 10 minutes were from the detector or background. I'll just have to keep playing with it. :-)
Maybe not for the 5?
It's intuitively functional but if there have been any structural changes to the iPhone 5 (or 5s) this might explain my inability to get any events after spending 10 or so minutes face down on my granite countertop. More likely me than the app.

nb. I used to use my 4s to line up our c-arm. Then it started getting single bit memory errors. Then double bit. A word to the wise, iPhones were not meant to be used in high radiation environments. Like c-arms or CT.
Great little app
No false positives on the background check and detected 8 events in a 20 minute count near a cobalt 60/ cesium 137 mixed check source. Great little app for a go/ no-go gamma x-Ray check.
Information
Seller

Stephan Hotto

Size

150.3 KB

Category

Compatibility

Requires iOS 5.0 or later. Compatible with iPhone, iPad, and iPod touch.

Age Rating

Rated 4+

Copyright

© Stephan Hotto

Price

Free
Supports
Family Sharing

With Family Sharing set up, up to six family members can use this app.