Genome MIDI Sequencer
By White Noise Audio Software
This app is only available on the App Store for iOS devices.
Description
Musicians can start tearing it up in the studio with Genome MIDI Sequencer (GMS), a powerful pattern based MIDI sequencer for the iPad. With GMS you can control all of your MIDI gear and apps* - sequence single patterns or an entire 16 track song.

GMS features standard MIDI features like Clock Sync, CC messages, Program Changes and more. It works wonderfully for sequencing MIDI gear like drum machines and tabletop synths. General MIDI files can be exported and imported for integration with desktop apps (some limitations apply**).

GMS also works great for sequencing other iOS apps. It features Audiobus and Ableton Link integration.

GMS supports any CoreMIDI compliant iPad interfaces such as the Griffin StudioConnect, Line6 MIDI Mobilizer II, iRig MIDI and others.

IMPORTANT NOTE: Though Genome now has a basic set of instruments, some MIDI gear or other music apps that support virtual midi connections are recommended for use with this app.

List of MIDI USB devices that do and do not work with the CCK: http://iosmidi.com/devices/

Features:
- CoreMIDI
- Network MIDI for sending MIDI to other iOS devices and Macs***
- New Instrument Rack with two built in instruments and effects
- Basic Audiobus support
- Ableton Link support
- Sends and Receives MIDI Clock Sync, Start and Stop events
- Also sends Note On, Note Off, Pitch Bend, Aftertouch, Channel Pressure and CC's
- Pattern Based, pattern changes occur on bar boundaries so song stays in sync
- On screen keyboard interface
- Up to 16 simultaneous tracks, unlimited number of patterns
- Song / live modes
- Scales
- Supports background operation for multitasking
- Record incoming CC's and Notes
- Undo / redo for most actions

Rated as a Killer App by Apps4iDevices - http://apps4idevices.com/read/genome-midi-sequencer.html

Computer Music gave it 4.5 Stars - http://www.musicradar.com/gear/tech/computers-software/mobile-apps/ipad-apps/genome-505059

* Apps must support virtual MIDI ports
** Supports exporting songs and patterns from GMS and importing MIDI loops (not complete multitrack songs).
*** Your local network conditions will affect performance. The Windows rtpMIDI driver is not officially supported at this time.
What's New in Version 2.0.3
* Fixes a bug with chord drawing
* Fixes a bug with the Ableton link menu causing issues with the pattern editor
iPad Screenshots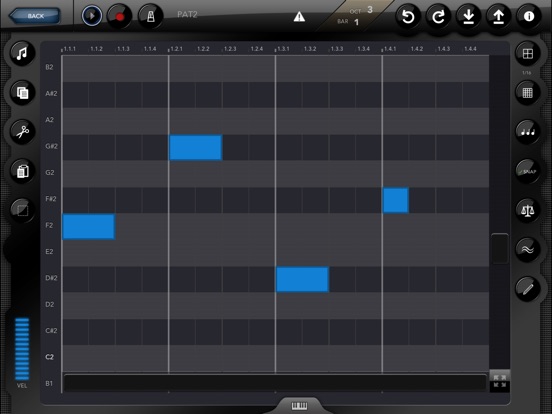 Customer Reviews
Best Sequencer
In my search of the app store for a midi sequencer for external hardware this app proves to be the most capable and versital. Most other apps are either too limited to things like single channel or simple step sequencers, or try to be a full production daws with libraries of built in loops and instruments that I have no interest in. This app is perfect for people who want to create actual compositions on multiple peices of external hardware. The 16 tracks of pattern based sequences that can be arranged into songs is an extremely powerful tool for both live performance and studio creation.

As far as the UI goes, I found it to be very intuitive and easy to navigate despite a lot of the critisms from others. Of course, a quick reference to the manual is necessary every now and then to understand a button or a setting, but the basic workflow is very easy to understand.

tldr: best midi sequencer for external midi gear on the app store. All functionality, no fluff.
Nope
This is the least user friendly music app I've ever attempted to use. The documentation didn't help much. All I was looking for was a sequencer that I could use with Audiobus to trigger my iOS synths. Trying to find something simple now that I wasted money on this pretty, but useless (to me, anyway), sequencer.
My Favorite Sequencer
OK, I don't have a rack of hardware synths—but I like to pretend I do! I have been using this app to sequence virtual synths on my Mac. I mostly use Propellerhead Reason, but also Apple's Main Stage. Genome MIDI Sequencer (GMS) executes Virtual MIDI on the iPad expertly, but resource limitations of my iPad Air mean I can only get about four synths/instruments running—but GMS has 16 tracks! I can get around this a little by using a multi-instrument app like bs-16i or SampleTank, but they have little flexibility in sound design and control—and GMS is a monster controller. But with Reason on the Mac I can easily get 16 instruments loaded, and with effects on all of them. (So, Reason is my pretend rack of synths.)

I like the GMS piano roll editor the best. One can draw in a sequence or record one and edit it expertly. This app does so much so well it is too much to sing all its praises. Please read the description and the manual on the apps web page—it does all that!

There are a few things I wish it had, so I'll list some of them.
(1) There is no polymetric capability, meaning each track must have the same time signature. Workaround: for 4 against 5, use 4/4 and make a 5 measure pattern for the 5 beat part.
(2) There is no 2/4 time, which would also give one 6/8 (compound time) thanks to the triplet feature. This is a problem with long polymetric sequences as noted in the workaround above—especially with three or more time signatures. Workaround: set the Song mode to 1 step = 1 bar, then you can escape the loop whenever you want. Otherwise, GMS will repeat the patterns until they all finish at the same time.
(3) There is no polyrhythmic capability. Workaround: set "time in ticks" and zoom in to 128th notes and meticulously count out your beat divisions—use the Euclidean algorithm to pad the note lengths. It should be close enough.

I would like to do sequencing for my Reason projects while away from the Mac, so the following two suggestions would help.
(4) Sometimes I have a drum part composed and wish I could switch to another app/drum machine. This can be easy if both apps support General MIDI mapping. But Garage Band is different, and Reason's Kong is different still. So, I would like to be able to create drum maps. (I guess this also entails a drum editor.) Then, when changing drum sources one would only need select the corresponding drum map.
(5) Sometimes I have a note track I wish I could switch to a different synth or other instrument, but just temporarily for mobile composing. This can be easy if both instruments are assigned to the same pitches. But many synth parts/instruments are programmed at different octaves. So, it is an obstacle when there are many patterns in a track. If it is only one or two patterns it isn't such a big deal as one can just transpose them in the editor. So, a per track octave shift would be nice—just like on a MIDI keyboard.
View in iTunes
$9.99

Category:

Music

Updated:

Oct 18, 2016

Version:

2.0.3

Size:

20.5 MB

Language:

English

Seller:

David Wallin
Compatibility: Requires iOS 8.1 or later. Compatible with iPad.
More iPad Apps by White Noise Audio Software