Ghost Voice Recorder
By Ignacio Vargas
This app is only available on the App Store for iOS devices.
Description
Ghost Voice Recorder is an application designed to record any noised produced for a paranormal activity.

This is so real! *****(5 Stars)
by Darkstar1009 – Version 2.1 – Dec 28, 2011
Today Iwas playing with it with my sister and the spirit kept saying my sis name but she or I didn't enter her name into the iPod. If u think this is fake u are screwed up!

REAL!!!!!!!!!!!!!!! *****(5 Stars)
by infectedgamer51 – Version 2.0 – Dec 24, 2011
I downloaded it thinking oh this fake, but me and my friend turned it on and started messing around and we played a recording back and got a cat meow! her cat was put down and her new cat NEVER meows so we tried the radar and it said there was a ghost right behind me then I felt a cat brush up against my neck, I turned around… nothing was there.

It is Real!!!!!! ***** (5 Stars)
By TomHall – Version 2.1 –Sep 27, 2011
My sister died a year ago, I used this App yesterday and she told me something amaizing, she said dad and I didn't understand at first but I received a great notice conserning to my dad.

Wow! I don't recommend this app to those get scared fast ***** (5 Stars)
By Jesussolo3 – Version 2.0 – Aug 6, 2011
I played with this app for a long time and get any result. When I least excepted it I heard a voice and it told me "Stop following me I can see you". It sounded static voice but it was very loud and clear. Becareful with this app!
This application has a volume control to select a high volume to hear the smallest noise, voice or any activity of ghosts.

Hey ***** (5 Stars)
By Sakuraipn – Version 2.0 – Aug 13, 2011
How can I turn this off I'm scared now my house been haunted for some time n I got scary voices in here.
If you're somewhere where there is some ghost or spirit that want to tell you something and you can not hear normally, you will be able to hear it with this App, your iPod or iPhone has a very sensitive microphone and increasing the volume of the App to the max volume you will have better chance to hear any comments from the ghost or spirit communicating with you, not always you can listen to ghosts or paranormal activity since that depends on where you are, and if paranormal activity is present.

Note:

The recordings you can do with this App are completely real, we are not responsible for the result you get using the App as it depend on you, if whether or not you are in places with paranormal activity.
This App has pre-recorded some noises to give more attraction to this App, but you will always be able to record any activity of spirits or ghosts around you.
What's New in Version 3.0
Optimized for ios 6 and the new display on the iPhone 5.
Improved Recording and Playing back audio.
Improved Graphics.
New Audio level metering.
New Show your actual position in Latitude and Longitude.
New Show Actual Time.
New Timer Settings.
New Icon.

iPhone Screenshots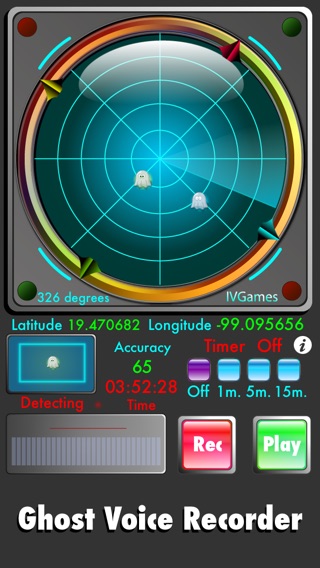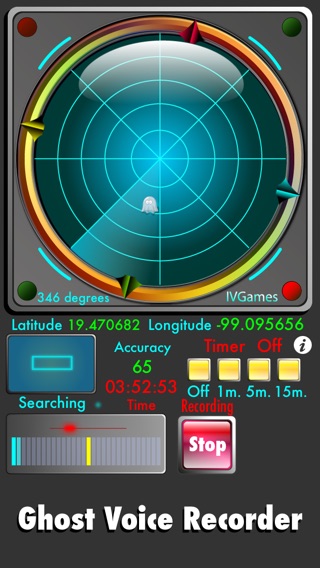 Customer Reviews
Scary as heck
If you scary easily this is not for you. I was playing with this app. At first I thought it was fake because the ghost kept saying the same thing. "Run little boy" then a ghost was right behind me I felt something touching me. But when I looked nothing.
Scared /)_(\
I've always had a tapping in my room. I have never thought was anything so I looked up a ghost recorder to see what was going on. Then right when it downloaded. The tapping stopped. That tapping never stops. I'm really scared but I'm excited
Awesome
I was in my room just watching tv then I said is anybody with me then it said get out
View in iTunes
$0.99

Category:

Entertainment

Updated:

Oct 13, 2012

Version:

3.0

Size:

3.0 MB

Language:

English

Seller:

Ignacio Vargas
Compatibility: Requires iOS 4.3 or later. Compatible with iPhone, iPad, and iPod touch.
More iPhone Apps by Ignacio Vargas