Glooko - Track Diabetes Data
By Glooko, Inc.
Open iTunes to buy and download apps.
Description
Glooko helps you understand how certain foods, activities, times of the day, and medication doses affect your blood glucose (BG), allowing for easier diabetes management. The app also shows you what time of the day you are going high or low, which days of the week are your best days, and how your blood glucose levels compare to previous time periods.

Glooko works by syncing all of the data from your BG meter, insulin pump and/or CGM, tracking your medication, carbs, and lifestyle data, and creating easy-to-read graphs and charts for you. The Glooko app is compatible with most of the BG meters, insulin pumps, and CGMs available in the market. See www.glooko.com/compatibility/ for a complete list of compatible devices.

You can also share your Glooko data with your healthcare provider, so they can make informed changes to your care plan, even outside of office visits! Glooko lets us email or fax reports to your provider, or you can set up automatic data sharing.

You will need a Glooko subscription to sync your data to your Glooko app. The subscription includes any accessories you need to sync your device data and can be purchased online at shop.glooko.com for $59.95/year. Ask your healthcare provider or employer if you are eligible for a free or discounted subscription.

POPULAR FEATURES:
- Sync readings from 50+ BG meters, insulin pumps* and CGMs to create an automatic logbook.
- Create insightful graphs and charts that show your glucose, insulin, and carb data.
- View your glucose trends in multiple ways: chronologically, by periods in the day, week or month, or compare time periods for insight into your BG trends.
- Sync data automatically from popular activity trackers such as Fitbit, Jawbone UP, Strava and Moves to see activity data.
- Add foods from the built-in food database to log your carb intake.
- Add notes about carbs, insulin, and exercise to add context and see how they impact your BG.
- Set reminders to check BG, take medications, or anything else you want to be reminded about.

WHAT USERS SAY ABOUT GLOOKO:
-"I am thrilled & grateful to have Glooko in my life" – Marcia Chmyz
-"My recent HbA1c was down 0.4 in just 2 months, thank you Glooko!" – GoodGameNice
-"Glooko finally puts diabetes management in your pocket" – Rderek

BG METER SUPPORT:
-Accu-Chek AVIVA CONNECT
-Accu-Chek PERFORMA CONNECT
-Accu-Chek AVIVA EXPERT
-Accu-Chek AVIVA NANO
-Accu-Chek AVIVA PLUS BLACK
-Accu-Chek AVIVA PLUS SILVER
-Accu-Chek COMPACT PLUS
-Accu-Chek GO
-Accu-Chek NANO
-Accu-Chek PERFORMA
-Accu-Chek PERFORMA NANO
-Ascensia CONTOUR® NEXT ONE
-Bayer BREEZE 2
-Bayer CONTOUR
-Bayer CONTOUR NEXT
-Bayer CONTOUR NEXT EZ
-Bayer CONTOUR NEXT LINK
-Bayer CONTOUR NEXT USB
-Bayer CONTOUR USB
-Bayer CONTOUR XT
-CareSens N (ORIGINAL)
-CareSens N POP (ORIGINAL)
-CVS TRUERESULT
-CVS TRUETRACK
-FreeStyle FREEDOM LITE
-FreeStyle INSULINX
-FreeStyle LITE
-FreeStyle OPTIUM NEO
-FreeStyle PRECISION NEO
-GlucoCard 01
-GlucoCard VITAL
-Nipro TRUE METRIX
-Nipro TRUE METRIX AIR
-Nipro TRUEBALANCE
-Nipro TRUEREAD
-Nipro TRUERESULT
-Nipro TRUETRACK
-OneTouch ULTRA2
-OneTouch ULTRALINK
-OneTouch ULTRAMINI
-OneTouch VERIO
-OneTouch VERIO FLEX
-OneTouch VERIO IQ
-OneTouch VERIO SYNC
-ReliOn CONFIRM
-ReliOn PRIME
-Rite Aid TRUERESULT
-Rite Aid TRUETRACK
-Walgreens TRUERESULT
-Walgreens TRUETRACK
MORE TO COME!

INSULIN PUMP/CGM SUPPORT:
-Dexcom G4 PLATINUM
-Dexcom G5 MOBILE
-Insulet OMNIPOD System
-Medtronic GUARDIAN REAL-TIME GGM
-Medtronic MINIMED 530G
-Medtronic MINIMED PARADIGM
-Medtronic MINIMED PARADIGM REAL-TIME REVEL
MORE TO COME!

For questions regarding compatibility, please email support@glooko.com.
What's New in Version 4.1.3
What's New in 4.1.3
- Bug fixes and performance improvements

What's New in 4.1
- Full screen view of the Daily Overview graph (within your History)
- Ability to ProConnect to more than one healthcare provider
- Improvements to how you log carbs, medications or exercise in the Quick Add screen
- General bug fixes

What's New in 4.0
New Year, New Glooko!

We are happy to present the all-new Glooko app to help you more easily make diabetes decisions! Not only can you sync your blood glucose (BG) meter, insulin pump or CGM and track carbs, medications and more, but now Glooko automatically brings you patterns and educational content related to your diabetes including:

- Which day of the week you have the best BG control
- What time of the day your BG levels frequently run high or low
- How your current BG levels compare to other time periods
iPhone Screenshots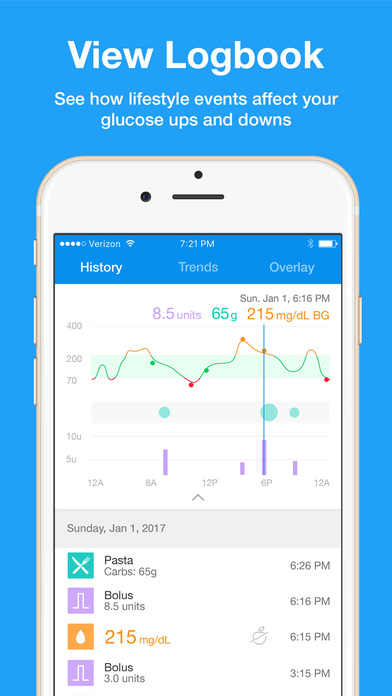 Customer Reviews
I may jump ship.
I am changing my 5 star review. I have been with glooko since they started their first app. I hung in there during all the bug fixes and bloopers. I am still syncing with the old $60 cable for which I had to buy a $30 adapter for my new phone to be compatible. Why doesn't Glooko allow me to sync my information with Apple's Health App? Why must I pay $59 a year to use the app? Unfortunately for the tech world, I still know how to use a pencil and a piece of paper. I may jump ship.
Susan
After updating APP I cannot get rid of the pop up screen that wants me to update. Very frustrating.
Crashes
App will not even download. What happened?
View in iTunes
Free

Category:

Medical

Updated:

May 17, 2017

Version:

4.1.3

Size:

106 MB

Language:

English

Seller:

Glooko, Inc.
Compatibility: Requires iOS 8.0 or later. Compatible with iPhone, iPad, and iPod touch.
More iPhone Apps by Glooko, Inc.