Glucose Companion Pro
By Maxwell Software
This app is only available on the App Store for iOS devices.
Description
Glucose Companion is a handy blood sugar and weight tracker.

Keeping track of blood sugar is a good habit to keep healthy, heredity, unbalanced diet, fat, lack of exercise, too much stress etc will lead to diabetic. If blood sugar is found abnormal, quick actions should be done to keep it from getting worse.

Use Glucose Companion now to monitor your blood sugar and share your measurements with your doctor, it will help greatly to your physician to diagnose and treat your diabetes, you can also use this app to calculate the units of insulin you need to inject.

For the insulin calculation function, it is based this formula:

Insulin dosage= (Blood Sugar – Goal Blood Sugar)/ Correction Factor+ Carbohydrate /Carbohydrate Factor

Please do consult your physician before using it to check if the formula is suitable for you, and ask for your personal Correction Factor, Carbohydrate Factor, Goal Blood Sugar from him/her, and please take note of the unit (mg/dl or mmoL/L). The user assumes all responsibility for the numbers inputted and the result.

Key Features:

⁃ Easily add and edit blood sugar, weight and test date.
⁃ Add note to the readings.
⁃ Track blood sugar and weight by chart.
⁃ Analyze times and percentage of each blood sugar range.
⁃ Show MAX, MIN and AVG number of readings by number and histogram.
⁃ Show statistics of measurement by day, week, month or year.
⁃ Create reminders for measuring Glucose, doctor visiting or anything else.
⁃ Calculate average blood sugar and weight.
⁃ Calculate recommended dosage of fast acting insulin.
⁃ Create unlimited reminders with different time to measure your blood suger, doctor visit or others.
⁃ Save snapshots to Photos.
⁃ Export (Email) readings in format of CSV, HTML or PDF.
⁃ Custom date range of readings to be exported.
⁃ Custom your own color range.
⁃ Passcode function to protect your info.
⁃ Supports Touch ID as passcode.
⁃ Supports multi-users, track the blood sugar of yours and your family's.
⁃ Supports mg/dL and mmoL/L, US and SI.
⁃ Clean and humanized interface.
⁃ Support WiFi backup and restore.
⁃ Supports iCloud backup & restore.
⁃ Supports Dropbox backup and restore.
⁃ Supports AirPrint in app.
⁃ Supports transferring data to Health app.
⁃ Supports 3D Touch function.
⁃ Supports Apple Watch version.

If you have any questions or suggestion, please mail to maxwellsoftware@gmail.com.
What's New in Version 5.2
⁃ Fixes the shadow problem in PDF file.
⁃ Minor bug fixed.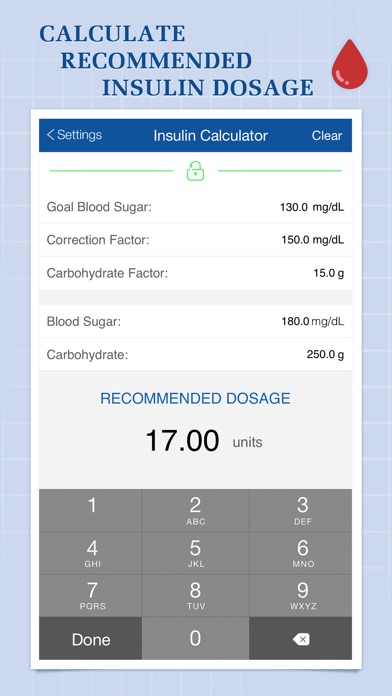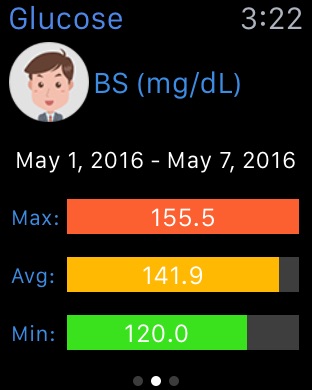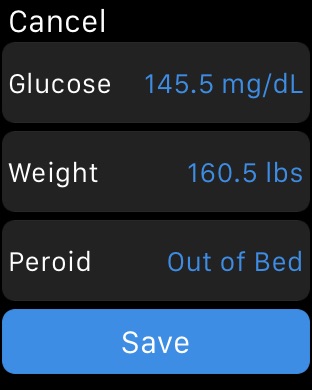 Customer Reviews
Used to love it
I love the convenience of this app. The reminders are helpful and I like being able to choose the entry details I'm regarding my glucose readings. However, lately I've noticed that the app doesn't update my weight accurately. I'm on a weight loss regimen and I enter my weight weekly. The app was accurately storing this data daily and then would continue to update it after I entered my new weight at the end of the week. Unfortunately, I have to manually adjust my weight to my current weight each time I enter my new glucose readings. The weight entry used to stay the same during each glucose entry until I entered the new one. It doesn't do this now, instead it goes back to the weight entered a week prior. I attempted to get this resolved with support but not only did they not understand my problem, after explaining it several times, it's still not resolved. Very frustrated with App Support! I would expect Support to know how their app works and fix any glitches.
Great BS tracker
I use this app daily to track my BS as well as see the charts. The ability to correlate BS levels to foods ingested is most helpful in helping me control sugar intakes as well as identify slickers that contain sugars I really need to avoid.
The only thing I would think might improve this is a Bluetooth meter that auto transfers to the app doing away with need for mangalore logging and transfer of numbers. This would require a device that makes the connection when it has new numbers performs that data transfer and then shuts down to conserve power.
The ideal device might include a BP cuff BS meter and pulse all in one
Terrific Management Tool
This simple and effective app has dramatically improved my ability to manage glucose testing. The interface is intuitive, quick, and easy to understand. For a Type II, it has helped me get where I want to be, which is non-elevated, normal glucose levels! It just helps to 'see' the results in a max/avg/min format.
View in iTunes
Offers Apple Watch App for iPhone
$1.99

Category:

Medical

Updated:

Jun 28, 2017

Version:

5.2

Size:

9.3 MB

Apple Watch:

Yes

Language:

English

Seller:

Maxwell Software
Compatibility: Requires iOS 8.0 or later. Compatible with iPhone, iPad, and iPod touch.