Goldfish 4 Professional - Publish html5 websites
By Fishbeam Software
Open the Mac App Store to buy and download apps.
Description
Webdesign for all devices: Goldfish is the easy to use solution to design stunning, custom websites with the latest HTML5 technologies, in little time. We come from the creative business and understand how you think as an illustrator, creative and designer. All our knowledge and our experience in developing websites and the feedback from the Goldfish community are now in Goldfish. 4

Exclusive Features of Goldfish 4 Professional:
- Password protection for individual pages: The page will be displayed only after entering the correct password
- Animations for any item on the page with many effects and possibilities
- Show or hide any item by a click or hover with the mouse
- Search box on the website to browse and find specific passages
- Slider to scroll through different areas on a page
- Online shop with PayPal Integration, which can be configurated in minutes
- Write your own HTML and CSS code to any position of your website
- Developing web apps using PHP, Javascript and other techniques
- Add files and folders from external sources and develop webapps
- Stats from your website on the go directly to your smartphone, tablet or computer

Features of Goldfish 4 Standard and Professional:
- Gorgeous designs for the creation of your website in only minutes
- Efficient and intuitive creation with the unique Goldfish construction kit
- Assistance by the use of templates for pages and page areas
- Design your website freely with text, images and other content
- Customized website for smartphones and tablets
- Automatic forwarding to a customized page, depending on the device, operating system or language
- Same typography on all devices by rendering fonts and support for Adobe Typekit *
- Retina graphics and support for resolution independent SVG vector graphics
- HTML5 audio and video, as well as integration of YouTube videos
- Dynamic menus with customizable design and customizable features
- Buttons for like and share for all major communities
- Professional image gallery and slideshow in multiple different styles
- Entirely customizable e-mail, contact, and booking forms with SPAM protection
- Dynamic visitor counter in many pleasent styles
- Automatically generated sitemap for finding a page quickly
- Integration of external websites in iFrames
- Guestbook where your website visitors can post comments and annotations
- Blog and CMS for posting content without Goldfish, directly on your website with comments and RSS Feed
- Embed code snippets e.g. for GoogleMaps, Flickr or Facebook
- Integration of Google Analytics with data protection rules
- Pinning of backgrounds and page areas when scrolling (the background or area is fixed)
- Prepared for the Fishbeam Clips library with over 1000 clips **
- Publish your website directly via FTP with SSL encryption
- Export your website as HTML files
- Goldfish generates modern HTML5 and CSS code complying with official standards

* The use of Adobe Typekit possibly requires a paid registration one the Typekit website. ** The Fishbeam clip library is not part of Goldfish and can be purchased separately.
What's New in Version 4.3
- New button object, suitable for mobile websites.
- New redirection conditions have been added.
- The design view and the code view can now be accessed via the "Display" menu and menu shortcuts.
- The drawer menu shows a sub-menu now.
- Animation names can now contain special characters.
- The latest version of Google reCaptcha is now used for form items.
- Google reCaptcha is now also available for guestbook entries and blog comments.
- Publishing: Damaged websites are now displayed in the icon.
- Publish: Folder list is now always sorted.
- Publish: The progress will be displayed now detailed for large files during updates.
- Project-wide meta tags are now showed in the meta tag window of the page.
- The frame item can now also display internal pages and not just external ones.
- Onlineshop: The new global shopping cart manages settings centrally for all shopping carts in the project.
- Increased speed, especially on macOS 10.12 Sierra.
- The guestbook now also works with PHP versions below PHP 5.3.
- Meta tag data is now HTML-encoded. Because of thus, no more errors can occur in the source code, when entering certain characters.
- Incorrect numbers will now get corrected in the animation editor.
- Animations can now use times in seconds with commas.
- The drawer menu no longer hides entries if the menu item is very large.
- Publish: Various errors have been fixed, for example when transferring large files and secure connections.
- Publish: The FTP connection is now more robust and does no longer freezes, and it may reconnect when it crashes.
- Publish: If a secure connection is not possible, now the user gets always asked before an unsafe connection will be established.
- External files can now be dragged into the project list again without problems (broken since Goldfish 4.0).
- No more internal error after crashing site creation errors.
- Typekit fonts can be showed in the preview again (broken since Goldfish 4.1).
- Onlineshop: A bug has been fixed in the context of the PayPal API.
- Onlineshop: Paypal is now also available with https connections.
- Onlineshop: If "Calculate shipping costs" in the properties of the Cart is not set, also no shipping costs will be calculated now, if there are specified some in the country list.
Screenshots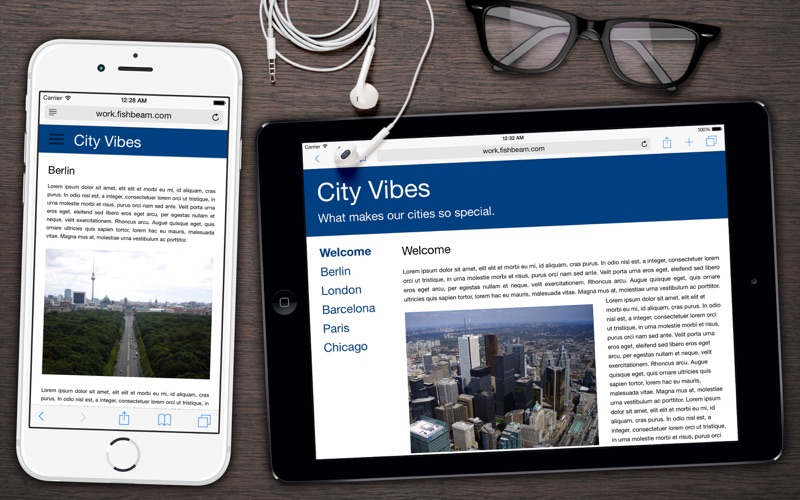 Customer Reviews
KEEP YOUR MONEY!!!
THE DIRECTIONS IS NOT CLEAR!!! ITS YOUTUBE VIDEOS ARE IN (DEUTSCH)… Dutch!!! PRODUCT IS MORE GERMAN THAN ENGLISH, BUT THEY WANT THAT AMERICAN MONEY WITHOUT THE EFFORT!!!!
APPLE PLEASE REMOVE THIS APP!!!!
View in Mac App Store
$119.99

Category:

Productivity

Updated:

Dec 17, 2016

Version:

4.3

Size:

51.5 MB

Languages:

English, German

Seller:

Yves Pellot
Compatibility: OS X 10.7 or later, 64-bit processor