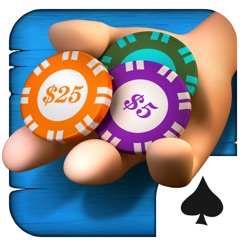 Governor of Poker 2: Premium Edition
12+
Description
SUMMER SALE!! GET YOUR DISCOUNT NOW!

Show them all, the Governor is not to be trifled with!

Governor of Poker 2 takes you back to the Wild West, straight to the roots of this very exciting card game. You can play against the old western pros. Now it's time to use your poker skills to start small, win big, buy houses, claim industrial assets, collect rent and finally take over Texas! The main goal is: To get a hold of Texas!
Why is this game so great? A completely new poker engine will challenge beginners and pros alike. Refine your tactics to match the countless playing styles of your opponents and watch them go "Steamy" after showing off your outrageous bluffs!

Governor of Poker 2 starts where the first game ended, but nothing is what it seems to be. A new Dallas government decided to put a ban on all poker games and now considers the game to be illegal. Time to take matters in your own hands and prove them wrong!

Features:
• Over 80 challenging opponents to beat
• 27 stunning saloons in 19 amazing cities
• Get a hold of the 5 big industrial assets
• Travel by Train, Casino Boat or Stage Coach and play poker whilst on your way to the next city
• Every city has lots of exciting cash games and big tournaments with even bigger prizes. You'll experience more checks, calls, raises, folds and all-ins than you can imagine!

Let's get on the train to Amarillo now and show them what you've got!

This game contains the following languages:
EN / DE / FR / NL / ES / IT / SV / PT

Enjoy Youda Games at: www.youdagames.com
Follow us on:
www.facebook.com/youdagames
www.twitter.com/youdagames
Howdy Governors.

We have some great fixes and updates thanks to all your support!

- Major Crash Fixed!! Flushed it on the River ;)
- Fix for tight and aggressive opponents
- AI improvements
- Turkish language added
- Latvian language added
- Japanese language fixes
Ratings and Reviews
impressive AI
This game surprised me. It is extremely enjoyable, and I hardly play any computer games because I usually find them tiresome pretty quickly. The AI is excellent and the players provide a challenge to me, although I am not an experienced poker player so bear that in mind. Presumably Nate Silver would have no trouble at all :) But I am a newbie to poker and find it challenging but still manage to win and make money overall. So I think it is well-designed and nicely tuned. Sometimes the players bluff and sometimes they don't. Some are aggressive, some tight, and everywhere in between. It's a lot of fun and as long as I'm not fooled into thinking this means I can go to Vegas and make a fortune it's simply done me a big favor!

I just saw that other reviewers have a problem with crashes, so it should be helpful information that I am running mountain lion on a macbook pro and it hasn't crashed for me.
Great
The game is great! You visit several cities in the old west, participating of poker game in different situations. Its very diverse and attractive. The number of oponents will vary from one to 24, but you play only against the computer. You have the option to invest money buying buildings that will help you to get more money in the future. In contrast, there is banks available to lend you some money when you loose all in the table. The grafics are good, and it is very dynamic. I really recomend the game!!
Governor of Poker
It would be a big improvement if it didn't miscalculate the winning hand on a regular basis. It would be nice if there was a button to push to find out why the computer thinks a pair beats a high card straight etc. There is no help available in the program.
Examples: 1. The program gave the hand to a four card straight of low cards over a high singleton. 2. It gave the win to a low pair in hand over a higher pair in hand. The common cards were lower in rank then the higher pair in hand and didn't help either player.
Today a pair of 2s beat an ace high flush.
Information
Seller

Youda Games Holding B.V.

*WEA.AppPages.Size*

121.9 MB

Category

Age Rating

Rated 12+ for the following:

Frequent/Intense Simulated Gambling

Copyright

© Youdagames 2012

Price

$7.99
Supports
Family Sharing

With Family Sharing set up, up to six family members can use this app.