Grammar Checker Academic
By NOUNPLUS
This app is only available on the App Store for iOS devices.
Description
Celebrating 10,000,000 grammar checks worldwide, we make it free. ($1.99-> Free for limited time)

• Top #3 in Philippines before (ALL)

• Top #1 in Philippines before (Education)
• Top #1 in Malaysia before (Education)
• Top #1 in Uganda before (Education)
• Top #1 in Barbados before (Education)
• Top #1 in Qatar before (Education)
• Top #2 in India before (Education)
• Top #3 in British Virgin Islands before (Education)
• Top #4 in Jamaica before (Education)
• Top #4 in Singapore before (Education)
• Top #9 in Thailand before (Education)
• Top #11 in Sri Lana before (Education)
• Top #14 in Honduras before (Education)
• Top #15 in Vietnam before (Education)
• Top #28 in Uruguay before (Education)
• Top #26 in Japan before (Education)
• Top #37 in Canada before (Education)
• Top #43 in Pakistan before (Education)
• Top #74 in Australia before (Education)
• Top #89 in US before (Education)
• Top #108 in UK before (Education)

Grammar Checker Academic

Are you trying to write that perfect essay for school? Do you need to have your memos at work sound more professional? Wouldn't it be nice if you could have an easy reference guide in your pocket to help you when you aren't sure which word to use or which verb tense?

Well now you can! That's what grammar checker is here for.

It is basically a grammar dictionary that will check your work for you! And you get the convenience of being able to carry it with you all the time.

Don't turn in that paper to your instructor until you've run grammar checker and fixed any little errors. Use it on your emails, so that your boss is impressed with your writing ability.

You can even use it if English is your second language, and you just want to study up a little because you desire to sound more like a native speaker.

What does grammar checker cover?

Every type of tense you can think of including:
• Present Simple
• Present Perfect (have/has P.P)
• Past Simple
• Past Perfect (had P.P)
• Present Continuous
• Past Continuous (be + ing)

You also get everything you need on verbs and nouns such as:
• Regular and Irregular Verbs (make-made-made...)
• Regular and Irregular Nouns (child-children...)
• Modal Verbs (can, will, must, should, might, may...)
• Passive (be P.P )
• Questions and Auxiliary verbs
• Gerund (verb + ing)
• To-infinitive ( to+Verb)

In fact, grammar checker covers everything you need to write in a comprehensive manner in the English language. Look at these other features:

• Articles (a, an, the)
• Relative Clauses (which, that, what, who, where, how...)
• Adjectives (beautiful)
• Adverbs( beautifully...)
• Comparison (taller, more interesting...)
• Conjunction (and, or, nor )
• Subordinate Conjunction ( while, although, if...)
• Prepositions (in, with, in front of, at,...)


• Network connectivity is required.
What's New in Version 2.0.1
- Added page animation.
- Improved Grammar Check Algorithm
iPhone Screenshots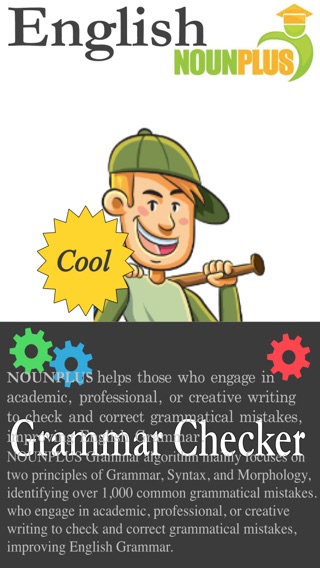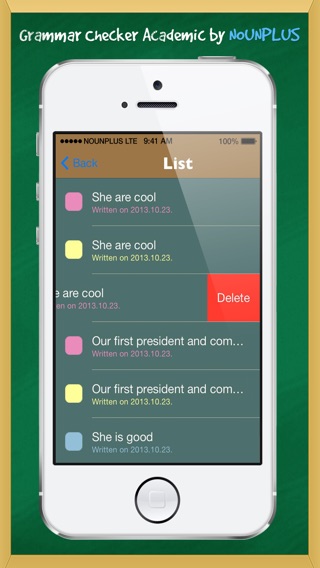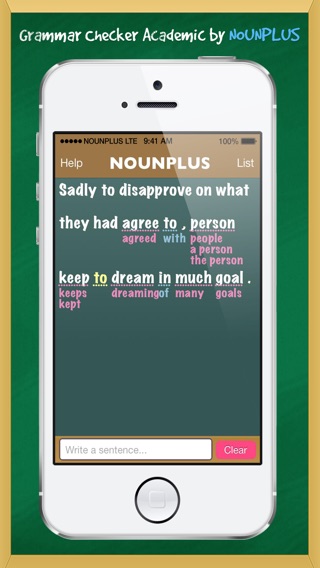 Customer Reviews
How useful is grammar-checking app?
As non native English speaker, we do want to improve our grammar, but we are disinclined to invest time and energy to laboriously study print or online resources about sentence construction. Now gramma checker app comes online, why not to check them out?
Of course you cannot rely on the app to write wonderful articles which should come from your brain, app only helps you improve it.
Complete waste of money, doesn't work at ALL!!!
Everybody except for #11 and me must work for the company or were paid to write a good review about this app because it is beyond useless. I've intentionally written sentences with so many grammatical errors in them that it's rediculous and this app is unable to identify any of them. I gave it 1 star only because I'm not sure if it would register zero stars. In my opinion, if it was possible, this app really deserves a minus zero rating.
Wonderful!
I have to say that this is an essential app for English learners. Just input your sentences and it will test your grammar errors.
Very fantastic, isn't it?
Must recommend it!
View in iTunes
$1.99

Category:

Education

Updated:

Nov 08, 2013

Version:

2.0.1

Size:

10.8 MB

Language:

English

Seller:

Dong joo Song
Compatibility: Requires iOS 5.0 or later. Compatible with iPhone, iPad, and iPod touch.
More iPhone Apps by NOUNPLUS