Grand Theft Auto: San Andreas
By Rockstar Games
Open the Mac App Store to buy and download apps.
Description
Five years ago Carl Johnson escaped from the pressures of life in Los Santos, San Andreas... a city tearing itself apart with gang trouble, drugs and corruption. Where filmstars and millionaires do their best to avoid the dealers and gangbangers.

Now, it's the early 90s. Carl's got to go home. His mother has been murdered, his family has fallen apart and his childhood friends are all heading towards disaster.

On his return to the neighborhood, a couple of corrupt cops frame him for homicide. CJ is forced on a journey that takes him across the entire state of San Andreas, to save his family and to take control of the streets.
What's New in Version 1.0.3
Assorted bug fixes
Screenshots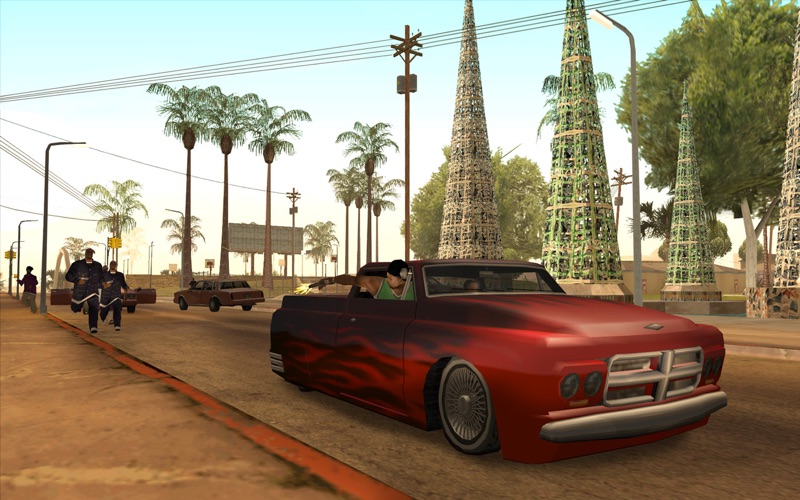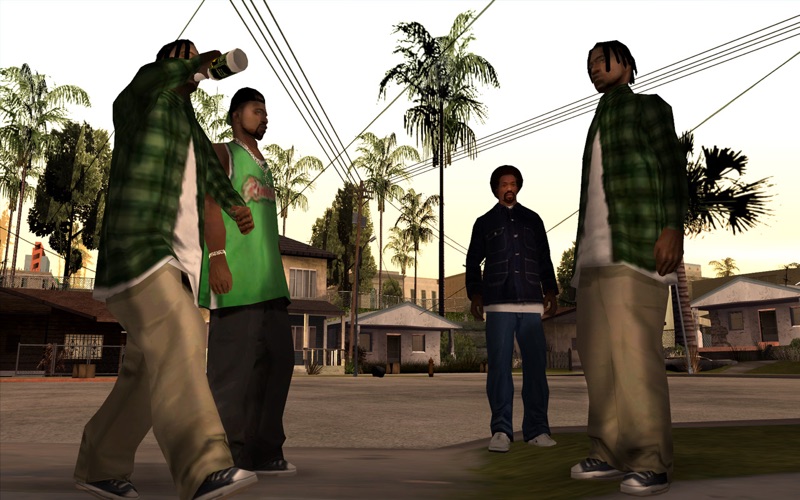 Customer Reviews
New Bugs with Camera
I had to replace my hard drive and redownload this game. When I went to redownload this it did not say "Install" as it usually does for apps you've already purchased. It told me like I was going to have to pay another $15 for a game I'd already bought. After searching the web for any viable torrent of this game and finding none, very annoyed, I decided I was going to have to buy it again. After I'd entered all my apple ID and okayed the purchased, I then got the notice "you've already purchased this app, the update is free". You guys scared me for nothing. I would bet this is preventing other people who bought the game and before from reinstalling it. I don't know if that's a Rockstar or Apple Store issue but it's very annoying. Another bug I notice in this update I never remember before, is if I've been playing for awhile, and my computer is warm, if I'm on a mission where I have to take a picture, the game freezes on the picture taken and I have to option+command+esc out of the game and wait for my computer to cool down. I am writing this review while waiting for my computer to cool down. This is very annoying. I suggest you put out another update pronto. I have no issue saving my games but clearly nearly everyone who updated had to replay the entire game. Bad update. Please put out another. I love the game and hate to see it with so many bugs.
This game runs EXCELLENT on my early 2009 iMac!
I don't know why so many people are having such issues with this game, but it runs fantastic for me. I have a early 2009 iMac and I am running El Capitain. Maybe the reason for all the problems is that most of the Macs are running different graphic cards than what is required?? IDK..but this game runs 50 times better on my Mac than on any console I ever played this on. There is NO LOAD TIMES, and you can skip all the cut scenes in all the missions and get down to actual gameplay as soon as you start one..SO.. if you are a former PS2 player ( as I am ) when you had this game and you want to experience this game like you did on that console… Get a REAL PS3 Wireless controller.. THAT IS ALL YOU NEED. It comes with joystick controls already built into the game, ya just have to assign the controls in game and your ready to play..NO JOYSTICK MAPPER NEEDED!! YAY! AND you can get the controls identical to the PS2 in a matter on minutes!! I would of gave this 10 stars if I could of. THANK YOU ROCKSTAR!! This game runs fantastic and plays even better than any of the console versions. To show my appreciation, I am purchasing the rest of the legacy. BTW.. Rockstar Games… PLEASE RELEASE 4 AND 5 ON MAC!! That is all.. PEACE!!
The cheats are Awesome!
Ok all these people who are giving it one star don't know what a "review" is. A review is where you tell people what the game is about. Its not about your complaint "My game didnt save OMG waaaaaahhhhh"(my game didnt save either). So if you want an actual review ill give you one.

The game is ten years old. (The graphics look like the game screenshots)The graphics are amazing for when this game was released.(personally the graphics don't have to be in HD for me to like a game). Anyways, there is a Story mode and do whatever you want mode. I suggest looking up cheats because they are hilarious and make "do whatever you want mode" a lot more fun. The Story mode is fun too, you can buy clothes for your player along with haircuts, tattoos, and houses. So basically if you want to have the best game on the Mac Store I would strongly suggest you buying this game.

Also if your worried about your game not saving I redownloaded this game and it saves fine.
View in Mac App Store
$14.99

Category:

Games

Updated:

Nov 09, 2014

Version:

1.0.3

Size:

4.06 GB

Languages:

English, French, German, Italian, Spanish

Seller:

Rockstar Games, Inc.
Compatibility: OS X 10.7.5 or later