Graphic
By Indeeo, Inc.
Open the Mac App Store to buy and download apps.
Description
Autodesk Graphic is a powerful feature-packed vector drawing and illustration application for Mac OS X.

"Lightweight vector drawing; easy to use; 9/10" - Mac.AppStorm.net
Featured in "Amazing Mac Apps", "...very powerful at a very decent price" - iCreate Magazine

Graphic has all of the tools you need to create everything from detailed technical illustrations to beautiful works of art. Create intricate designs quickly and easily, and continue working on the go with Graphic for the iPad.

Create resolution-independent illustrations that can be pasted into Pages documents, included in Keynote presentations, or used together with iBooks Author.

Import/Export
- Import SVG, PDF, EPS, and Photoshop PSD files.
- Export designs as SVG, PDF, PNG, PSD, JPEG, GIF, and TIFF files.
- Copy selected objects as PNG, PDF, SVG, CSS properties, and Core Graphics code.
- Export icons, bitmap and vector images directly into Xcode xcasset folders.
- Export layers and tagged objects automatically as individual files.

Photoshop PSD Import/Export
- Import layered PSD files with vector paths and effects.
- Shape layers are imported as editable vector paths.
- Layer effects are imported as fully editable drop shadows, inner shadows, glows, etc.
- Export designs as layered PSD files.

Professional Drawing Tools
- Full-featured Bezier Pen tool for creating custom shapes.
- Brush and Pencil tools for fluid drawing and sketching.
- Essential set of shape creation tools.
- Boolean path combinations.
- Path multi-point selection and editing.
- Join, connect, and disconnect paths.
- Rotate, Scale, and Shear transform tools.
- Compound Paths.
- Convert Anchors tool.
- Eraser tool.
- Scissor tool.
- Dimensioning tool.

Layer Styles
- Apply multiple strokes, fills, and effects to any object.
- Apply inner shadows, drop shadows, and glow effects to objects.
- Arrange the order of fills, strokes, and effects using drag and drop.
- 24 vibrant blend modes, including Multiply, Overlay, Linear Burn, Vivid Light, etc.
- Set blend modes for layers, shapes, fills, strokes, shadows, and glow effects.

Many other powerful features, including:

- Shape Libraries.
- Appearance Styles.
- Text on Path.
- Multi-style Text.
- Layers and Groups.
- Smart Alignment Guides.
- Labels and Dimensioning.
- Canvas Scale, Rulers, and Units (mm, cm, inches)
- Canvas Styles.
- Snap to Grid / Snap to Point.
- Align and Distribute objects.
- Duplicate and Transform.
- Linear, Radial, and Angle gradients.
- Image masking.
- Convert Text to Paths.
- Inner and Outer Strokes.
- Outline Stroke.
- Duplicate and Transform.
- RGB, HSB, and Hex Color Pickers.
- Pixel-Preview Mode.
- Import PDF files and annotations.
- Export as vector-based PDF and SVG files.
- Plugins / Powerful scripting API.
- ColorSync Color Management.

OpenGL-optimized Drawing
- Fast rendering of very complex projects.
- Multi-threaded drawing ensures lag-free scrolling and zooming.
What's New in Version 3.0.1
- Fix for 'Adjust Colors' when changing artwork contrast
- Fix for quickly changing brush stroke color
- Fix related to 'Outline Stroke' command
- Other minor fixes and improvements
Screenshots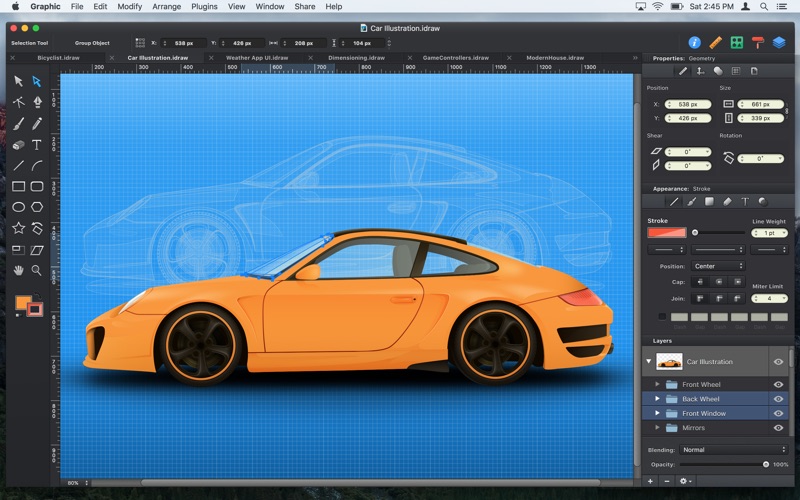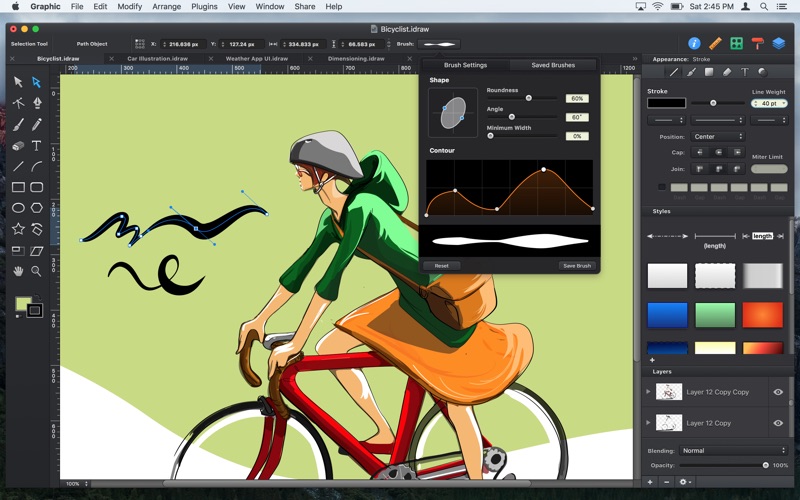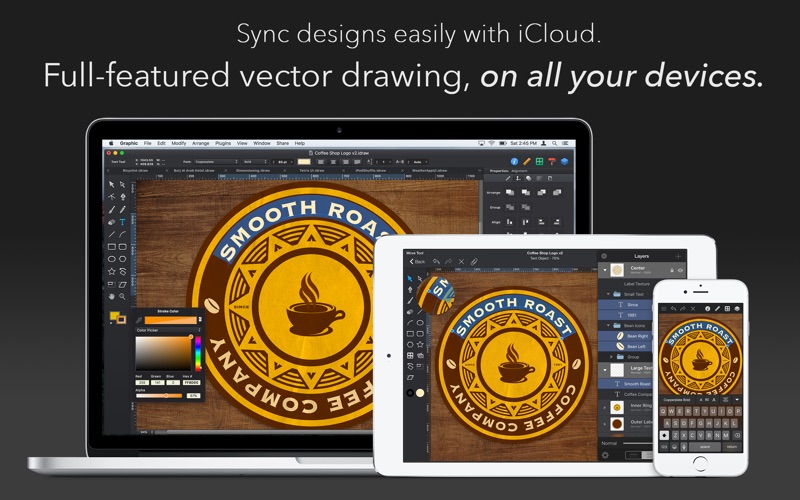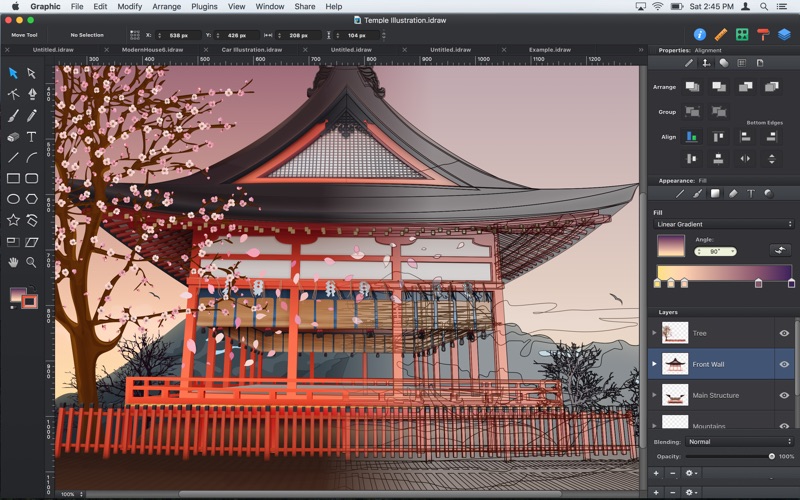 Customer Reviews
Excellent Vector Drawing Tool
This is an excellent tool for vector graphics. I've purchased "many" graphics tools over the years and most of the time they get used for about a week then never again. Either they are overly complex or they just don't do what I need them to do. Out of the box, this tool delivers. It is relatively intuitive to use and packed with features. What's more important is that you don't need a PhD in graphics design to use this tool. If you are a programmer who wants to create icons for your apps or an artist who wants to do something more involved, this tool will deliver. Back to my earlier comment about using a tool for a week and then never again… I've been using Graphic now for about a year. I've created hundreds of vector images. This tool has become one of my key go-to tools for app development right next to Xcode. Finally, $29? Seriously, you can't beat the price especially given that the authors continue to improve and upgrade this. I'd pay more than that for a an icon package. Exceptional value.
Lacking
While I initially really liked this app and what it can do, it starts to disappoint as you try to extend it's features by writing custom plugins to automate repetitious tasks. The documentation for writing extensions is basically non-existent and it seems extremely buggy. For example they say that the plugin's can be written in Objective-C or JavaScript, but they only provide examples of Objective C. Even throwing aside JavaScript (because there is no documentation on how to call those methods), writing plugins in Objective-C results in constant crashing of the program and little or no ability to troubleshoot the issues. The ability to easily select objects, get the index of shapes, draw circles, use tools like divide, subtract, intersect -- none of these things seem possible or the API documentation doesn't tell you how to perform these actions. Examples online from other users are very difficult to find, probably because no one knows how to write them without any documentation.

Seems like a tiny bit of effort on Autodesk's part could really improve this app, but for whatever reason it they haven't focused on improving it.
MacDrawPro - Fast Forward=> Graphic 3.0.1
I have been a heavy user of MacDrawPro way back on Classic 9.1 OS which I was still running on my G5 Mac Tower. But once I discovered iDraw…now Graphic as AutoDesk has renamed it, I find this app over the top for the price to performance and capabilities. With extremely accurate Scalability I can design everything from a dog house to a work bench or cabinet, remodel my deck or plan the layout of my garden plots with 100% accuracy before ever cutting a board or hammering a nail. It is extremely easy to learn and once you know the basics you will pat yourself on the back for choosing such a great program. Its really worth much more than the sale price. And I don't even use the other "half" of the program for images, graphics, and vector objects manipulation and creation. Runs perfect on 10.8.5 Mt. Lion on a 2007 iMac as well as my 2017 iMac on Sierra.
View in Mac App Store
$29.99

Category:

Graphics & Design

Updated:

Oct 26, 2015

Version:

3.0.1

Size:

14.7 MB

Languages:

English, French, German, Italian, Japanese, Simplified Chinese, Spanish

Seller:

Indeeo, Inc.
Compatibility: OS X 10.6 or later, 64-bit processor