Gratitude Rock - Journal / Diary of Positive Thoughts
By Greg Morris
Open iTunes to buy and download apps.
Description
Record your positive thoughts of gratitude each day while experiencing the relaxing sounds and images of the ocean. Add pictures to express your day's thoughts and feelings, read an inspirational quote of the day, and wirelessly backup or export as a web page all of your information.

A key component of the Law of Attraction is gratitude. Keeping a Gratitude Rock with you is a unique way to remind yourself to be thankful for all the good things in your life. This program helps you focus on things you are grateful for and will help to bring more of those things into your life and enrich your life.


FEATURES:

• Get in a relaxing mood by listening to the sounds of the ocean waves hitting the shore.

• Write multiple entries of your thoughts and feelings for each day in the journal.

• Add up to 3 pictures per day from your iPhone's camera or photo albums to enhance your memories of that day. View the thumbnail images or select 'View Larger' to display a picture viewer and swipe horizontally to scroll through your daily pictures at a larger size.

• Read an inspiring quote each day and copy it to the clipboard if desired.

• Change the background picture to one of six built-in images or add your own picture from your photo album or camera (if device supported). Retina display support.

• Adjust the brightness level of the background image to enhance text readability.

• Landscape mode support.

• Email a day's text and pictures.

• View the contents of your journal as a web page wirelessly from your computer via your browser (local WiFi connection).

• Set a daily alert to remind you to add an entry to your journal. Set the alert sound (25 sounds available) and the daily alert time.

• Select up to 4 fonts with 16 colors and adjust the text size.

• Enable Auto Hide Buttons to have the buttons fade away after a few seconds so they are not in the way. Tap where they used to be to bring them back.

• Easily go back and read your thoughts and view your pictures from any previous day by scrolling to a date. Advance forward/backward through the daily entries by using the previous/next buttons. Hold them down to auto advance.

• Perform a text search on your journal (Last 30 days, 90 days or all) to find important events from the past.

• Backup or restore your pictures and text wirelessly to/from any desktop computer using your computer's browser (local WiFi connection).

• Optionally secure all your information with a passcode to get access to your diary of information.

• Change the date of any entry.

• Enable or disable ocean sounds or additional sounds. Adjust the ocean volume level.

• Display or hide the pictures and quote on the screen.

• All dates are displayed using the device's international date format settings.


For each day, each text entry is preceded by an image of a Gratitude Rock. Multiple sentences can be entered per entry. Text is entered on top of the image of the ocean or any picture you choose.

With our busy lives today, taking the time to write the things you are grateful for in this Gratitude Rock journal combined with the principles of the Law Of Attraction (book/movie: The Secret) can help you to enrich your life and reach your full potential.

Additional features will be added, so we welcome your suggestions as to future enhancements. Check out our Web site at www.EnergizeSoftware.com for more information on Gratitude Rock or to explore the other programs that we offer.
What's New in Version 3.0
• iOS8 compatibility
• Support for taller screens (iPhone 5/5s)
• Use of tabs, visual improvements.
• Search within last 30 days, 90 days or all.
• Most screens now support landscape mode.

This update sets the foundation for future updates.
iPhone 6 support coming in a future update.
iPhone Screenshots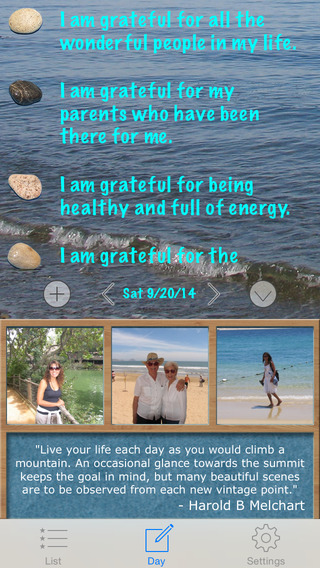 Customer Reviews
The only stable gratitude app... and it's awesome!
I have been using electronic gratitude apps for over five years. This one, is hands-down, the most stable and reliable app in the category. I have used other apps such as Gratitude!, and my journal entries disappear when I do updates, which is counterproductive to being in the flow of gratitude! Gratitude Rock tech-support has always been quick to respond on the one or two occasions I have had a question. I would love to see the interface look even more simple, and to have the photos I take scroll across the top of the journal like "the other one".😉 But I still love love love this app! Thank you!!!!
Very good support!
The problem isn't fixed yet, but the support people are excellent, & I'm sure we'll get the problem fixed. Thanks so much for all the help!

Lately, it's been losing data. This is very frustrating. Argh.

The below writings were written in 2012.
I've made this app. my own, turning it into a journal/gratitude list. I also start it off by ranking the day, 1 - 5 x's, so I can see visually on the main page, how the days range. A, x x x x x Day was an excellent day. A, x x Day, not so much. Next, I put if it were Sunny or Rainy or whatever, with the temperatures. Then I jot down what I wore. (That way, i don't wear the same thing to weekly events; silly, I know.). Then I start in with a numbered listing for my thoughts, Gratitudes & things that I got done for the day.

I love the photos. And I love that we can backup, which I backup on my backup.

This is one of my favorite apps.
Great App
This is a great app! Love to use it.
A few things I'd prefer on the current version: 1) when one taps the trash icon to have an 'are you sure you want to delete?' pop up as it's too easy to accidentally delete on any screen 2) preferred the old main screen to add a rock/new entry within an entry to tap one button (instead of now having to tap to see the list then tap to add entry.
View in iTunes
$0.99

Category:

Lifestyle

Updated:

Sep 26, 2014

Version:

3.0

Size:

28.3 MB

Language:

English

Seller:

Greg Morris
Compatibility: Requires iOS 7.1 or later. Compatible with iPhone, iPad, and iPod touch.