Green Screen Movie FX
By EPOCFIELD LTD
This app is only available on the App Store for iOS devices.
Description
--As featured in new and noteworthy in the UK iTunes entertainment section--

Now you have the power of a Hollywood special effects studio in your pocket (well, almost!).

The app gives you the ability to use an special effect known as Chroma Key or Green Screen in a simple, fun and quick way. Simply select multiple colors in the viewfinder by tapping the screen and instantly replace it with a video or picture of your choice.

Imagine replacing the sky with a scene from space showing a planet spinning or changing the view out of your window into Niagara Falls.

Green Screen lets you create special movie effects and instantly share and show off your video creations on Facebook, Dropbox, Twitter, email and others.

The app comes with the following videos built in:

o Group of hot air balloons in flight
o Spectacular water fountain display from Las Vegas
o Tranquil beach with palm tree rustling in the breeze
o Flying through clouds especially for super hero movies!
o View of the earth rotating through space
o Slow motion fire explosion
o Amazing firework show
o Cloudy mountain - amaze your friends with your climbing prowess
o Niagara Falls
o Paris with the Eiffel tower in the background
o A plane taking off from an airport
o Forest Mountain scene
o South Beach Los Angeles with life guard hut

As well as built in videos, you can also import videos & pictures of your own. Amaze your friends by appearing in a starring role alongside your favorite movie or pop star. Or show them your holiday to the seven wonders of the world without actually having been there.

App Features:
=============
o Real time compositing of videos / images with iPhone video camera.
o Use rear or front camera.
o 13 in-built effects videos
o Use you own videos / photos from the iPhone camera roll.
o Import movie clips from iTunes.
o Change the amount of background color replaced live with tolerance slider
o Choose up to 3 different colors to replace with green screen fx.
o Fine turn the chroma key's red, green, blue values
o Record videos and share them straight to Facebook, Dropbox, email, iPhone gallery
o Highly customizable options including capture resolution, chroma match quality, camera focus mode
o Choose from Best Quality (multiple chroma key points) or Best FPS (one chroma key point) in Settings

Praise for Green Screen:
========================
"You know those big, blockbuster Hollywood movies that use "green screens" to make actors look like they're somewhere they aren't? Now, for $1.99 Apple fans can take advantage of a similar feature..."-appadvice.com

"Does Green Screen Movie FX offer enough quality to warrant the two dollar price-tag? And the answer is—certainly! The app offers the best chroma keying I've seen on a mobile device..."-theiphoneappreview.com/

"Once you've finished your composite, you can easily share it in a number of ways. Good stuff!"-handheldhollywood.com
========

Enjoy and amaze your friend and family.

To see it in action and more detail watch this video:

http://www.youtube.com/watch?v=0eDRTiQRB08

Works great on the iPad2!


Any problems just mail support (below) and I'll get back to you.

Please rate the app to ensure future update and new features!

TopTip! if you have a newer more powerful device go to settings and make the block size smaller and resolution higher for better quality!

--Important please note that this app is only support on currently released versions of iOS--

What's New in Version 1.94
-Fixed the status bar appearing after choosing a photo as a background. This was making it hard to press the record button.
iPhone Screenshots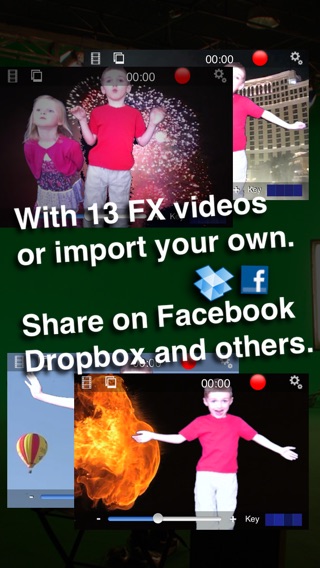 Customer Reviews
Was good. Needs update for new iOS
Since iOS 10, it hasn't worked. Please update so it works. It's one of the only ones that does live background video replacement.

(Original review below:)

Only thing is the live video is blurry but the background is perfectly in focus. That is kinda bad. Love the addition of a still photo as background. I still get white thumbnails for some videos from the photo library but this is much improved! And multi-color selection reduces the amount of stray pixels in the background. This is exactly what I need to add to my iPhone moviemaking tools. Thanks!!
Apps
This app can be difficult to use in the beginning, but gets easier. The reason I gave it 4 stars it because I have difficulty adjusting the strength and for it to seem more realistic. I would like an enhancer in the update. Hope I helped :)
Mah!
This app isn't very good. No offense, but the green screen doesn't even work! It's all scratched and doesn't look real! For everyone out there who wants to buy this, the examples are FAKE they are not that perfect I know what I'm talking about! This app is crummy! They just put those pictures up to lure in suckers! And I was one of those suckers! If I were you, I wouldn't trust everything you see on the screen because 90 percent of the time, it's a lie!
View in iTunes
$1.99

Category:

Entertainment

Updated:

May 09, 2014

Version:

1.94

Size:

19.7 MB

Language:

English

Seller:

EPOCFIELD LTD
Compatibility: Requires iOS 4.3 or later. Compatible with iPhone, iPad 2 Wi-Fi, iPad 2 Wi-Fi + 3G, iPad Wi-Fi (3rd generation), iPad Wi‑Fi + Cellular (3rd generation), iPad Wi-Fi (4th generation), iPad Wi-Fi + Cellular (4th generation), iPad mini Wi-Fi, iPad mini Wi-Fi + Cellular, iPad Air, iPad Air Wi-Fi + Cellular, iPad mini 2, iPad mini 2 Wi-Fi + Cellular, iPad Air 2, iPad Air 2 Wi-Fi + Cellular, iPad mini 3, iPad mini 3 Wi-Fi + Cellular, iPad mini 4, iPad mini 4 Wi-Fi + Cellular, 12.9-inch iPad Pro, 12.9-inch iPad Pro Wi-Fi + Cellular, 9.7-inch iPad Pro, 9.7-inch iPad Pro Wi-Fi + Cellular, iPad (5th generation), iPad Wi-Fi + Cellular (5th generation), 12.9-inch iPad Pro (2nd generation), 12.9-inch iPad Pro Wi‑Fi + Cellular (2nd generation), 10.5-inch iPad Pro, 10.5-inch iPad Pro Wi‑Fi + Cellular, iPod touch (4th generation), iPod touch (5th generation), and iPod touch (6th generation).