Guitar Jam Tracks - Scale Trainer & Practice Buddy
By Ninebuzz Software LLC
Open the Mac App Store to buy and download apps.
Description
Get the #1 jamming and improvisation app for guitar! Guitar Jam Tracks makes practicing scales fun and easy.

FEATURED BY APPLE as a Best New App and voted 'Top 25' by Guitar World Magazine, Guitar Jam Tracks is the go-to jam app for thousands of guitarists and music educators worldwide.

- - -

"Backing tracks! Learn to use them and you progress faster than you ever imagined, scales, zoom feature, key change, it's ALL here!!!" SnoopyinOhio, iOS, April 12, 2015

"I have played for years and this is the #1 best tool I have run into yet. Keep it up my fellow string benders." D L Campbell, iOS, Feb. 16, 2015

"This app completely opens up the ability of what is possible on guitar especially when a band is not available to do this with." Red9back, iOS, Dec. 29, 2014

"I've never been more satisfied with an instructional app. It's simple, approachable interface makes interacting to learn more simple and fun." Elmo, iOS, March 19, 2015

"Use this to practice chords, lead and bass guitar. So easy to use. So helpful to have tabs, and chords on the screen to help follow the tracks." Epixynet1, iOS, Feb. 21, 2015

"I had reached the end of my self-taught rope. Thanks for making this app! It helped me move on and become better." Palo2012, iOS, Jan. 20, 2012

- - -

MAKES LEARNING GUITAR FUN
Practice jamming, learning scales and soloing to 13 great sounding jam tracks right from your Mac! Our easy-to-read scale charts show you exactly where to put your fingers to start sounding like a pro. See for yourself why thousands of guitarists love our jam track apps!

NINEBUZZ AWARDS AND HIGHLIGHTS
- Guitar World - Top 15 Guitar Apps
- Gizmodo - Best Apps of the Week
- IK Multimedia (Makers of Amplitube/iKlip) - App of the Week
- Premier Guitar - Pocket Power Tools
- Apple - Featured - What's Hot
- Apple - Featured - Band in your Hand
- AppAdvice - "You'll be anxious to practice your chords and scales"
- iPhoneAppCafe - Top 5 Apps for Guitarists

STYLES INCLUDED:
- Acoustic Blues
- Garage Rock
- Humbucker Blues
- Jazz
- Lonesome Prison Blues
- Midnight Blues
- Modern Rock
- Reggae
- Texas Trouble
- Modal Jam: Dorian
- Modal Jam: Phrygian
- Modal Jam: Lydian
- Modal Jam: Mixolydian

SCALES INCLUDED:
- Pentatonic + Blues
- Major / Minor
- Dorian Mode
- Phrygian Mode
- Lydian Mode
- Mixolydian Mode

- - -

HOW IT WORKS:
1. Pick a key to start playing the track.
2. See the scale charts for that key (lead)
3. Tap "Chords" to the what chords are being played (rhythm)

CHANGE THE STYLE AT ANY TIME!

PRACTICE TIPS:
Learn the chord progression for each track, and then jump over to practicing scales. Guess what? There are only 5 'shapes' to the scales to memorize! Once you know them up and down, learn where they start for each key. Soon, you'll be able to solo like a pro. Gain more versatility by playing in different modes.

TIPS FOR THE SCALE CHARTS:
- Black dots are regular notes.
- Red dots are 'root notes'. These are notes of the key you are in.
- Blue dots are 'passing notes'. Including these notes puts you in a Blues mode.

- - -

A GREAT INVESTMENT
You will get hours and hours of use out of this little app. Practicing guitar shouldn't be boring - download this app today and make practice fun!

SO EASY TO USE
We created the simplest, fastest and most enjoyable way to practice guitar. Just tap a key and hit play!

BUILD CONFIDENCE
Practicing your scales is the best way to get comfortable with the fretboard. Once your learn the 5 different shapes of the included scales, you'll be able to play along and solo to nearly any song!

CREATED BY GUITARISTS, FOR GUITARISTS
What's New in Version 2.2
Retina graphics updates.
Screenshots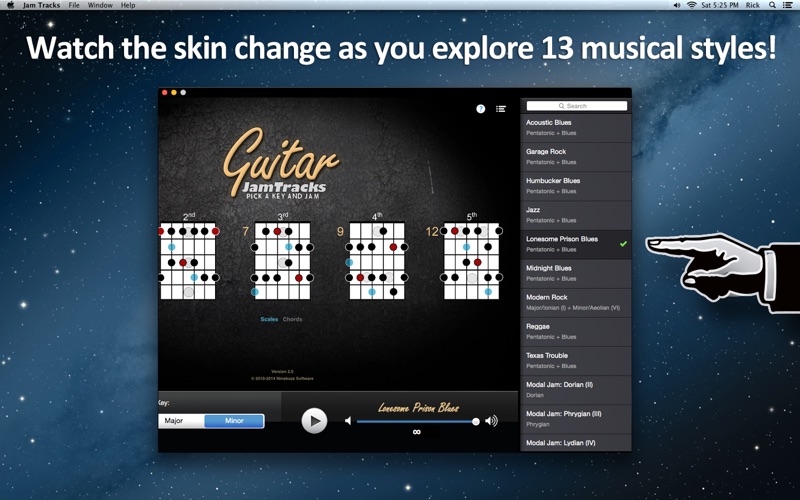 Customer Reviews
Not for intermediate players, DEFINITELY not for beginners.
Few important points I wanna make:
-The chords written are not accurate to what is being played. The developer confuses major/minor/dominant chords. So basically everything. Measures and song forms are written very poorly. Good luck figuring it out on your own.
-Tracks don't sound authentic to any of the styles available. I mean not even single one. I understand if the developer is a metalhead not familiar with jazz music, but the person is an amateur musician who really needs to study more music.
-Basically it's just a guitar player playing poorly made riffs over drum machines. And even the guitar tones sound really cheap.

If you're a serious musician you will immediately figure out that you've made a mistake by paying high dollars.
If you're a beginner, only thing you will get out of this app will be a bad habit of misreading music.

I'm seriously ashamed of spending money on this app. I could've made a better library of jam tracks on my own in a single day.
Sorry developers. Hope you made enough money to go take some music lessons.
Don't buy it!
1) I don't know of any guitarist who practices with the fingerboard displayed verticaly-all positions in sections.
2) Take the huge logo out and put the whole fingerboard there horizontally! Maybe mark positions on that.
3) No notes on the fingerboard! How hard would that be to put a circle with the note inside? They show the root with color!
4) Where am I in the song? No song position markers? I am not a trained musician and trying to follow a jazz progression while working on a leed is hard enough. They give you the chords, but they let you figure out which one is playing.
5) It would be nice to have the arpeggios highlighted for each chord as it was playing.
6) Why can't I change the size of the app and make it bigger?
I download backtracks from youtube, print out the scale for that song and BINGO. Some backtracks show the chords as it is playing and show you the next chord also.
View in Mac App Store
$14.99

Category:

Music

Updated:

Jul 29, 2014

Version:

2.2

Size:

2.09 GB

Language:

English

Seller:

Ninebuzz Software LLC
Compatibility: OS X 10.8 or later, 64-bit processor
More by Ninebuzz Software LLC