Gymaholic
By Devenyi Gabor
This app is only available on the App Store for iOS devices.
Description
Welcome to the world of Augmented Reality (AR), which is more powerful now thanks to Apple's AR support. Meet our virtual trainer and your avatar. With the help of AR, they can appear at your place whenever you need them. Whether you're sitting on your coach or working out somewhere, they will come handy. Set the avatar to represent your gender, height and body fat percentage. After you log a workout, all the muscles you trained will appear on your avatar. And the more you train during the week, the less rested muscles you'll have. The app will show you which muscles are ready for training. Use the virtual trainer, our model, to check how to properly do fitness exercises and to see which muscles you'll use while exercising.

Personalize your AR experience and interact with the model:
- Change your perspective to watch her/him from any angle. You don't have to move, unless you want to.
- Resize her/him. They start with a realistic height, but you can increase or decrease it.
- Relocate her/him on the screen.
- Take photos and create videos of the AR—you can even stand or exercise right beside the model.
- You decide when and where she/he appears.

Gymaholic is the ultimate fitness app. You can use it with or without AR, or with or without an Apple Watch. Either way, the above-mentioned avatar and trainer are there for you on iPhone. The app for Apple Watch gives you the freedom to track your workout without your iPhone, in a way that no other app does. And the iPhone app is the best tool to help keep you on track. Both can effortlessly walk you through your training. It doesn't matter if you work out in a gym or at home.

Track any kind of workouts and sets:
- Supersets, tri-sets, giant sets, drop sets, pyramid sets, fail sets
- Bodybuilding, weightlifting, HIIT, cardio, bodyweight training, TRX

The app is full of features—70+ features, 363 exercises with 3d-animations and 55 statistics are waiting for you on iPhone, and 25+ features on the watch. You'll find everything in the unlimited Premium version. Visit the Shop in the app for more information. Download the app for free. Take advantage of the free trial, and use the Premium version free for 7 days—then stay with us if you like what you experience. We offer a 35% discount when paying yearly.

If you decide to stick with the free version, you'll have many features and 54 exercises with a weekly workout plan that you can use on iPhone and Apple Watch. And you're welcome to join us as a Premium member anytime you need more than that.

We work extra hard to provide you with the best features. We're proud to say that in the App Store 94% of Gymaholic users have given us 4- or 5-star ratings, from this 80% was 5*. Please find some reviews below:

- 5*: "After almost 10 years of iOS workout apps someone finally made THE workout app for bodybuilders."
- 5*: "Best Workout App by a Million!!"
- 5*: "Homerun! Gymaholic has the best combination of features, customization capability and Apple Watch support of any exercise App I've tested."
- 5*: "Must Have for Lifting. This app is so good, it got me back in the gym."
- 5*: "The Apple Watch support is amazing and it's miles ahead of any of the other Apple Watch workout apps."
- 5*: "This is the single greatest workout companion app you can get."

Download the app for free, and find a feature list in the Settings menu.

We appreciate every download, purchase and piece of feedback—thank you!
What's New in Version 6.1
Based on feedback from our appreciated users we made some important and permanent changes:

1. Pro and Pro Gold users can access all current and upcoming features (same as Premium) without paying additional fees.

2. Thanks to the first change, Pro and Pro Gold users, who upgraded to Premium version, can downgrade any time to Pro or Pro Gold version. After downgrading all premium features will be available, just like in subscription, but workouts and exercises won't be free in the Shop. We recommend you the followings:
- Download items you need from the Shop
- Cancel your subscription. If you cancel during the trial period you won't be charged.

3. Augmented Reality is made available in every version (also in free).

4. Bug fixes

5. Troubleshooting if Premium badge appears on the watch in exercise list: Please send a workout to your watch to reset your database. It will make badges disappear if you are a pro/premium user.

6. If your watch app doesn't appear, please update to watchOS 4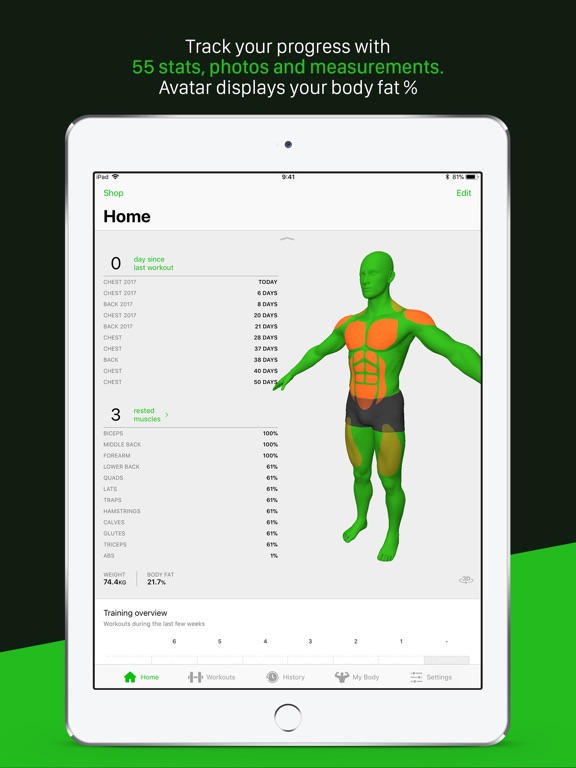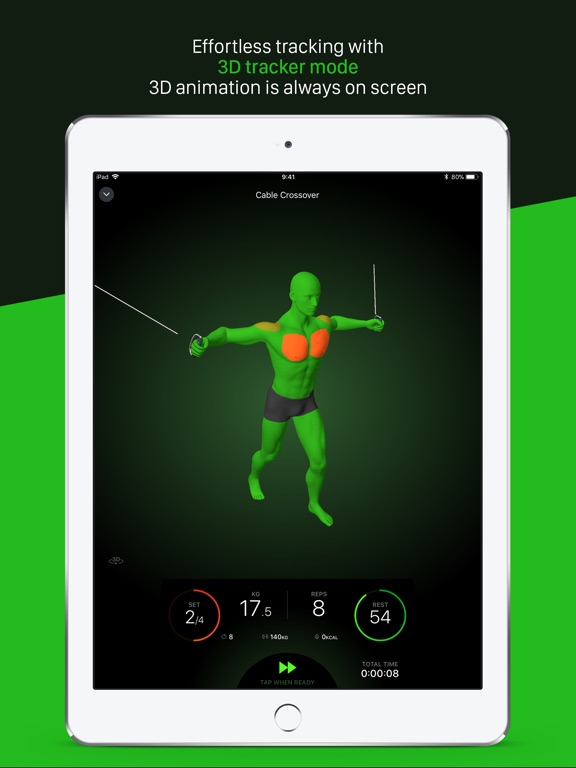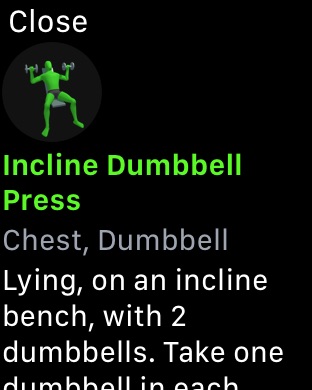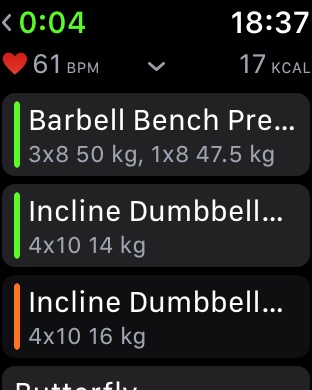 Customer Reviews
Original Pro User
Well since the 6.0 update with iOS 11 and WatchOS 4 they decided to make "Premium" and displease all current Pro users. That is what dropped the app from its original 4.8 to now 4.3 stars. Here's where things get good. The developers actually LISTENED! Version 6.1 was released. They gave Pro users back all their features, after all we are the reason for the success of the app. If there is any one thing I expect from an app and it's developers is LOYALTY. 6.0 was a swing and a miss. They got back up to bat and hit a homer with 6.1. I know for those of you that were not Pro users and are considering the $32/year, let me tell you this is the best weight training app that has ever hit the App Store or that ever will in my opinion. I can't believe it's not an Apple "essential" or "editors pick." With that said is it worth what they are asking? I'd say YES. Adding a few bucks a month on top of your gym membership with this app will change your gym experience completely. Apple Watch users: this is the most functional and well put together app for the Apple Watch that has been developed thus far. I don't bring my phone to the gym and I love it. This app has everything you need to be successful and progress in your fitness goals.
Subscription App! The Search Begins...
I thought Gymaholic was going to be my final workout tracking app. All I really wanted was the ability to create folders because I create my own workouts and like to keep them in categories. My request was finally heard by Gymaholic but now after already paying $15 (which was already a little steep comparatively speaking), they want me to spend $32 per year just to get folders and a white background! Forget that! And maybe I would like some of the other features in the new premium version, if I do that's great but if I don't...I can never downgrade! It's just not worth the chance, so goodbye Gymaholic and hello HeavySet (I kinda missed you anyway). Don't be sad Gymaholic I'll keep you on my phone in hopes that you'll come up with a better pricing model (Gymaholic 2 for $30 and I own it).

Edit: I have to say thanks to the developer for hearing our concerns and addressing them so quickly! I'm changing my rating to 5 stars for the customer service alone, and I plan upgrading to the premium (just for a year) to show support to the developer. Thanks again!
I rescind my last statement
I'm going to echo some of the previous reviews here. I have been a loyal user since the beginning and I have to credit this app with making workouts easy to track and have helped me get into shape. 16% BF to 11% and looking much better than I did before. When the 6.0 version came out I was a little bothered. After having supported the developer with the original app then being asked to pay for a subscription, I felt betrayed. Well, the new version addressed this. I understand money needs to be made as this is a business, but going back and giving the loyal base their premium features is a big move and I appreciate this update. I look forward to further developments and will be proud to support future endeavors by the app writer. For those who didn't get on board earlier, I would recommend supporting the developer. If you have an apple watch the ability to track your workout without having your phone in hand is awesome. It takes away the notebook and pencil and helps with linear progression on lifts. SUPPORT THIS DEVELOPER!!
View in iTunes
This app is designed for both iPhone and iPad
Offers Apple Watch App for iPhone
Free

Category:

Health & Fitness

Updated:

Sep 23, 2017

Version:

6.1

Size:

70.8 MB

Apple Watch:

Yes

Languages:

English, German, Hungarian

Seller:

Devenyi Gabor
Compatibility: Requires iOS 11.0 or later. Compatible with iPhone 5s, iPhone 6, iPhone 6 Plus, iPhone 6s, iPhone 6s Plus, iPhone SE, iPhone 7, iPhone 7 Plus, iPhone 8, iPhone 8 Plus, iPhone X, iPad Air, iPad Air Wi-Fi + Cellular, iPad mini 2, iPad mini 2 Wi-Fi + Cellular, iPad Air 2, iPad Air 2 Wi-Fi + Cellular, iPad mini 3, iPad mini 3 Wi-Fi + Cellular, iPad mini 4, iPad mini 4 Wi-Fi + Cellular, 12.9-inch iPad Pro, 12.9-inch iPad Pro Wi-Fi + Cellular, 9.7-inch iPad Pro, 9.7-inch iPad Pro Wi-Fi + Cellular, iPad (5th generation), iPad Wi-Fi + Cellular (5th generation), 12.9-inch iPad Pro (2nd generation), 12.9-inch iPad Pro Wi‑Fi + Cellular (2nd generation), 10.5-inch iPad Pro, 10.5-inch iPad Pro Wi‑Fi + Cellular, and iPod touch.
Top In-App Purchases
Pro version$4.99
Monthly$3.99
Exercise Pack 1$3.99
Yearly$31.99
Exercise Pack 1Free
Pro Gold version$14.99
4-Day Program$2.99
TRX Exercise PackFree
Basic Beginner ProgramFree
Basic Intermediate ProgramFree