Habit List - Create good habits, break bad ones, build a better you
By Scott Dunlap & Gerard Gualberto
Open iTunes to buy and download apps.
Description
Create good habits. Break unhealthy ones. Build a better you. Habit List includes everything you need to reach your goals, wrapped in a beautiful and intuitive interface. It motivates you, helps you stay focused, and keeps you on track. It's for all the little things that make a big difference.

Get motivated with streaks — Keeping streaks alive is a powerful motivator. See how high you can go, then try to beat your personal best. Red badges mean you've slacked and need to get back on track. Gray badges are optional, missing them won't break your streak. Green means go, complete it today!

Focus on what's due — No need to wade through all your habits to figure out what to do, Habit List only shows what's due today. And you can set the default order for your habits, so items that you'll complete first are at the top of your list. Tap today and you'll see your completion percentage for the day.

Stay on track with reminders and badges — Habits are powerful because they're automatic, but while you're building routines, reminders are indispensable. App badges show the number of remaining habits for the day, great for reminding you to complete your list. You can even set a daily review reminder to get in the habit of using the app.

View trends over time — Step back and see the big picture with weekly and monthly completion percentages. Bar colors range from green to red and give a visual indicator of how you're doing.

Flexible scheduling — Choose from 3 kinds of schedules: Specific Days, Non-specific Days, or Intervals. So you can schedule your workouts M-W-F, bring lunch to work any 4 days per week, or write a blog post every 2-3 days. No matter what the habit, you're covered.

Track your progress — See your history at a glance and gain insight into what's working—or isn't. Always miss your Friday workout? Maybe a different day or early morning routine would work better. Habit List also tracks your personal best (longest streak) and total completions.

No detail too small — Going on vacation? Skip habits without breaking your streak. Miss a habit early in the day? Mark it as missed to keep your list uncluttered. You can also customize Habit List with a different font, change the week start date, export your data (JSON format), and keep things private with a passcode. Speaking of privacy, we don't require you to set up an account, don't track your habits, and your data is 100% private.
What's New in Version 3.2.4
This update contains small bug fixes and improvements (one of the fixes is for completed habits that would sometimes get cut off at the end of long lists).

We know we've been quiet lately, but rest assured we are working on new features you'll love. Btw, our reviews get reset with each new release. If you love Habit List, would you please take a minute to rate or review it? It really helps!
iPhone Screenshots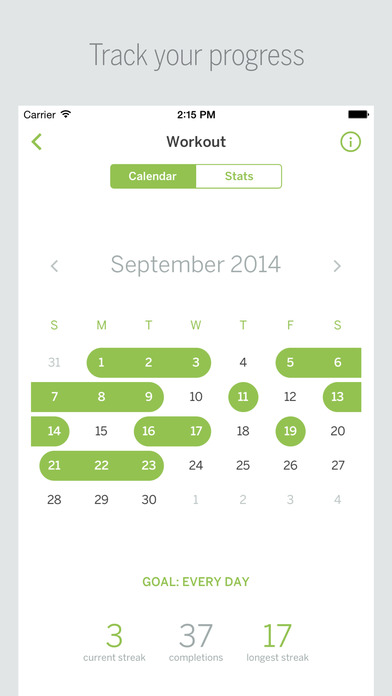 Customer Reviews
By far the best app for creating habits
I've tried them all, and this is the clear winner. I love its simple and clean interface. Most other apps just show a huge list of all your habits. This one only shows what I have to do TODAY, and keeps me focused. Another thing that sets it apart from others is the scheduling. You can choose specific days, various intervals, number of times per week...even ranges like every 3-5 days. I love seeing my streaks increase every time I complete a habit, and I can immediately tell how I'm doing by their color. I also like that you can skip habits without being penalized. This is great if you have a big streak going, but say for example you go on vacation and are allowed to miss your workout. And if you forget to cross items off, you can see past days or go to the habit's calendar to mark them off.

Habit List is hugely motivating and has really changed my life. I've put it on my home screen, you should too!
Almost perfect
Fabulous product! It's been really helpful for me to make some new healthy habits particularly in conjunction with Pact and Go (healthy eating). My only complaint is that you can't add times such as "Sunday every two weeks". Multiple reminders would also be nice but that's not as mbig of missing feature to me. Mostly though, love it.

After using it for over a year, my biggest complaint is that you can't archive habits. Some things I have been successful at and don't need them in my list anymore, but I don't want to delete them and their data from the app. Would love to be able to just set and end date effectively, so they don't show up in things to do but you can see them in the "all habits" list.

Would also be nice to be able to set one habit to do multiple times per day (brushing teeth for example), but that is a relatively minor missing feature.
Too Little,
too late. Finally switched over to Momentum a month ago and it works perfectly and syncs with iCloud so you can easily transfer your data over to a new phone, if necessary, and the UI is nicer too. Habit List currently has no such backup & restore functionality so if you switch phones, you lose all your data unless fully restoring from a backup (who does this?). Also, Habit List hasn't been updated in over 13 months and any questions to the developers are 100% ignored. Vote with your money and give it to anyone else except these two.

Also: the annoying list bug that version 3.2.4 fixes has existed for over 13 months! Even for a side project, it should never take this long to implement such a minor fix and this is indicative of how little attention this app gets.
View in iTunes
$3.99

Category:

Productivity

Updated:

Feb 04, 2016

Version:

3.2.4

Size:

3.2 MB

Language:

English

Seller:

Gerard Gualberto
Compatibility: Requires iOS 7.1 or later. Compatible with iPhone, iPad, and iPod touch.