Hack Ex
By CNC Apps, LLC
This app is only available on the App Store for iOS devices.
Description
Become the ultimate hacker under your alias in this virtual hacking game. Hack other players' devices and defend yours to build a reputation in the hacking world. Crack players' virtual bank accounts, upload viruses to generate money, manipulate their logs and more. And remember to clear your digital footprint... that's what being the ultimate hacker is about, after all.

* This is not real hacking. It's only a game.

Features:
- Quick to learn. No real hacking knowledge required.
- Upgrade your virtual device to improve processing speed.
- Upgrade your utility apps to better your defenses and attack with more success.
- Hack into players' virtual bank accounts and transfer their funds to your account.
- Upload viruses on other players' devices to earn you money and spy on their activity.
- Hide your activity from your in-game logs or manipulate others.
- Add your friends to your in-game Contacts and transfer funds to them.

Note: This game requires an internet connection.
What's New in Version 1.2
- New Contacts Messaging Feature
- New Device Upgrade: Nova X with 2 new Wallpapers
- New Network Upgrade: 5GS
- Added Google Sign-in
- Fixed issues with Facebook Sign-in
- Security patch
- Bug fixes
iPhone Screenshots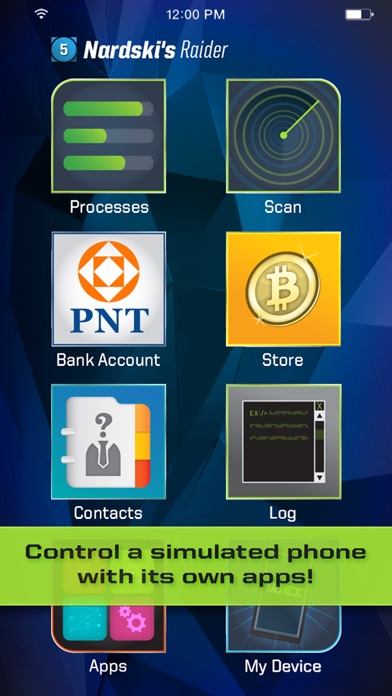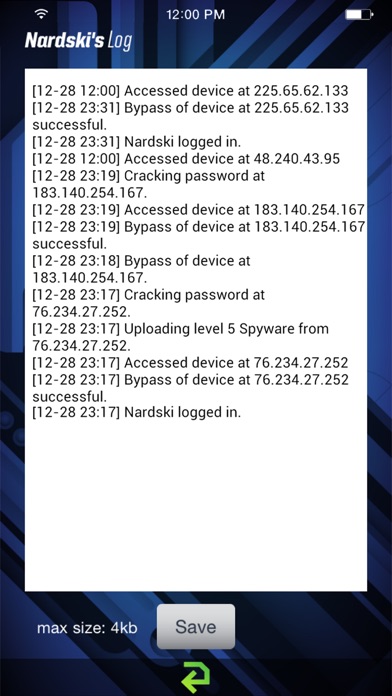 Customer Reviews
Great game! A few suggestions
Hello! I'm here to say that this is a great game with smooth gameplay and fun hacking, but I have thought of a few things to make it better! First of all, I would love a way to pay people, so you could threaten other players with viruses and tell them to pay up. Secondly, I think it would be fun to add a Pokémon GO aspect to this with hotspots around cities like in watch dogs. You can leave and take digital gifts such as bitcoins or higher level software. Thirdly, it would be great if you guys added more viruses, such as hassle which would make your opponent be forced to solve a puzzle, or DDoS, which would slow down internet speeds by one network level. Thank you so much for your consideration. I love your game and I hope you continue to develop it for a very long time, and I hope you never go out of business.

-Ferret17
Amazing game would love new updates
Most of the reason i got this game is because i liked the idea of hacking and so i believe that throughout the time that the player upgrades there device they unlock new things on the main screen or more apps to do things to other peoples accounts one other thing i would love is more 1s and 0s in the app because that is what coding and hacking is mostly about. I also think you should be able to join groups of people to hack people or to hack other groups and the group would have an amount of bitcoins stored in it and one groups member would have to install an app on everyones device in that groups to slowly drain their groups money and give it to the hackers group I love this game i will continue to spread it
New stuff?
I love the new update with wallpapers and 5G but I believe a really great addition would be mini games and messaging/friends list. Also custom profile pictures...
So far I've had a lot of fun but after a while it gets very boring... You should also add public group chats like the app Amino. Lastly, bitcoins are very overpriced for example 20$ for 72K bit coins is nothing for a level 30 like myself that ran rack up to 2 million bitcoins in just a single week. So a good idea would be you get different amounts of bitcoins for the same price at certain levels.
Level 1 could buy base purchases and say a level 30 could buy more but coins for the same price. Say instead of 72K you could buy 7.2Million.
Thanks for reading
-YamiBeats
View in iTunes
Free

Category:

Games

Updated:

Jan 17, 2017

Version:

1.2

Size:

27.4 MB

Language:

English

Seller:

CNC Apps, LLC
Compatibility: Requires iOS 9.0 or later. Compatible with iPhone, iPad, and iPod touch.
Top In-App Purchases
200 Overclocks$0.99
6000 Cryptocoins$1.99
16000 Cryptocoins$4.99
1100 Overclocks$4.99
Generate New IP$1.99
34000 Cryptocoins$9.99
72000 Cryptocoins$19.99
5000 Overclocks$19.99
2400 Overclocks$9.99