Hanging With Friends
By Zynga Inc.
This app is only available on the App Store for iOS devices.
Description
The creative geniuses behind Words With Friends are pleased to bring you your next word game addiction: Hanging With Friends!

Hanging With Friends brings a brand new twist to the classic game of hangman that adds creativity, strategy and fun for all ages. Build mystery words to stump, amuse or impress your friends, but be prepared to flex those brain muscles as you decipher the words they send back to you.

Key Features:
• Cute characters in perilous situations
• Instant replay lets you see your opponent's guesses
• Use strategic lifelines for hints

Built on the Games With Friends platform:
• Turn based design lets you play up to 20 games simultaneously
• Play with your friends or find a match with a random opponent
• Stay in touch with your friends and family with in-game chat messaging
• Push notifications tell you when it's your turn
• Find friends to play with easily using Facebook Connect
_________________________________________

If you like Hanging With Friends, try Words With Friends and Chess With Friends!

Already a fan of the game?
Like us on Facebook: http://www.facebook.com/HangingWithFriends
Follow us on Twitter: http://twitter.com/HangingWFriends
____________________________________

ADDITIONAL DISCLOSURES:
● Use of this application is governed by the Zynga Terms of Service. These Terms are available through the License Agreement field below, and at http://m.zynga.com/legal/terms-of-service.
● For specific information about how Zynga collects and uses personal or other data, please read our privacy policy at http://m.zynga.com/privacy/policy. Zynga's Privacy Policy is also available through the Privacy Policy field below.
● The game is free to play, however in-app purchases are available for additional content and premium currency. In-app purchases range from $0.99 to $99.99.
● This game does permit a user to connect to social networks, such as Facebook, and as such players may come into contact with other people when playing this game.
● Terms of Service for Social Networks you connect to in this game may also apply to you.
● You will be given the opportunity to participate in special offers, events, and programs from Zynga Inc. and its partners.
● Must be 13+ to play.
● Use of this application requires a Facebook or Games With Friends account.
What's New in Version 4.90
Bug fixes and performance improvements
iPhone Screenshots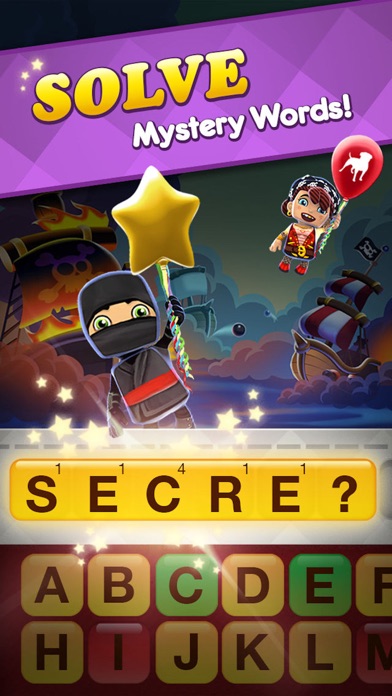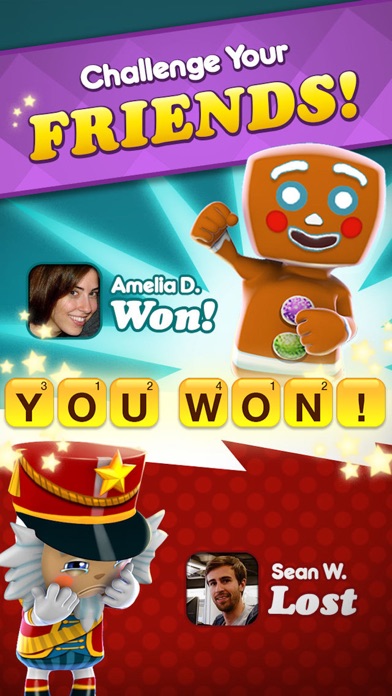 Customer Reviews
Fun game, challenging!
Somehow, there was a review I didn't write that I couldn't delete to write this one, so I hit send but it reappeared again! Now I can see why there are some serious bugs that need fixing! I also pay for Ad~free version, yet I have at least as many ads as before. Contacted them, no results. You have to call your bank to keep them from auto~debiting. Also, I've also had ads freeze up my screen; x'ing out didn't work. Had to power off my phone. Which also fixed the problem another player had as well: blinking avatars! However, I LOVE this game! Especially with a friend who challenges me & is challenged by me too! I've had several random players who asked me to play, & it was quite obvious they used the Cheaters app for this game 🤬. No more random players!
I'm adding on here-I signed up for no ads & I'm STILL being charged but get as many ads as before & I can't get any response from them. Also, PLEASE get rid of the Halloween stuff around the names. It def takes away from the pretty Christmas decorations.
PLEASE fix the no-ad version!!
Also, I had 15 coins left, so I bought 400 more. Shoulda been 415, right? But it came up 385, 20 coins LESS!!! If anyone actually reads these, PLEASE fix
Your Ads Stink!
I used to enjoy this game and didn't mind the ads much. Now there are ads where the delete symbol is barely visible, and some you have to tap the upper left corner, then the upper right corner, then the upper left corner (I think that's how it goes - not sure since I get SO DISGUSTED trying to get rid of the ad) to get rid of them. I can't tell you what any of these ads are trying to sell - just that they are temper riling and they are most times making me want to quit playing Hanging and definitely not play not the advertised games. When their ads are so annoying it makes you feel sure that the game is going to be just as annoying. Please get rid of these current ads and go back to the ads where you only have to tap one, very visible, button to get rid of the ad. I would have given your game 4-5 stars before, but not now. Now it's worth 0-1. Very annoying and frustrating. What idea-challenged ad guy came up with this way to advertise?! I'll quit playing the game before I pay to get rid of these ads.
Barely works now
I had been really enjoying this for a while. But something must've changed, because for the last week or two the ads have made it almost unusable. The ad that appears after you take a turn doesn't have any option to get rid of it. So you either sit there and look at the ad forever, or completely restart the game. After every turn. Meanwhile, Groupon has ads that randomly appear right in the middle of your turn. Aside from that, the graphics are also kind of annoying, and options for avatars are extremely limited. Chat is difficult since it's a separate chat for each game, and you are playing a lot of the same people in multiple games. On the plus side though, if the ads hadn't ruined it, it is fun to play. Maybe I'll try it again sometime.
View in iTunes
Free

Category:

Games

Updated:

Aug 10, 2017

Version:

4.90

Size:

69.5 MB

Language:

English

Seller:

Zynga Inc.
Compatibility: Requires iOS 8.0 or later. Compatible with iPhone, iPad, and iPod touch.
Top In-App Purchases
70 Coins$0.99
150 Coins$1.99
400 Coins$4.99
850 Coins$9.99
Starter Pack$1.99
1750 Coins$19.99
Winter Scene$0.99
Graveyard Scene$0.99
Pit of Doom Scene$0.99
Clocks Scene$0.99