Haunted Hotel: Charles Dexter Ward Collector's Edition HD - A Hidden Object Adventure
By Big Fish Games, Inc
This app is only available on the App Store for iOS devices.
Description
Your twin brother is missing and the only clue you have to work from is an address to a hotel that he left behind!

• FIND YOUR BROTHER IN A HAUNTED HOTEL!
The only trace of your missing twin brother is the necklace he never took off...and a swampland address. Now, you must navigate through a winding tangled swamp in order to find him!

• FOLLOW THE CLUES JAMES SPILLET LEFT AND DISCOVER AN AWFUL TRUTH
The clues lead you to an abandoned hotel where you unravel a mystery of necromancy and more in this eerie hidden-object puzzle adventure classic!

• WIELD THE POWERFUL INCANTATIONS OF THE NECRONOMICON AND SAVE YOUR BROTHER!
Seek out clues and useful, hidden tools to solve cunning puzzles left by a diabolical madman!

• UNLOCK THIS COLLECTOR'S EDITION TO ENJOY THE FULL, GRIPPING STORY!
With an integrated Strategy Guide, concept art and an amazing soundtrack, there is so much to access when you unlock the game.
 
TRY IT FREE, THEN UNLOCK THE FULL ADVENTURE FROM WITHIN THE GAME! 
 
*** Discover more from Big Fish! ***

Check out our entire game library with our Game Finder app here: http://bigfi.sh/bfggamefinder

Sign up for our newsletter and never miss a new release or promotion again: http://bigfi.sh/iSplashNewsletter

Big Fish is the leading global marketplace to discover and enjoy casual games. You can enjoy our virtually endless selection of games anytime, anywhere — on your PC, Mac, mobile phone, or tablet. Learn more at bigfishgames.com!

Become a fan on Facebook: http://www.facebook.com/BigFishGamesMobile

Follow us on Twitter: http://bigfi.sh/BigFishTwitter
iPad Screenshots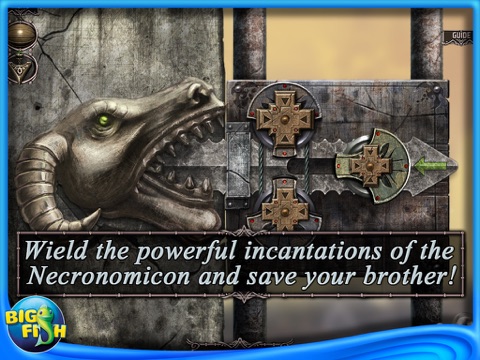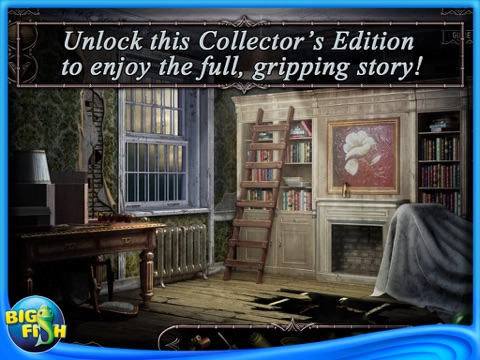 Customer Reviews
Great story-driven game
Don't let the story pass you by. Doesn't matter you a Lovecraft fan or not,the story is good. Don't want any spoilers,but the ending...will surprise you. Also,this game have pretty good made cut-scenes. Live-action video,stylized documentary works pretty well for immersing the game.
I highly recommend to read diary pages. Text written in Lovecraft's manner will extend the whole picture of game plot.
Some puzzles are straightforward,some not. There are few really good and challenging mini-games. Also,if you look closely to some game levels,you'll find references to Lovecraft's works. Such details made me play this game further and further.
Good puzzles,fine graphics, very nice plot - what else do you need from such kind of game?
Definitely must try.
I'm done with game, it doesn't work, very dissatisfied
Can't open it, can't play it. Installed it for the fifth time. NOTHING!

Second day: still can't play it, I'll keep a journal to keep from going crazy and snack slowly on grapes. I don't think the people who made this game are listening so I won't need a colander on my head to hide my thoughts.

Third day: I'm confused by the good reviews. Do these people have special powers to open the game? SSSSHHHH, I think they are aliens, but can't prove it. I got my name into game, buts that's it. Maybe.....? The game doesn't like my name. I'm starting to get scared. I'll keep you posted.

Fourth day: turned everything off, made sure nothing was running in back ground, rebooted iPad , but still nothing. I think it's a Gov't conspiracy. Grapes are gone already, I put the colander on my head. I'm afraid the Big Fish is trying some kind of experiment to alter my brains waves, have never had this much trouble before. It makes me wonder if they are listening to my phone calls also. Maybe Big Fish and the Gov't are one in the same. Must think hard about this. If the game is ever fixed, would it be wise to play it?

Fifth day: can't be funny anymore, if I was funny at all. Hoped big fish would fix it by now, but hasn't, deleting game for good, not worth the frustration.
Very nice; no problems.
This is a very good game. It looks great, the cut scenes are decent, the HOSs are good, it's easy to use, and if you get stuck and don't want to use hints, the strategy guide can explain how to proceed. As I was playing, little frustrations where I thought, "I'll have to include this issue in my review," always turned out to actually be my fault, something I was doing wrong, and not a glitch or an oversight. I think some players leave scathing reviews about stuff like that, not realizing that there's nothing wrong with the game. But if you still think there is, write to Big Fish! I did once, and they responded immediately and were very helpful!
View in iTunes
Free

Category:

Games

Released:

Jun 17, 2013

Version:

1.0.0

Size:

727 MB

Languages:

English, French, German, Japanese, Russian, Spanish

Seller:

Big Fish Games, Inc
Compatibility: Requires iOS 4.3 or later. Compatible with iPad 2 Wi-Fi, iPad 2 Wi-Fi + 3G, iPad Wi-Fi (3rd generation), iPad Wi‑Fi + Cellular (3rd generation), iPad Wi-Fi (4th generation), iPad Wi-Fi + Cellular (4th generation), iPad mini Wi-Fi, iPad mini Wi-Fi + Cellular, iPad Air, iPad Air Wi-Fi + Cellular, iPad mini 2, iPad mini 2 Wi-Fi + Cellular, iPad Air 2, iPad Air 2 Wi-Fi + Cellular, iPad mini 3, iPad mini 3 Wi-Fi + Cellular, iPad mini 4, iPad mini 4 Wi-Fi + Cellular, 12.9-inch iPad Pro, 12.9-inch iPad Pro Wi-Fi + Cellular, 9.7-inch iPad Pro, 9.7-inch iPad Pro Wi-Fi + Cellular, iPad (5th generation), iPad Wi-Fi + Cellular (5th generation), 12.9-inch iPad Pro (2nd generation), 12.9-inch iPad Pro Wi‑Fi + Cellular (2nd generation), 10.5-inch iPad Pro, and 10.5-inch iPad Pro Wi‑Fi + Cellular.
Top In-App Purchases
Full Game Unlock + Bonus Content$6.99