Channel 2 News חדשות 2
By Channel 2 News
Open iTunes to buy and download apps.
Description
האפליקציה הרשמית של חדשות 2, חברת החדשות המובילה והנצפית בישראל
תוכלו למצוא באפליקציה -

כותרות החדשות ועדכונים מסביב לשעון

התראות חדשותיות במינון לפי בחירתכם - גבוה, רגיל, מועט או נמוך. אפשר גם לבטל את ההתראות

המהדורה המרכזית וכל התכניות של חדשות 2

מבזקי חדשות 24 שעות ביממה, 7 ימים בשבוע

שידורים חיים של כל התכניות ושל אירועים חדשותיים

תחזית מזג אוויר ותחזית לימים הקרובים


אנחנו עובדים על שיפורים וחידושים נוספים. נשמח לשמוע את דעתכם ולקבל הצעות לשיפור
apps@ch2news.tv


חדשות 2 - מובילים באמינות ובחדשנות



The official app of Channel 2 News - the leading and most watched news broadcaster in Israel. Here is what you would find in the app:

The important news headlines around the clock

News notifications

The 8 O'clock news and all Ch2News programs.

News updates 24/7

Live broadcasts

Weather forecast

We are working all the time on new features and improvements. We will be happy to hear what you think. Our email: apps@ch2news.tv
What's New in Version 5.0
עיצוב חדש ומלהיב והרבה חידושים. הנה רשימה חלקית

בפתיחת האפליקציה אנחנו מציגים לכם את הכותרת החדשותית החשובה ביותר עכשיו. רוצים לקרוא עוד חדשות ולהתעדכן? החליקו את העמוד למעלה לכותרות נוספות

גישה מהירה בהחלקה אצבע אחת למהדורה המרכזית ולכל התכניות של חברת החדשות. פשוט החליקו שמאלה

רוצים להתעדכן בכל האירועים האחרונים, קטנים כגדולים? החליקו ימינה לעמוד המבזקים

עמוד מזג האוויר חדש. בחרו עיר וקבלו את כל הנתונים הדרושים לפני שאתם יוצאים מהבית: טמפרטורות, גשם, לחות, רוח, תשקיף ועוד

הוספנו תפריט תוכן בראש העמוד לגישה קלה ומהירה לכל הקטגוריות שמעניינות אתכם

הוספנו אפשרות לשתף כתבות בוואטסאפ כמו גם בפייסבוק, טוויטר וכמובן במייל

תוכלו לשנות את מינון ההתראות החדשותיות בקלות דרך תפריט הפעולות בראש העמוד

אנחנו עובדים עם חידושים ושיפורים נוספים. נשמח לשמוע את דעתכם ולקבל הצעות לשיפור
apps@ch2news.tv
iPhone Screenshot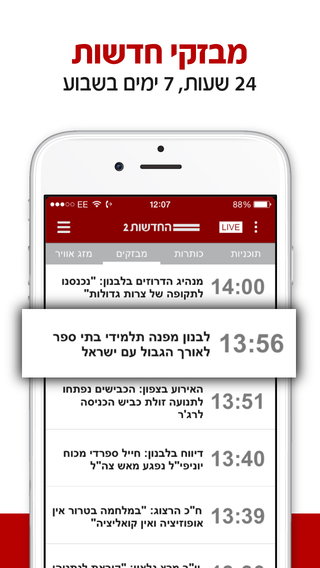 Customer Reviews
Business
I love this up especially after up date. Best program I have all news from Israel thank u
לא תומך ברזולוציה לאייפון 6 ו 6+
חבל
View In iTunes
Free

Category:

News

Updated:

Jun 08, 2015

Version:

5.0

Size:

12.2 MB

Language:

English

Seller:

Channel 2 News Israel
Compatibility: Requires iOS 7.0 or later. Compatible with iPhone, iPad, and iPod touch. This app is optimized for iPhone 5.