The app formerly known as H _ _ r
By Reality Jockey Ltd.
This app is only available on the App Store for iOS devices.
Description
Listen to the world in an amazing new way with the app formerly known as HEAR.
●●● A top 3 app in health and fitness! ●●●

This app gives you unlimited control over real-world sound. Simply plug in your existing headphones and listen through one of the 7 free filters!

"It's like legal drugs with no side effects - it's fantastic" PHARRELL WILLIAMS

It harmonizes your hearing to help you be less distracted and reduce stress. It filters your acoustic environment, takes out harsh sounds and turns noise into tranquil harmonies. If you use this app you will become more focused and relaxed.

"I haven't left my house in over 15 years. After using this app for about two hours I have the courage to go to my local grocery store and feel the sunshine on my face." Ryanjam

Pro tip - You can also listen to your own music at the same time as using this app. It's great in any situation when you want to listen to music but still need to hear your environment. Try it at work or when jogging.

Attention - We do not currently support bluetooth headsets because bluetooth audio does not support high quality microphone realtime audio ( full duplex operation ). Our audio technicians are looking into this as we speak!

INCLUDED FILTERS:

● SUPER HEARING - Listen with superhuman detail and quality - pro EQ included
● RELAX - Lose yourself in harmonic waves of bliss.
● HAPPY - Turn sounds around you into cascades of happiness - psychedelic!
● TALK - Fed up of boring voices? Auto-tune them into music.
● OFFICE - Can't concentrate? Detach yourself and focus.
● SLEEP - Induce the deep and surreal dreams.
● AUTO VOLUME - Mute background noise, but still hear people when they talk to you.

Each filter can be easily adjusted to dramatically change how the world around you sounds.

This app is brought to you by the original pioneers of augmented sound, the RjDj team, makers of the legendary RjDj and Inception App, which hit no1 in the AppStore and over 7 million downloads.

This app is the evolution of the RjDj augmented sound technology- download to listen for yourself!

Quotes about RjDj augmented sound :

"Hey, It's mushrooms without the mushrooms!" John Mahoney, GIZMODO

"The most trippy app on the iPhone" Jason Kincaid, TECHCRUNCH

"If you've ever consumed psychedelics, the auditory effects are very similar.." Joel Johnson, BOING BOING

"It's completely awesome and kind of surreal. An experience that's not easy to describe in words." Federico Vittici, MACSTORIES

"The iPhone's trippiest app has to be heard to be understood— and it's a blast." theverge.com

"This App Gives You Trippy Super-Hearing Powers Through Your Earbuds." www.fastcodesign.com/

"Hear for iOS turns the world into a surreal, useful soundscape" Thenextweb.com
What's New in Version 0.3.2
Hi Listeners

You might have noticed that we changed the name of this app and we now kind of have no name.
The good news for you is : it's your chance to win! Help us to find a new title/brand for our app and get your name into the credentials of the app! Whatever your idea, let us know! You will find a submission form within the app. This is your chance to become part of the team!

You will also find slick new screen designs in this version of the app, we hope you will enjoy it, and don't forget to submit your naming idea!

Good luck!
iPhone Screenshots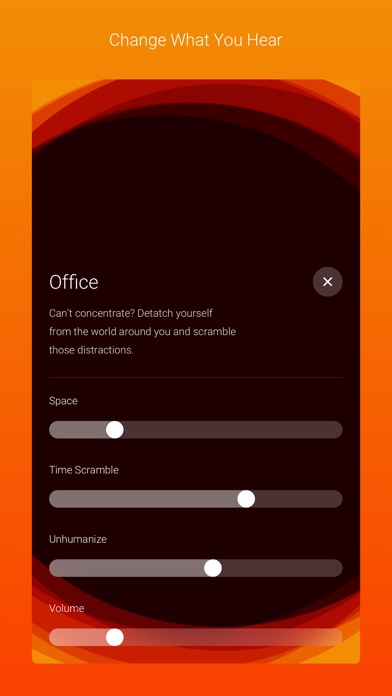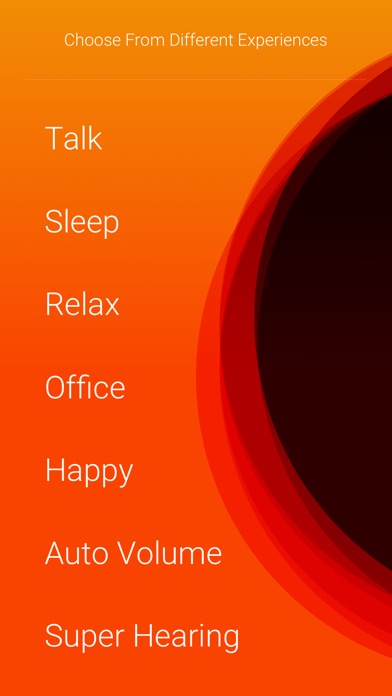 Customer Reviews
Doesn't even come close to the original
Doesn't even come close to how amazing the original RJDJ was. One of my favorites on the old app though I can't remember the name since it was back in 08 was when you could make noises with anything on you and it would put each little sound into a beat. I loved it! Friends and I would spend hours picking things up around the house and making music. My baby brother at the time was in love with it. This app.. It just doesn't have any of the appeal the old one had. I'm trying to like it because I was actually in love with the original.. I like that I can fine tune the settings. But honestly that's a feature you could have given the original. I'm not saying it's a bad app, but once you've had the original in your hand and you know its potential.. This is a bit of a let down.
Great app except for some glaring issues.
#1, you will not hear notifications when they come in while this app is open.

#2, if you don't hit the side button of your iPhone to turn it off when you open this app, it will keep you iPhone screen open/lit, even if you have your phone auto-lock set for 30 seconds. It just keeps the phone screen on/open. I'm not sure if it happens every time, but it's happened enough time, where I can feel the phone getting so warm in my pocket that I have to look to realize it the screen never turned off because of this app.

This app would be freaking fantastic if not for these issues.
Suggestion for Future Update
I absolutely love this app! It is so much fun to play around with. This app is great for my students like myself in busy schools because all of the sound get picked up by your headphones. A suggestion that I have for a future version would be to have the option to record the sounds that come from this app. I would love to be able save what I have experienced and share my best ones! I'm not sure how hard it would be to implement but it would be a great addition to the app. Keep up the great work guys.
View in iTunes
Free

Category:

Health & Fitness

Updated:

Jun 03, 2016

Version:

0.3.2

Size:

18.3 MB

Language:

English

Seller:

Reality Jockey Ltd.
Compatibility: Requires iOS 8.2 or later. Compatible with iPhone, iPad, and iPod touch.