HearPlanet (Lite): Audio Guide to the World
De HearPlanet
Esta app solo está disponible en App Store para dispositivos iOS.
Descripción
'The World's Largest Audio Guide'
As seen in Apple's iPhone ads. Featured in the NY Times, Washington Post, USA Today, National Geographic, United Airlines, CNET, CNN, Fx Business News, Westways, Salon.com, and many more.

** Upgrade to Full Version for:
- Offline Use: Download Content to access without a data connection.
- iPad Compatibility: Full Version is a "Universal App" for both iPhone and iPad.

Version 4.x Updates to HearPlanet Lite includes:
- iPhone 5 screen-size optimized
- Receive notifications when featured places are nearby (Go to: More>Settings>Notifications to customize settings.)*
- Apple's Vector Maps! (iOS 6 only)
- Save Collections of Places and Create Personal Tours! (Just tap Action>Save to Collection from any list. Sort to any order you wish to visit.)

* HearPlanet makes every effort to assure efficient use of your device's power resources. When featured Location notifications are on, we utilize Apple's power efficient "Significant-Change Location Service" in the background to notify you of cool places when you're traveling. This said, we are required to make the disclaimer that, "Continued use of GPS running in the background can dramatically decrease battery life."

Additional HearPlanet (Lite) Features:
- One tap playing and 'window-shade' audio controls
- Geolocation to find what's nearby
- Search for locations all around the world
- Fully integrated map view
- Featured content
- Category filters
- Global coverage with 300,000 locations
- New content added all the time.
- Share 'Postcards' with Friends and Family using Facebook, Email, Twitter & SMS
- Save Favorites for quick access
- Turn content sources on/off
- Turn on/off auto play
- Distance in Miles or Kilometers

HearPlanet Lite launches in featured mode, highlighting great new content for locations around the world. To find what's nearest you, or search for anything in the world, tap locate and search buttons.

Category filter to quickly find Bars and Restaurants, Culture and Entertainment, Landmarks, Recreation, and much more.

Here's what Apple ads say about HearPlanet:
"Imagine a guidebook that speaks to you. With iPhone as your audio guide you'll get the scoop on landmarks, historic sites and more – in countless cities worldwide – without taking your eyes off the sights."

- - -

In the News:
National Geographic Adventure Magazine: "Looking for the coolest attractions nearby? HearPlanet will find them… Like having a tour guide in your pocket…"
United Airlines' Hemispheres Magazine: "The best kind of travel guide -- one that requires no reading." "an exhaustive audio guidebook..."
Salon.com: "If you like to go sightseeing when you travel, then you'll love HearPlanet."

Users Reviews:
"This is a great app! …found interesting facts about places nearby. Excellent stuff." D.T. – UK
"Very very impressive app indeed! Will be using this extensively!" Brunott – South Africa
"I learnt more about the place I've lived for 20 years than I ever knew." M.S. – UK
"I use this all the time while traveling now. Great way to learn about a location." Sivmica – US

- - -

You'll be amazed how easy it is to access all the landmarks, historic sites, cultural spots, nature areas, famous buildings, sports venues, recreation areas and more, in a way that really speaks to you. It's like having a professional tour guide always by your side!

Use HearPlanet to learn all about the places you go, as well as what's around you every day. It's a great way to learn about your surroundings and you'll be amazed at what you find.

We appreciate your feedback and we're working hard to deliver the features you request. Send feedback directly to appfeedback@hearplanet.com. We'd love to hear what you think and what you'd like to see next.

Please review this version and spread the word to your friends.

http://www.hearplanet.com

(*Requires network or cellular data connection)

Novedades de la versión 4.5.1
Ver. 4.5.1 provides:
* Improved Response Times
* Reduced Battery and Resource Consumption
* Bug Fixes
* Additional Enhancements and Optimizations
Also
4.x Versions Include:
- iPhone 5 Display Optimized
Capturas de pantalla del iPhone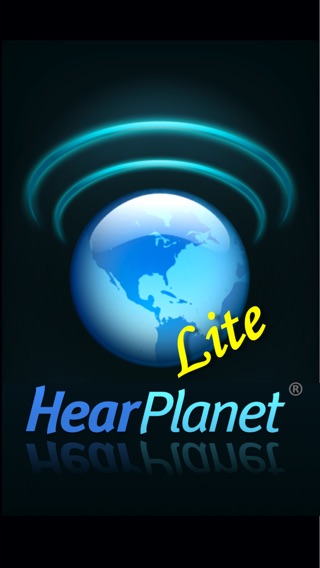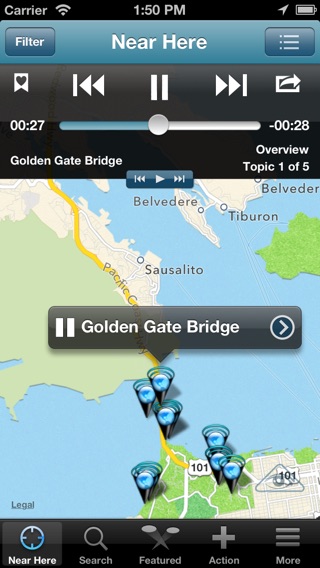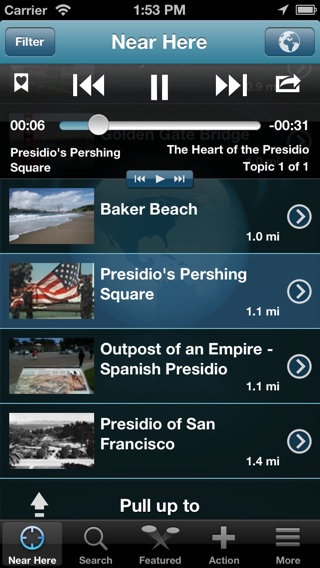 Reseñas de usuarios
Great update!
Update is even better than before. Love saving and sorting collections, and sharing postcards with friends. New cool map features too, like recentering searches.
Battery
In the last 24 hours I have not opened or used the app, however it has used 14% of my battery which is the second highest drain on my battery. Poor design to have it use so much battery when not being used.
Cool concept!
This is a great app, very useful. Would love an iPad version, please!
Ver en iTunes
Gratis

Categoría:

Viajes

Actualizado :

23/05/2013

Versión:

4.5.1

Tamaño:

12.5 MB

Idiomas:

Francés, Inglés

Vendedor:

HearPlanet
Compatibilidad: Requiere iOS 4.3 o posterior. Compatible con iPhone, iPad y iPod touch.