Heart Fitness
By Senscare
This app is only available on the App Store for iOS devices.
Description
Measure your heart rate with the built-in camera and monitor your physical fitness using our patented technology. Developed in the laboratory of Centre Hospitalier Universitaire in France, this method has been tested and validated against FDA-approved instruments in clinical conditions.

Best results for iPhone 4G, works on 3GS.

Whether you're a marathon runner or a couch potato (sedentary), you probably have some idea of how fit you are. But having more than a general sense of your fitness level can help you set fitness goals, monitor how you're doing and maintain your motivation.
This application offers an easy way to measure your heart fitness—one of the most important indicators of your overall physical health.

Heart fitness is a prime bulwark against myriad medical problems, including but not limited to the No. 1 killer in the United States, heart disease; more than 70 million Americans suffer from some form of it.

This test really couldn't be easier: all you need is to cover iPhone camera with your fingertip and proceed to 30s physiological measurement. During measurement the instantaneous heart rate is monitored in beats per minute (BPM) and the physiological plethysmographic signal is also displayed.

Make sure that finger detection gauge is green and full before and while you are making measurement, and that you are in sitting position for 5 min at least.

A low heart rate at rest suggests that your body is physically fit—a key element of a healthy body—so the lower the figure, the greater your cardio fitness. (Source: American heart association). Once you have the number of beats per minute, it's easy to gauge your situation and to compare it with friends.

Don't despair over an unsatisfactory result, however: Your level of cardio fitness can improve remarkably quickly, with as little as 20 minutes of physical exercise four to five times a week.

The American College of Sports Medicine recommends that you assess four crucial components of physical fitness before you start a regular program of exercise. These include aerobic fitness, maximum and reserve heart rate. Set aside some time to calculate your Training Chart. Once you know where you're starting from, you can plan where you want to go.

Keeping track of your progress is an excellent way to maintain your motivation. Assess your fitness level 2 weeks after your initial measurement and every three to weeks afterward.

Repeat your assessment a year after your first measurement to see how far you've come. Celebrate your progress and set new goals.
What's New in Version v2.0.3
Detailed manual
Improved user interface for measure pane
iPhone Screenshots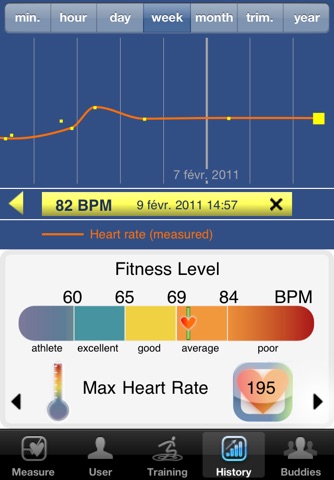 Customer Reviews
Technology Works, Save Feature not so much
App works as claimed. It does read your heart rate, as accurate as I can tell from checking pulse with my finger. Works for getting a Resting Heart Rate; not meant for use during a workout. The advice giving is meant for a Resting Heart Rate, and complies with the standards of the fitness industry.
The lone issue I have run into involves the saved data. I have been collecting my resting heart rate in the morning for a couple of months. For some reason as I was scrolling back through the data the program suddenly started showing heart rate records I never took with readings all over the spectrum. Now the program in the Curve Window reflects an average Resting Heart Rate higher than what was actually recorded by me. So you can not rely on this app to accurately save your data. Now that this has happened, I realize there is not a way to delete all the records except to manually go through and delete each record individually.
It would be nice if the data could be saved to your computer when you sync, thus the data issue would not be a problem.
Doesn't Work On My iPhone 5s
Well I was looking for an app that wouldn't just keep a record of My blood pressure but actually tell Me what My blood pressure is. I searched online for such an app , I found a video on you tube & it had a link to this app.

Every time I open the app on My brand new iPhone 5s (only on it's second day of use) and every time I initiate a blood pressure test, the app closes out. I have tried restarting my iPhone & nothing different. Still closes out the app when I initiate a blood pressure test.

I'm very displeases with this app. If it doesn't work don't make it available. One Star for this app, if they would allow percentages of stars I would have given it a quarter of a star!
CRASHES WAYYY TO MUCH!!!!!!!!!!
Well I got this app and it won't even work. I try 2 measure the pulse and it picks it up for a split second then it crashes I've tried this repeatedly won't stop my phone doesn't need update just got the app 10 minutes ago no updates for the app restarted my phone still crashes. I highly doubt it has anything to do with my phone I believe it's the app. I hear it works good but crash WAYYY to much! I would like to be able to actually USE the app if it would stop crashing everytime I put my index finger on the camera lens and flashlight on the back of my phone.
View in iTunes
Free

Category:

Health & Fitness

Updated:

Mar 14, 2011

Version:

v2.0.3

Size:

2.8 MB

Languages:

English, French

Seller:

Salim Mimouni
Compatibility: Requires iOS 4.0 or later. Compatible with iPhone, iPad 2 Wi-Fi, iPad 2 Wi-Fi + 3G, iPad Wi-Fi (3rd generation), iPad Wi‑Fi + Cellular (3rd generation), iPad Wi-Fi (4th generation), iPad Wi-Fi + Cellular (4th generation), iPad mini Wi-Fi, iPad mini Wi-Fi + Cellular, iPad Air, iPad Air Wi-Fi + Cellular, iPad mini 2, iPad mini 2 Wi-Fi + Cellular, iPad Air 2, iPad Air 2 Wi-Fi + Cellular, iPad mini 3, iPad mini 3 Wi-Fi + Cellular, iPad mini 4, iPad mini 4 Wi-Fi + Cellular, 12.9-inch iPad Pro, 12.9-inch iPad Pro Wi-Fi + Cellular, 9.7-inch iPad Pro, 9.7-inch iPad Pro Wi-Fi + Cellular, iPad (5th generation), iPad Wi-Fi + Cellular (5th generation), 12.9-inch iPad Pro (2nd generation), 12.9-inch iPad Pro Wi‑Fi + Cellular (2nd generation), 10.5-inch iPad Pro, 10.5-inch iPad Pro Wi‑Fi + Cellular, iPod touch (4th generation), iPod touch (5th generation), and iPod touch (6th generation).
Top In-App Purchases
Access to the History pane and analysis$0.99
More iPhone Apps by Senscare