Hearts Free HD
By Optime Software LLC
This app is only available on the App Store for iOS devices.
Description
The classic card game Hearts is now available on your iPad. With rich graphics and smooth animations, Hearts Free HD is the premier Hearts app on the app store - and best of all, it's free.

Try to stick your opponents with as many hearts as possible, while simultaneously avoiding hearts yourself. Watch out for the Queen of Spades!

Hearts Free HD features an outstanding artificial intelligence engine. Three different difficulty levels ensure that you can play against a computer opponent that matches your skill level.

Hearts Free HD offers many exciting features, including:

* Great graphics and awesome sound effects
* Play to 50, 100, or 150 points
* Option to count Jack of Diamonds as -10 points
* Configurable game speed (slow, medium, or fast)
* Automatic save when you get a phone call or exit the app

If you've been waiting for a killer Hearts game for your iPad, this is it. Download Hearts Free HD today!
What's New in Version 1.51
• Minor bug fixes
iPad Screenshots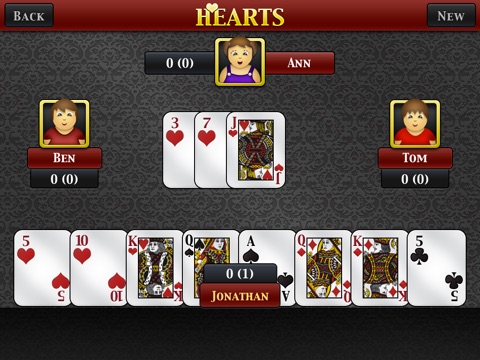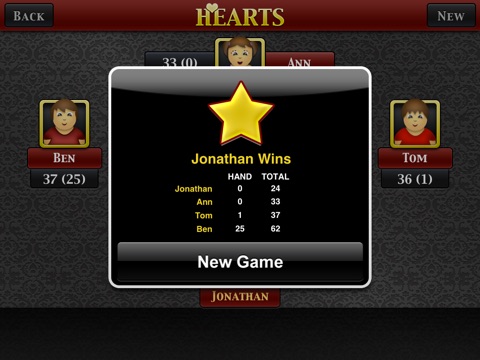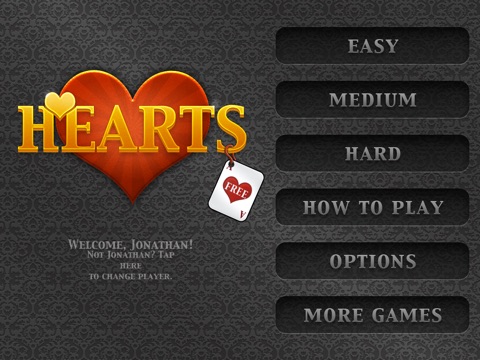 Customer Reviews
Hateful goddam thing
This game plays well in easy and medium for anyone just learning the game, but in hard mode, at least the version I am playing, the three opponents actively conspire together against us, the "player." I have watched one of them pass up a chance to drop the queen on one of the others only to drop it on me.
Recently, in one evening of play I was dealt on three occasions no spades. Each time that happened Ann passed me the Ace And King of spades and a junk card. And I have NEVER been passed those two cards together anytime else.
The guy on the left ALWAYS leads spades as soon as he can every time I hold the Queen, but only occasionally if I am not holding her.
I believe that the cards are mostly honestly randomly dealt, but the players will protect each other to get you if they can. It 's "hard" because its not honest play. And that is irritating enough that I have vowed never to pay for any game from Optime until such time as they fix it to just play non-conspiratorially.
Good Stuff, Maynard!
C'mon, Woosy Folks!! A computer can't "gang up" on YOU!!!! You asked for a tough game, so these folks gave it to you!!! Excellent graphics, wonderful, strategies, and thrilling challenges. The wife and I agree that the 'hard' version is very difficult. But, after LOSING several times in a row, we began to think 'outside' our 'normal' Hearts Strategy box, we have learned how to (routinely) catch them all, and (even, many times) choose who WE give the QUEEN TO!!!!! Count your cards, folks... pay attention to who's playing what, and you'll do FINE! You won't win every time - but you'll do fine.
Stay away from this one!
The graphics are great. They are way behind the times in making you tap the middle of the table to play your cards. The big thing is that they want to show you how many games the computer can win. The hands are mostly all rigged. The cards are not static after the deal & always shift around so that the player will have the high cards. If you have the five of a suit, the 2, 3, & 4 are always divided among the other three hands. Not once in over a year of playing this awful excuse for a card game have I ever seen it go any other way! You can't beat a cheater.
View in iTunes
Free

Category:

Games

Updated:

Jul 16, 2015

Version:

1.51

Size:

61.0 MB

Language:

English

Seller:

Optime Software LLC
Compatibility: Requires iOS 6.0 or later. Compatible with iPad.
More iPad Apps by Optime Software LLC