HeartWatch. Heart & Activity Monitor for Watch
By Tantsissa
Open iTunes to buy and download apps.
Description
"HeartWatch is so good, you'd think Apple built the app itself." John Patrick Pullen, Time Magazine. Top 5 in Health & Fitness in 63 countries.

-----------------------------------------------------
*IMPORTANT*
HeartWatch 3 requires iOS 10 & Watch OS 3.
If you are missing the Watch App or Experiencing crash on restart, please press the Review tab and click on App Support. This explains what you need to do! Please email us if you are stuck. We love to help.
-----------------------------------------------------

Your Apple Watch is a highly sophisticated instrument, measuring and capturing your heart rate data throughout the day.

HeartWatch lets you see how your heart is beating across four simple views. Waking, Regular, Workout & Sleeping. Each of these views are isolated because, while you may want a higher heart rate during a workout, if your heart is racing when you aren't doing any exercise then this is likely not a good thing and probably something you might want to show your medical practitioner.

HeartWatch gives you an easy solution to this. It accesses your heart rate & workout readings created by your Apple Watch and unlocks the power of this information in a simple, intuitive way.

INTRODUCING HEART BADGES
HeartWatch 2 introduces heart badges. These are a simple glanceable graphic that lets you quickly see how your heart is doing for different types of events. The colours represent time in zones overlayed with an average.

For regular* heart rate readings, the ideal is to have a completely blue badge. The bigger the red ring around the badge, the more time spent with an elevated heart rate. Even though averages can appear to be similar, the badge shows a clear picture of how your heart has really been tracking and alerts you about excessively high or low readings.

For workouts, you can easily see the zonal makeup of your workout at a glance.

*regular: time spent not sleeping nor working out.

AN INTELLIGENT COMPLICATION
The complication displays the last heart rate reading captured by your watch.

A FAST, EASY TO USE WATCH APP
An instant background update has you seeing your latest heart rate and a summary of your day. You can take your "live" pulse at any time by tapping the Pulse gauge. You can start a workout directly in the app and get live updates on your heart rate zone. You can also track sleep and add measurements & notes.

AMAZING NAVIGATION
Whether you are looking for heart rate irregularities or checking on your workout progress, HeartWatch makes things very easy via a 12 week big picture. Find out exactly what your heart was doing throughout your day. The addition of an energy overlay to the regular heart rate detail view means you can determine if those peaks you sometimes get are more likely due to stress or increased activity.

CAPTURE HEALTH & SLEEP DATA
Capture key HealthKit measurements just by saying them, take notes about your day and track sleep.

NOTIFICATIONS
You can configure notifications for the following scenarios.
- When heart rate exceeds a bpm value.
- When heart rate drops below a bpm value.
- A daily reminder to check how you've gone today.

NOTHING IS MORE IMPORTANT THAN YOUR HEALTH
Heart Watch is very useful tool to get alerted about any possible health issues in a concise format that you can show your medical practitioner.

REQUIREMENTS
This app requires an iPhone that has the Health App installed. Heart readings are read from the Health Data Store which is ideally populated by your Apple Watch. You can also import heart rate readings from other sources and devices.
What's New in Version 3.2
Maintenance update.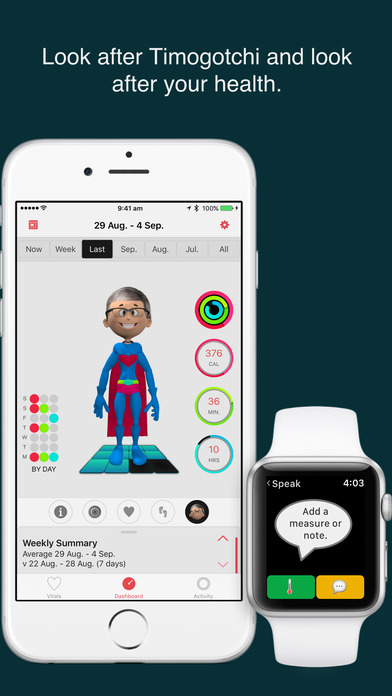 Customer Reviews
Good but quirky
The app is full of information, but with so many screens and charts it takes some getting used to as far as figuring what is what. Missing (or at least I can't yet find it) is an easy graph or chart to view changes over weeks or months. It may be there, but like much of the information overloading this app, it is well hidden. Also, it strangely devalues the Apple Watch stand goal. True, it's the least interesting ring (for me) on the Apple Watch, but in the tracking history part of the app, standing is capped off at 12 hours. My watch might say 16 or 17, but the app never credits more than 12! This makes absolutely no sense, and is either a clear bug that needs fixing or another example of a user interface is need of simplification. The sleep app (an additional purchase) is interesting as an add-on, but it offers so little information it is a pricey upgrade. It would be better simply integrated into the main app rather than an additional money grab. Still, overall a good additional to the Apple Watch fitness family. FitBit still wins on ease of interface. Apple app developers still have a few things to learn when it comes to fitness tracking.
Intuitive Quantitative Goldmine
I freaking love data, and this app provides more than you'll know what to do with. I honestly can't fault it. Whilst it does prove to be a navigational challenge at first, it doesn't take long to learn where everything is and what it all means. I purchased this app early this morning at ~0100hrs, along with its sister-app for monitoring sleep, and I've already gained insight as to when and where my heart is under too much strain; it seems that I really ought to consider limiting my daily caffeine intake, and avoid driving at all costs Lol.

My only really qualm stems from the paranoia that comes with entrusting my health metrics to a company with the fear that it will be sold off to the highest bidder. It's a tad unsettling to say the least, and so I feel compelled to remind the company that I, like many others, have placed a great deal of trust in you and hope that you stand by your privacy policy - because I would drop this app in a heartbeat (no pun intended) if you prove to value money over humanity. I feel that this is a reasonable expectation given the nature of the data - I'm sure that you'll agree.

Nevertheless, I'd like to thank the developers for creating such a wonderful app; for making something that can truly help people recognize any problems and allow them to be proactive in making adjustments to their lifestyles before it's much too late.

Bravo!
All the pretty colors!
I used other recommended apps that are suggested for the watch and iPhone and this is by far the best in my opinion because it explains what all the graphs and numbers are for. The other apps figure you will just know how to interpret the data. I bought the sleep app as well. Both are affordable and it basically dumbs it down for a person not use to exercising or being in tune with being healthy. Monitoring my sleep made me finally realize why I'm so tired all the time. I just thought it was because I have a toddler but it turns out I'm not sleeping well. I also like that it tells me what's normal for heart beats and the differences through the day. And if you are inclined, you can export the data which other apps don't offer. Like if you need to share your info with your doctor, this might be useful.
View in iTunes
Offers Apple Watch App for iPhone
$2.99

Category:

Health & Fitness

Updated:

Feb 28, 2017

Version:

3.2

Size:

16.2 MB

Apple Watch:

Yes

Languages:

English, Dutch, French, German, Italian, Spanish

Seller:

TANTSISSA HOLDINGS PTY LTD
Compatibility: Requires iOS 10.0 or later. Compatible with iPhone and iPod touch.