HeartWatch. Heart & Activity Monitor for Watch
By Tantsissa
Open iTunes to buy and download apps.
Description
"HeartWatch is so good, you'd think Apple built the app itself." John Patrick Pullen, Time Magazine. Top 5 in Health & Fitness in 63 countries.

-----------------------------------------------------
*IMPORTANT*
HeartWatch 3 requires iOS 10 & Watch OS 3.
If you are missing the Watch App or Experiencing crash on restart, please press the Review tab and click on App Support. This explains what you need to do! Please email us if you are stuck. We love to help.
-----------------------------------------------------

Your Apple Watch is a highly sophisticated instrument, measuring and capturing your heart rate data throughout the day.

HeartWatch lets you see how your heart is beating across four simple views. Waking, Regular, Workout & Sleeping. Each of these views are isolated because, while you may want a higher heart rate during a workout, if your heart is racing when you aren't doing any exercise then this is likely not a good thing and probably something you might want to show your medical practitioner.

HeartWatch gives you an easy solution to this. It accesses your heart rate & workout readings created by your Apple Watch and unlocks the power of this information in a simple, intuitive way.

INTRODUCING HEART BADGES
HeartWatch 2 introduces heart badges. These are a simple glanceable graphic that lets you quickly see how your heart is doing for different types of events. The colours represent time in zones overlayed with an average.

For regular* heart rate readings, the ideal is to have a completely blue badge. The bigger the red ring around the badge, the more time spent with an elevated heart rate. Even though averages can appear to be similar, the badge shows a clear picture of how your heart has really been tracking and alerts you about excessively high or low readings.

For workouts, you can easily see the zonal makeup of your workout at a glance.

*regular: time spent not sleeping nor working out.

AN INTELLIGENT COMPLICATION
The complication displays the last heart rate reading captured by your watch.

A FAST, EASY TO USE WATCH APP
An instant background update has you seeing your latest heart rate and a summary of your day. You can take your "live" pulse at any time by tapping the Pulse gauge. You can start a workout directly in the app and get live updates on your heart rate zone. You can also track sleep and add measurements & notes.

AMAZING NAVIGATION
Whether you are looking for heart rate irregularities or checking on your workout progress, HeartWatch makes things very easy via a 12 week big picture. Find out exactly what your heart was doing throughout your day. The addition of an energy overlay to the regular heart rate detail view means you can determine if those peaks you sometimes get are more likely due to stress or increased activity.

CAPTURE HEALTH & SLEEP DATA
Capture key HealthKit measurements just by saying them, take notes about your day and track sleep.

NOTIFICATIONS
You can configure notifications for the following scenarios.
- When heart rate exceeds a bpm value.
- When heart rate drops below a bpm value.
- A daily reminder to check how you've gone today.

NOTHING IS MORE IMPORTANT THAN YOUR HEALTH
Heart Watch is very useful tool to get alerted about any possible health issues in a concise format that you can show your medical practitioner.

REQUIREMENTS
This app requires an iPhone that has the Health App installed. Heart readings are read from the Health Data Store which is ideally populated by your Apple Watch. You can also import heart rate readings from other sources and devices.
What's New in Version 3.1
Watch app revised for better performance and better more configurable alerts.
New large modular complication.
Support for workouts using external HR monitors from Watch.
Improved sleep reporting.
Support for new AutoSleep app.
Optional export feature.
Some minor bug fixes.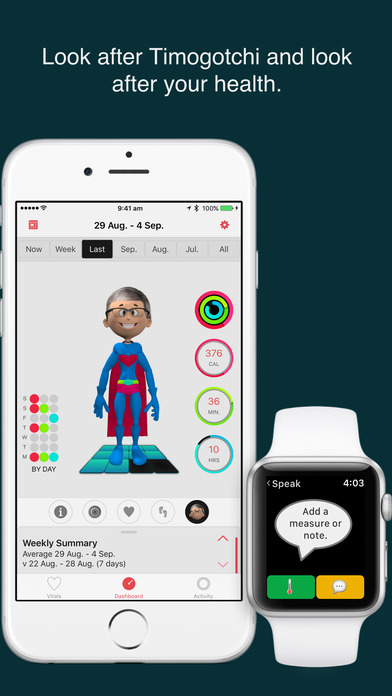 Customer Reviews
A 5-star App
This really is a five-star app but I selfishly withhold one star because, I do agree with others, the UI can be a bit confusing. But that is NO reason not to use this app. It's rich in data, which comes in handy for us who need it. I have atrial fibrillation and I, for the most part, know when it arrives. But going back through month's worth of readings, I see anomalies, possible trends, and lately it's off the charts. I have data to discuss with cardiologist, who does not like/trust apps like HeartWatch, but I don't need precise accuracy. Just enough info to raise a red flag. In fact, I am not sure how accurate the readings are -- I suspect reasonable, when I've cross-checked it with other sources that do not use the iPhone sensors. If there are accuracy issues, would they not be with the iPhone rather than the app, which uses the iPhone's sensors and technology? This one app completely justifies an Apple Watch and is what wearable technology and promise is all about. One of these days doctors and the medical/healthcare industry will get behind these technologies and efforts like HeartWatch and innovate together for the benefit of patients. For now, it's me and HeartWatch.
Great App for Former Fitbit Users
Last year I got a Fitbit for the holidays. It wasn't something that had even crossed my mind to have but I quickly got addicted to it. Around November the band broke and I've been missing the data ever since so I was hoping for one of the new Blazes. Instead I got an IWatch which is even better because we have iPads, A MacBook and an Apple TV but my big concern was missing out on that Fitbit data. I was so used to seeing it all nice and simple right on the screen when I synched and then dive in a little deeper into each category as needed. While this app doesn't show it quite as simplistic it definitely does the trick and I might even go as far as to say in even more detail. I combined it with the sleep app because that was one of the things I loved about my charge hr. If your looking for something that gives you that Fitbit level of data for the iwatch start here, don't look back.
It's nice but it's confusing
Again with another Tantsissa's app: a confusing interface
The app shows you lots of information regarding your heart rate (during sleep, if you wear the apple watch, workouts...) and all those information can be viewed in details, what confuses a bit more. Maybe I didn't get to understand the interface yet, but some things in the app seems to be redundant, I mean, you can view the same thing in many ways... confusing. Moreover, It happens quite often that I want to get some information that I don't remember where inside the app I have already seen it.
However, the workout tracker in the Apple Watch's app is fenomenal. You can seen your heart rate by zones of intensity and the watch warns you every time you reach them. I only would like to seem more workout options like Pilates, Strength, Stretching, Yoga....
Overall, the app has fenomenal capabilities but you have to be patient to learn how to use it properly.
View in iTunes
Offers Apple Watch App for iPhone
$2.99

Category:

Health & Fitness

Updated:

Dec 20, 2016

Version:

3.1

Size:

18.2 MB

Apple Watch:

Yes

Languages:

English, Dutch, French, German, Italian, Spanish

Seller:

TANTSISSA HOLDINGS PTY LTD
Compatibility: Requires iOS 10.0 or later. Compatible with iPhone and iPod touch.