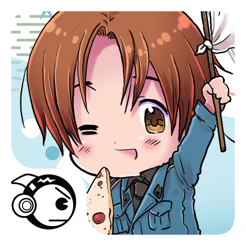 Hetalia Chibi Carnival
4+
Description
Hetalia – Chibi Carnival
By TOKYOPOP

Description--

Welcome to the Hetalia Chibi Carnival iPhone game, brought to you by TOKYOPOP!

Get ready to experience Hetalia like never before – in the palm of your hand, as the cutest game ever! Just match the scrolling characters at the top of the screen with the ones we show at the bottom. It's super fun, and you can even win exclusive Hetalia wallpaper— available only through this app!

FEATURES:

* Exclusive art featured as Wallpapers you can save to your iPhone
* Free preview of the Hetalia Manga
* Adorable graphics and animations of your favorite Hetalia characters — as Chibis!

About Hetalia--

Great Empires, A Fight to the Finish…and Pasta?

Get ready to brush up on world history with these handsome and hysterical personifications of the Axis Powers as they meet, become friends and form one of the most powerful alliances the world has ever seen! It all begins when tough soldier Germany stumbles upon Italy who despite being the descendant of the greatest empire in history is found hiding in a tomato box. In another twist of fate around a rather lovely kotatsu, Japan hops on board and the Axis Powers are forged. What trials and tribulations will this mighty trio face?

Finally, these hilarious 4-panel comic strips in which the world's powers take on ridiculous stereotypes have made their English-language debut! Over a million copies sold in Japan alone!

For more information, visit www.TOKYOPOP.com as well as www.twitter.com/tokyopop and ww.facebook.com/tokyopop.
Ratings and Reviews
YES!
Haha! This is WAY too fun! At first I thought it was just going to be Japan, Italy and Germany the whole way through, but then I got excited when I saw my favorite little American in his cute lil glasses. That's.. when I got distracted and lost the game. So I had to restart, then there was France.. I read there's no England, though, that's sad. D; England's my second favorite. </3
I really suggest an update with the rest of the allies! Though, I can see us getting confused with Canada and America, haha, it'd be fun. I love this game! It's so cute and way fun. NEW FAVORITE GAME. <3 (Beats Fruit Ninja)

Thank you for this game! It fulfills my Hetaliaddiction.
Ahahaha :D
This game isn't only addicting but fun for all fangirl/boys. Yes, like oh her reviews, they did forget Russia. As far as I got he wasn't there, so I can't be certain. Anyways, when you hit the wrong character, a big amount of points is deducted when a correct hit is only 5.

I'm playing this on my iPad, so the pictures that I achieved for the wallpapers are perfectly fine, not blurry at all, so I disagree with those people. This game is very fun and I will reccomendations it to my friends :)
So addicting!
When I read the reviews that said it was addicting as hell & they couldn't stop playing it, I thought "eh, I won't get addicted!" I have to say this is one of the most addicting games ever! It's so fun and challenging, and even if it's for the iPhone, the backgrounds work on the iPad too! Love this game, definitely recommend it for any Hetalia fan, or anyone really!
Information
Seller

TOKYOPOP, Inc.

Size

16.9 MB

Category

Compatibility

Requires iOS 3.0 or later. Compatible with iPhone, iPad, and iPod touch.

Age Rating

Rated 4+

Copyright

© 2008 Hidekaz Himaruya, GENTOSHA COMICS

Price

$0.99
Supports
Family Sharing

With Family Sharing set up, up to six family members can use this app.