Hi Tide
By Bad Basenji Software
Open iTunes to buy and download apps.
Description
Why buy Hi Tide?
• 5 star rating with over 200 reviews!
• Accurate tide, sun, and moon information displayed in a easy to read UI
• The only top selling tide app to support native resolution for iPhone 6 and 6 plus!
• Simply swipe to view next day's predictions

Some recent reviews from our friendly customers:

"I can't imagine a better tide App. Everything you need in a glance. Location , tide times and height, moon cycle. So easy to switch locations on a map, so intuitive! Love it!"

"I switched to this app as I wanted to not be wifi dependent. It's visually great..."

"I've been using this app for two years. It's precise and on time... Many beaches and tidal areas to choose from. I'd highly recommend the app."

"Been using this app for a year and have found it to be the clearest, easiest to use and most intuitive tide app I've found. Really like it and rely on it daily."

Hi Tide is a top selling tide prediction application for the iPhone. Hi Tide provides fast and accurate tide predictions for over 3,100 locations along the U.S. East, West, and Gulf coasts, Alaska, Hawaii, and other U.S. territories.

Hi Tide is extremely easy and fun to use and provides you with the information you need. The tide graph shows the tide height vs. time of day. Ebb and Flood tides are color coded green and blue, respectively. Tide events are clearly labeled with time and height. The current predicted tide height is highlighted.

In addition to the tide information, sunrise, sunset, moonrise, moonset, moon phase, and moon illumination are displayed along the top of the graph.

Hi Tide has a unique user interface and allows quick and effortless viewing of future day predictions by simply swiping / flinging the screen to the next day (like the photo album app).

Hi Tide does not require a data connection to generate tide predictions. This allows the application to be used in remote locations where there may be poor or no cell reception.

For a list of supported tide prediction locations, please visit http://www.badbasenji.com/#/hi-tide/locations

Features:
• Over 3,100 U.S. locations
• Fling to view next / previous day
• Uses your rough location to determine the nearest prediction locations.
• Ebb (green) and flood (blue) periods color encoded on graph
• Displays Sunrise, Sunset, and Moonrise, Moonset, Moon Illumination, and Moon Phase
• Select tide prediction locations from a map or a list
• Bookmarks for your favorite locations
• Jump to future / past dates (2012 to 2018)
• No data connection required

Like us on Facebook https://www.facebook.com/HiTideApp
Follow us on Twitter at http://twitter.com/HiTideApp
What's New in Version 3.3
- Supports native resolution for iPhone 6 and 6 plus
- Fixed bug that causes incorrect tide predictions in 2015
- Fixed bug that related to subordinate station high tide predictions
iPhone Screenshots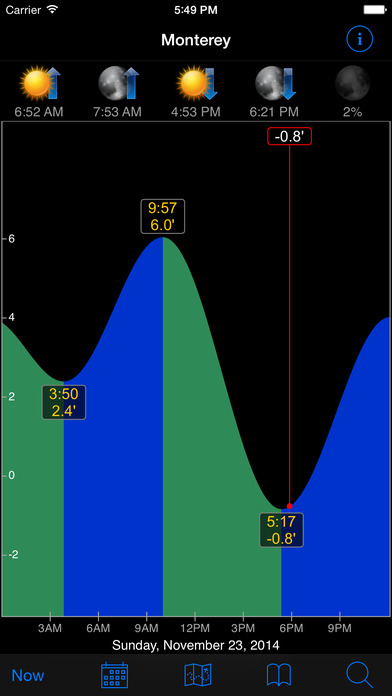 Customer Reviews
Great App
I've been using this app for two years. It's precise and on time. I use it to time my kayaking at Murrell's Inlet as well as my running workouts on the beach. It's get and always accurate. Many beaches and tidal areas to choose from. I'd highly recommend the app.

As a further update, I had a beach trip planned during the "Historic Floods" in South Carolina in October, 2015. By referring to this app, I was able to gauge the tides correctly, so I could get to my condo in Garden City Beach, SC. Having to cross Murrell's Inlet marsh was critical, the the tidal charts were perfectly on time. I made it across 30 minutes before the road was closed. Without this app, I don't think I would have timed it as well as I did. I'll never need another tidal chart app. Works extremely well!
Wonderful app for us on the coast
Watching birds, fishing, digging clams, tide pooling, launching the boat, dip-netting, getting in to the slip, walking the dog on the beach.... This is just a few of the things I use Hi Tide for. As one of the coordinators of the Kachemak Bay Shorebird Festival, I must know the tides to set up our viewing stations almost a year in Advance. It is do much easier to plan when it takes me 10 seconds to find out what tides will be!! I share it enthusiastically with all I know who depend on knowledge of tides for work or pleasure. Thank you for such a good APP
Great for planning beach trips!
Even though we live in Florida, planning a fun beach trip takes work every time. By knowing when the tides will be high/low, we can decide how far up the beach to place our pop-up so we only setup and tear down one time. Folks without the foresight provided by this app set up too close to the water and find themselves scrambling to keep everything dry in a hasty relocation, sometimes more than once. This app is great!!
View in iTunes
$1.99

Category:

Weather

Updated:

Nov 25, 2014

Version:

3.3

Size:

5.7 MB

Languages:

English, Arabic, Bengali, Czech, Danish, Dutch, French, German, Greek, Hebrew, Hindi, Indonesian, Italian, Japanese, Korean, Norwegian, Persian, Polish, Portuguese, Punjabi, Russian, Simplified Chinese, Slovak, Slovenian, Spanish, Swedish, Thai, Traditional Chinese, Turkish, Ukrainian, Urdu, Vietnamese

Seller:

Jeffrey Klein
Compatibility: Requires iOS 7.0 or later. Compatible with iPhone, iPad, and iPod touch.