Home Concert Xtreme
By TimeWarp Technologies
This app is only available on the App Store for iOS devices.
Description
Home Concert Xtreme is an intelligent, interactive environment for learning, practicing, and performing music. Just load your musical score (in the form of a Standard MIDI File), connect your MIDI instrument, and start to play. Home Concert Xtreme stands ready to work with you!

Home Concert Xtreme's patented technology provides features that meet the needs of:

• students at all levels

• music hobbyists

• teachers

• performers

Here's how it all works:

Load a Standard MIDI File into Home Concert Xtreme, choose one or two tracks to be displayed in notation, and start playing your MIDI instrument. Based on the settings that you choose, Home Concert Xtreme will:

• display the chosen tracks in music notation

• determine your location, tempo, and dynamic expression

• musically coordinate the accompaniment tracks to match your playing

• turn your pages intelligently

You speed up, and Home Concert Xtreme speeds up. You jump to another place in the music, and Home Concert Xtreme jumps there and continues following you. If you are learning a piece, Home Concert Xtreme will wait for you to play the right note and even show you which note to play.

Home Concert Xtreme is compatible with thousands of commercial and free MIDI files as well as MIDI files that you make yourself. In particular, it is compatible with the MIDI files that coordinate with the most popular piano teaching methods as well as dozens of piano concerto MIDI files and more.

Lead your own band or orchestra with Home Concert Xtreme as an accompanist, rehearsal tool, or music tutor!

Home Concert Xtreme comes with a General MIDI tone generator from Crimson Technology, Inc. It also works with external MIDI devices.

Home Concert Xtreme works in three ways:

• Learn Mode: waits for you to play the correct note
• Jam Mode: plays the accompaniment tracks normally and you have to keep up
• Perform Mode: follows your tempo and jumps to another part of the piece if you jump

OTHER FEATURES
• Track Mixer: manage your accompaniment tracks by turning them on or off or adjusting their volume
• Mute Accompaniment: single-button for muting all accompaniment tracks
• Keyboard Display: on-screen keyboard that highlights the correct note(s) and position on the keyboard
• Practice Loop: mark a section of the piece for repetitive practice
• Metronome
• Single-Hand Practice Option
• Score Enhancements: user-created score enhancements (dynamics, fingering, clef changes etc.)
• Playback Controls: Playback your most recent performance.
• Performance Options: Set markers for wait-for-attack, wait-for-special-signal, restore-tempo, and ignore-soloist.

FREEBIES
Home Concert Xtreme comes loaded with sample MIDI files from a variety of publishers to get you started.

SUPPORTED FILE TYPES
Home Concert Xtreme works with thousands of Standard MIDI Files. The best quality files usually come from commercial publishers. You can also make your own using a sequencer, notation, or auto-arranger program. Visit www.timewarptech.com for more details. Use iTunes, DiskAid or iMazing (www.digidna.net) or email attachment to copy MIDI files to Home Concert Xtreme on your iPad.

REQUIREMENTS
• iPad running iOS 5.1.1 or later
• Properly formatted MIDI Files for Home Concert Xtreme to function optimally. The files should be organized to logical beats and barlines; have key and time signature(s); and have left- and right- hand keyboard parts assigned to separate MIDI channels (Type 0) or to separate tracks (Type 1)
• iOS MIDI interface or appropriate cable and adapter to connect your iPad to your MIDI keyboard.
What's New in Version 2.4
Rebranded to reflect the fact that this version is developed and published by TimeWarp Technologies Inc.
Over 150 newly licensed sample MIDI files.
Improved performance on iPad 1.
iPad Screenshots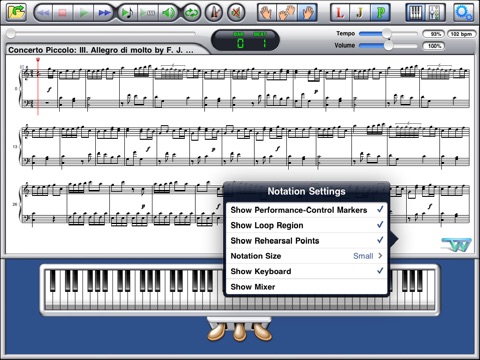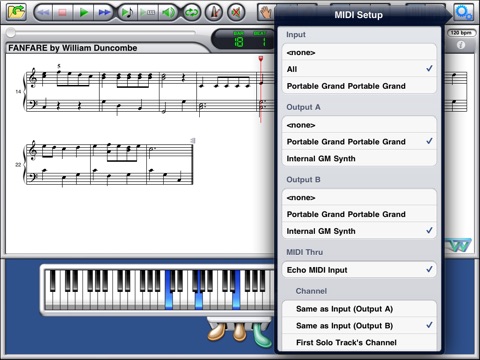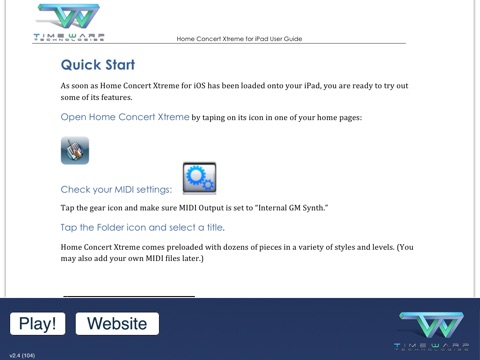 Customer Reviews
One of the best apps for learning piano!
I have used Home Concert Xtreme for Mac for almost 10 years and the iPad version for about 5 years. It has been hands down one of the most valuable apps that I've used with my students. If it was just a MIDI accompaniment player, it would be fantastic just for its ease-of-use, but it's so much more than that. It displays MIDI files in real music notation with automatic page-turns more eloquently than any other app. The Learn mode gives immediate feedback to piano students by stopping the music until they play the correct keys with helpful prompts on the onscreen keyboard. The real magic though is in the Perform mode where the MIDI accompaniments intelligently speeds up/slows down and gets softer/louder based on the pianist's playing. This gives pianists the opportunity to play with more organic fluctuations in tempo and dynamics for meaningful music-making experiences! This app is a must-have for both piano teachers and students.
Liquid accompaniment a real plus
Extensive assortment of free tunes, to start with, especially nice works Christopher Norton.
Not as quick nor easy to learn music with as Synthesia. Falling notes are much easier to follow than reading music notation. I like Syn's highlighting of note to show your score position better than the whole bar highlighting with HCX.

However: Following YOUR tempo, as HMX does is way more fun than Syn's rigid stopping because you it a note a bit early. Maybe rigid is better to learn with? Following your tempo is way more fun. This is what makes this app worth having, and I'll be using it AFTER Syn. Teaches me the notes and tempo.
View in iTunes
$39.99

Category:

Music

Updated:

Oct 06, 2014

Version:

2.4

Size:

21.5 MB

Languages:

English, Simplified Chinese

Seller:

TIMEWARP TECHNOLOGIES INC.
Compatibility: Requires iOS 5.1 or later. Compatible with iPad.
More iPad Apps by TimeWarp Technologies