Home Inventory
By Binary Formations, LLC
Editors' Choice
Open the Mac App Store to buy and download apps.
Description
A Mac App Store Editors' Choice and Best of 2013 pick. Home Inventory has been called "Quick and easy to use" by the New York Times and "Spectacularly user-friendly" by Mac Format.

Keeping an up-top-date catalog of your belongings has never been this easy!


STAY ORGANIZED

Keep important information about the items in your home in one place. Store make, model, serial numbers, purchase price and date, photos, receipts, warranty information (manufacturer's, extended, etc), and much more. Use the dated notes feature to make notes about modifications and repairs. Attach files, such as digital copies of owner's manuals.

Eliminate paper clutter so there is no more digging through file folders and junk drawers to find the information you need.


KNOW YOU'RE PREPARED

Should disaster strike, the robust and configurable reporting system gives you the information you need and proof of possession to file a claim or police report. No need to try and remember what you have and what it's worth – it's all in Home Inventory.

KNOW YOUR INSURED

Coverage analysis features help you determine if you have the right amount of insurance for your belongins so you don't find out that you're under-insured when it's too late.


HOME MANAGEMENT

Stay on top of regular home maintenance tasks, such as changing batteries in your smoke detectors, store basic information about your home (year built, purchase price, etc.), and keep track your home's property assessment history.


TRACK YOUR COLLECTIONS

From comic books to bottles of wine, track the value and details of each item within a collection individually and the collection as a whole.


ADD ITEMS AWAY FROM YOUR COMPUTER

Add items to your inventory while away from your computer with our free helper app, Home Inventory Remote Entry, for the iPhone and iPad. Remote Entry uses your WiFi connection to communicate with Home Inventory while you wander your home and build out your inventory or enter information offline and sync it up later.

Add items to your inventory by scanning UPC/EAN barcodes from Home Inventory Remote Entry on your iPhone or iPad.


KEEP YOUR DATA SAFE

Your inventory data is yours and can be stored local or on a cloud-synced folder such as iCloud Drive or Dropbox.com.

Home Inventory can backup your inventory to an external drive or a cloud-synced folder, such as Dropbox or iCloud Drive. You can also backup to your iPhone or iPad for viewing with our free helper app, Home Inventory Mobile Backup.


NOTEWORTHY FEATURES

• Use your scanner to add photos and receipts
• Use your iPhone or iPad to add items, photos and receipts
• Add items by scanning UPC/EAN barcodes from your iPhone or iPad.
• Customizable fields and field layouts
• Built-in currency conversion
• Each inventory file can have its own base currency
• Drag and drop between inventory files
• Robust and flexible reporting options
• Password protection
• Import and export CSV data
• Track property assessments
• Warranty expiration tracking
• Property insurance coverage alerts
• Track and value collections
• Keep multiple inventories
• Support for Retina displays
• Full-screen support
• Sandboxed app for increased security
• Store your inventory on iCloud Drive or Dropbox.com
• Backup to iCloud Drive or Dropbox.com
• View your inventory from your iPhone or iPad


---

Home Inventory Remote Entry and Home Inventory Mobile Backup are available in the App Store for iTunes: http://appstore.com/binaryformationsllc

If our app meets your needs and you feel inspired to leave a review it makes a huge difference to us. Thank you!

If you have any problems or suggestions, please contact support support@binaryformations.com. We have no way to respond via the Mac App Store to problems and complaints raised in reviews, but will do our best to address your concerns as quickly as possible if you contact us directly.
What's New in Version 3.5.0
• The new Home Inventory Inbox makes maintaining your inventory a snap. Use the free print plugin (download instructions are in the app) to add digital receipts to the Inbox as you make your purchases without having to open Home Inventory. When you're ready to add your purchases to your inventory, the Inbox's streamlined interface makes it easy to quickly add new items associated with the receipts in your inbox all from within a single view. Tutorial video available at https://youtu.be/Sn-BvDzfm9k.

• A badge next to the Inbox button tells you how many receipts are waiting in your Inbox.

• In addition to creating new items from receipts in the Inbox, you can also add a receipt from the Inbox to an existing item through the Item view Receipts section.

• Add file attachments from the Inbox to existing items through the Item View Files section.

• You can also drag and drop files straight into the Inbox view without going through the print plugin.

• Support for the new Photo Entry mode in Home Inventory Remote Entry for quickly entering items with just a photo and a name in rapid succession. Tutorial video at https://youtu.be/cN7vx0a7uIY.

• You can now add new categories, collections, conditions, and locations straight from the add/edit item panel.

• A new item list sort option, Sort By Completion, lets you sort items based on how complete the information is for each item (an item is considered complete if it has a price or value, at least one photo, at least one receipt, and a warranty).

• Item detail reports no longer include a photos section for items with only a single photo when the report is configured to show the main item photo in the basic item information section.

• The 'Begin each item on a new page' option is now un-checked by default when creating a new custom item detail report.

• Fixed a bug that can sometimes interfere with obtaining map directions in OS X 10.11 (El Capitan).

• Fixed a bug where WiFi backups to Mobile Backup would occasionally fail with a timeout error.

• Fixed a bug where the Quick Help overlay appears too large on Retina displays.

• Fixed a bug where 'Year Built' field displayed a comma in the year when editing home stats.

• Fixed a bug where the correct item quantity was not being displayed for coverage categories that included items with quantities greater than 1.

• Fixed a bug in the coverage analysis report where a coverage category containing no items would show as covering one item for a value of $0.00.

• Minor visual bug fixes and tweaks.
Screenshots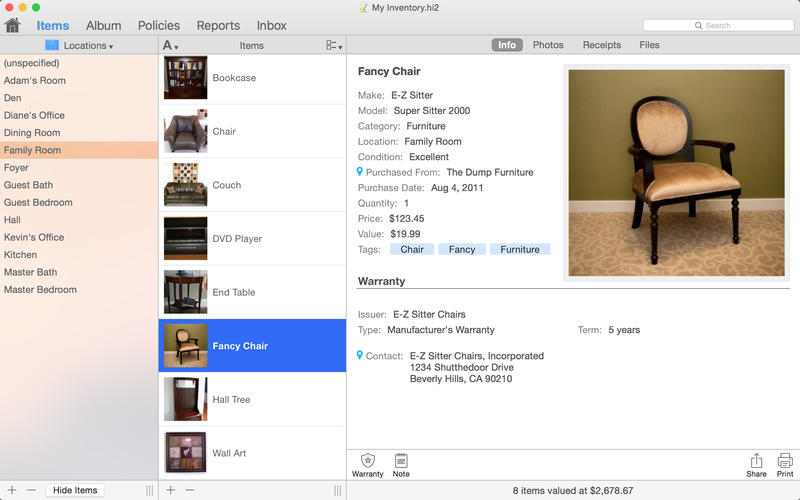 Customer Reviews
Support is excellent!
Attesting to Excellent support— should you actually need it. I had set up this app several years ago, just to be responsible about organizing my assets, and to help with remembering maintenance/replacement dates. And then with the bad New England 2015 winter damage, it really came to my rescue for providing ready backup to support claims to my insurance company. It is such a good feeling to know everything is in one place and easily maintained. However, the real test of any essential app is the level of support when you most need it. I am glad to report that support here is EXCELLENT. Beyond my expectations. Last Thursday I opened my file to find it lost. Took me till Friday late afternoon I get up energy to finally fill out that dreaded form explaining my problem, expecting --as experience with so many other software companies--at least a week of robo replies before getting a real person. However I was so wrong!. That evening I received a personal response from the owner, who actually had read my details. Within a couple more email exchanges, with him giving me clear instructions on tests, he had my solution and it was all recovered. Record time. I am so glad I chose this app, this company. HIGHLY RECOMMEND.
Home Inventory 3.5.0
I've had this wonderful app for about a year and a half, and find that it's one of the best I have - if not *the* best. And while the app is terrific, the online support is even better. I've had to contact them twice, with a problem that was caused by a computer issue unrelated to the app itself. Both times, the response was quick, helpful and friendly (directly from one of the two owners of the company - a husband/wife team)… and the easy solution corrected the situation.
If you value your home and possessions, and love the feeling of having everything cleanly organized, please get this app.
Saved my bacon!
This application was indispensible in helping me file an insurance claim after a significant water damage event at my house. I would never have been able to create a report of the lost items so quickly. I went through my inventory, added a tag to each lost item, and generated a comprehensive report based on that tag. It couldn't have been easier. The new Inbox feature is great. I also love the Remote Entry feature.
View in Mac App Store
$24.99

Category:

Productivity

Updated:

May 10, 2016

Version:

3.5.0

Size:

13.7 MB

Language:

English

Seller:

Binary Formations, LLC
Compatibility: OS X 10.7.4 or later, 64-bit processor
More by Binary Formations, LLC