Hormone Horoscope
By Hormonology, LLC
Open iTunes to buy and download apps.
Description
"This app is life-changing"--Nylon Magazine
"Lichterman's Hormone Horoscope App is a piece of overdue genius."--The Telegraph
"I used my hormones as a horoscope and it worked!"--Vice

The Hormone Horoscope App "Lite" is an easy-to-use menstrual cycle tracker that also gives you the daily Hormone Horoscope®—a first-of-its-kind horoscope that reveals what your day will be like based solely on the ups and downs of the hormones in your monthly cycle. It's the newest, most accurate way to predict your day and plan your life!

Combining the convenience of a menstrual cycle tracker with the science of the daily Hormone Horoscope, you'll be able to find out what to expect from your…

• Mood
• Energy
• Romantic life
• Shopping habits
• Memory
• Cravings
• Sleep
• Health
And more!


HOW IT WORKS:

The Hormone Horoscope App "Lite" charts your current monthly menstrual cycle and gives you a daily Hormone Horoscope, which is a forecast that tells you what your mood, energy, love life, spending habits, sleep and more will be based on the levels of your hormones for each day.

Created by Hormonology® founder and women's health journalist Gabrielle Lichterman, this app is based on hundreds of scientific studies that show how your cycling hormones (estrogen, testosterone and progesterone) impact you in key ways, including emotions, energy, romantic attraction and impulsiveness. Because your hormones repeat the same up-and-down pattern month after month, the effects your hormones have on you also repeat the same way month after month, making your moods, energy and more easy to predict.

For example...

On Day 7 of your monthly cycle, rising estrogen makes you more upbeat, energetic, confident, adventurous and creative--making this a great day to tackle a big task, take a trip or brainstorm.

On Day 18, rising progesterone saps your pep and makes you quieter and more cautious--making you prefer low-key activities close to home.

On Day 24, plunging estrogen can cause a bit of moodiness and irritability--but, you're also burning up to 30% more fat when you exercise.

To read sample Hormone Horoscopes from this app, visit MyHormonology.com/hormone-horoscope-app-lite-sample-hormone-horoscopes


TO USE THE APP:

Input two pieces of information:

1.The typical length of your menstrual cycle (input 28 days if you don't know)
2.The day you're on in your cycle right now (Day 1 is the first day of your most recent period and you just count from there)

That's it! The Hormone Horoscope App "Lite" will deliver a daily forecast that tells you what you can expect from your day based on your hormone levels.


LITE VS PRO:

Considering upgrading to the "Pro" version? In the "Pro", you'll get:

• A longer, more detailed daily Hormone Horoscope that's organized in easy-to-reference topic categories, such as Mood, Energy, Romance, etc.
• In addition to tracking your current menstrual cycle, the "Pro" app tracks future menstrual cycles and keeps records of past cycles
• The ability to add emoticons to your Notes and Cycle Calendar
• A wider range of alerts: In addition to the daily reminder to read your Hormone Horoscope, you also have the option to set three pre-set alerts that give you a heads-up about key points in your menstrual cycle (your period is coming, your estrogen is peaking, your premenstrual week is coming) and you can set up to five custom alerts for whatever you want to be reminded of at any point in your cycle


WHO THE APP IS FOR:

Women 18+
• Who have healthy monthly menstrual cycles
• With monthly cycles lasting anywhere from 22 to 49 days
• With natural hormones (no hormone birth control)

The Hormone Horoscope App "Lite" is not intended for women who do not get a regular period or who are menopausal, taking hormone medications or hormone birth control or have a health disorder that impacts their hormones.

This app is not intended to help users avoid pregnancy or become pregnant.


LEARN MORE

Find out more at MyHormonology.com
What's New in Version 1.9
- Corrected an issue with the calendar not refreshing when the cycle rolls over.
- Minor UI fixes.
iPhone Screenshots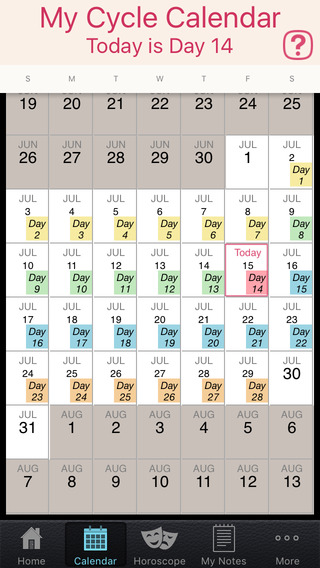 Customer Reviews
Get the pro version if your an adult it's better
I swear I'm going to advertise this app to everyone I am going to be the self proclaimed spokesperson for this app lol it has helped me understand myself in ways I thought weren't even possible and not only that but it will help your sex life for you married couples who may need to plan them days when you have kids lol but this is a must have app for every female as long as your cycle is regular it can only help you and they also have the female forecaster for your honey to understand you and helps him know what to expect from you on a daily and I think it can really go as far as to save a couple from falling apart just by knowing the useful information in this app because I swear on everything it has helped my own marriage of 12 years just understanding why my body and emotions are they way they are so he can know when to stay away from me lol but I just have to say ladies and gentlemen GET THIS APP IT MAY SAVE YOUR RELATIONSHIP!!!!!
Do yourself a favor
This app really teaches women about themselves and it's extremely educational. It's hard to not feel like a crazy person when I'm on my period, and knowing that hormones really do play a huge part in my day to day life is relieving. I feel myself getting excited to look at this app everyday to see where my hormones will take me. I feel as though it's important for every woman to have this app because most women go their whole lives without knowing how their body truly works. There's also a Hormonology Pro app which goes a little more into detail about everything you'd want to know about your moods, brain, eating habits, romance, etc.
This app is a vital road map
Since receiving this app my PMS/PMDD has improved significantly. Not the symptoms themselves but now I can plan for it! My husband, who also got the app, can plan around the third member of our marriage and we can both move through the month with a guide, a map and more importantly an explanation! I now know WHY I feel like I've got 4 great days, and 14 solid days of feeling as if I've been invaded and taken over by grumpy, hungry aliens. And I can prepare for the oncoming attack. I know when to schedule that meeting, or work time. I know when NOT to schedule stuff. I know this sounds over the top, but this app helped me be kinder to myself and my cycle.
View in iTunes
Free

Category:

Health & Fitness

Updated:

Jul 09, 2016

Version:

1.9

Size:

2.9 MB

Language:

English

Seller:

Hormonology, LLC
Compatibility: Requires iOS 8.1 or later. Compatible with iPhone, iPad, and iPod touch.