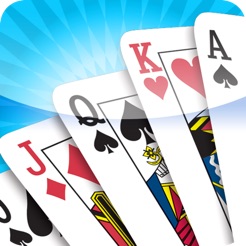 Description
Shuffle the cards and deal yourself in to the greatest card game collection of all time. With over 150 game variations, Hoyle Card Games is the largest & most comprehensive collection of card games available on the App Store!

Choose card game favorites like Poker, Gin Rummy and Hearts or try your hand at Cribbage, Euchre or Spades. With over 45 varieties of Solitaire, take a break and train your brain. For the young or the young-at-heart, try Go Fish, Old Maid and War. Each game from Hoyle, the #1 brand in casual games, is easy to learn and fun to play.

Large cards, fast game play and an easy-to-navigate user interface makes Hoyle Card Games entertaining and fun. The deck is stacked in your favor with quick game play, so take a break from everyday hustle and that tedious treadmill. Don't wait until Friday night to play your favorite card games, purchase Hoyle Card Games today and get in the game!

Beware! Playing Hoyle Card Games is so much fun; you might find yourself playing for hours!

Game Features:

• Extra Large Cards - Large cards make playing card games enjoyable.

• Fast Game Play! - Shuffle, deal and play quickly to keep the games exciting!

• Be the star you are! Choose your hair style, face shape, eye color and outfit. With FaceCreator, you can change your look as quickly as you change your mind.

• Compete With Over 25 In-Game Characters! And "characters" they are … so many different personalities to choose from – anything from a trash-talking dinosaur to a Vegas taxi cab driver and everything in between. Each has unique strengths, so choose wisely!

• Hoyle Bucks – Shop 'til you drop with this in-game currency. The more you play, the more you earn!

• Not sure how to play a game? Learn the rules from the Official Rules According to Hoyle, the game playing authority for over 200 years.

• With over 35 card backs and 4 card fronts, you can customize your cards to match your mood.

• Hone your skills with adjustable difficulty levels. Keep up the challenge by choosing difficult levels as you keep improving.

• Tournament play – Compete against other players in card game tournaments. Will you play it safe or bet the farm? It's up to you!

• Escape with customizable backgrounds and toe-tappin' music
Ratings and Reviews
Backwards but improved
This version is based on the Hoyle 2007 version available at that time for MS based machines. It is far superior to the 2009 version available back then in Apple stores. That version was full of glitches. This version operates far more smoothly. Some of the complaints in the reviews about what it doesn't do are simply the fact that the user didn't know how to do them, like the supposed inability to turn off the sound. However, the big problem I have with all "Hoyle" card games by this company is that, while they know the Hoyle rules, they don't have any decent concept of strategy, which makes it difficult to have a partner who is smart. For instance, a computer partner will allow you to go out in Canasta while the computer partner is hold 5 cards of a value and a 50-point wild card to boot. This can add up to hundreds of lost points in a single hand, keeping in mind that the point value lost is double the points in the hand (they count against you and they don't get you the points for laying them down!). The 2009 version I bought at the Apple store when I purchased my iMac would have been only a one or two star rating. At least this one is better. Another problem with this version is I haven't found a one-click way to go from one Solitaire verseion to another.
Who cares about the release date?
Mz.. wrote that the write-up claims the product was released in 2011, but internally it says 2007. So what???? The original version for Windows is from 2007. The Mac version, which works almost exactly like the Windows version came out in 2011. I find that the Mac version works just fine. No crashes, no surprises. When I trashed my Windows computer to get an iMac, this application was the one I most missed. In reading the other reviews, it is clear that many of the users have no idea how to use this app, and at least one user cannot count. How come I found the exit button, and others cannot? How come I found how to turn off the sound and others cannot? Yje review that claims only 20 games is obviously counting only the gamae categories. I wonder what caused other users to crash their computers. The game operates just fine on mine.
Not as Advertised
When reviewing information about this app, it states it was released Nov. 24, 2011. After purchasing this app, I noticed when you select About Hoyle Card Games, it states 2007? While I haven't found all the flaws, one that I have found is that you can only purchase 100 items from a reward catalog that is much bigger. When you reach the maximum count on items, it recommends you sell some items. Took me lots of searching on the internet to figure out how to do that, and when I did figure it out, and you sell an item, it is removed from your inventory of items, but the count does not reduce. I found an item that keeps replicating itself everytime I sell an item. Also, buying the items is pretty much useless because you can only mostly add them to your very tiny avatar!
Information
Seller

Encore

Size

333.6 MB

Category

Compatibility

OS X 10.6.6 or later

Age Rating

Rated 12+ for the following:

Frequent/Intense Simulated Gambling

Copyright

© 2011 Encore, Inc.

Price

$19.99
Supports
Family Sharing

With Family Sharing set up, up to six family members can use this app.