HSE.Risk
By Saeid Ahmadi
This app is only available on the App Store for iOS devices.
Description
* HSE.RISK Best App For HSE Experts in Persian.

در این نرم افزار سعی شده تا روش های مختلف ارزیابی ریسک مورد کاربرد در یک مجموعه جمع آوری گردد و با توجه به قوت ها و ضف های هر کدام از این روش ها ، بسته به نوع فعالیت ، ارزش هزینه ها و دستیابی به هدفی خاص و ... بتواند مورد استفاده کارشناسان رشته های صنایع ، ایمنی صنعتی ، بهداشت حرفه ای و مهندسین شیمی و کارشناسان HSE ( اچ اس ای ) قرار گیرد.
روش های مطرح شده در نرم افزار:
BOW TIE
COVELLO&MERKHOFER;
ETBA
FHA
FMEA
FRANK MORGAN
FTA
HAZAN
HAZID
HAZOP
ISO 31000:2009
JHA-JSA
JOHN GREEH
LOPA
MIL-STD
NIGEL BAUER
O&SHA;
PHA
RBI
SHA,SSHA
TRIPOD BETA
URBAN KJELLEN
WHAT IF
WILLIAN FINE
3D MELBORN
منابع:
1- کاکویی، حسین / مدیریت ایمنی و بهداشت کار / انتشارات موسسه کار و تامین اجتماعی
2- حبیبی، احسان ا... / ایمنی کاربردی و شاخص های عملکرد در صنعت / انتشارات فن آوران
3- محمد فام، ایرج / مهندسی ایمنی / انتشارات فن آوران
4- BS 8800
Guide to Occupational health and safety management systems.
5- OSHA 3071
guideline of Job Hazard Analysis
6- Analysis techniques for system reliability - Procedure for failure modes and effects- analysis (FMEA) - CEI/IEC 812:1985
7- دستورالعمل های HSE وزارت نفت
- تهیه نسخ کتب فوق راهنمای خوبی برای شما و دلگرمی برای نویسندگان آن خواهد بود.

- شما می توانید نرم افزار اچ اس ای ( نسخه آزمایشی ) و یا نسخه نمایشی رایگان همین نرم افزار را از سایت بازار به رایگان دانلود نمایید و در صورت اجرا شدن آن بر روی دستگاه خود ، از اجرا شدن نرم افزار ارزیابی ریسک اطمینان حاصل نمایید.

این شرکت با حمایت شما عزیزان می تواند گام های بلندی در فرهنگ سازی در زمینه HSE در کشور عزیزمان بردارد و آینده روشنی را برای ترقی همکاران در جامعه مهندسی کشور رقم زند.

تمام کار برگ های روش های ارزیابی ریسک به صورت فایل word ( جهت سهولت در ویرایش و بومی سازی و چاپ ) از وبلاگ این شرکت قابل دانلود می باشد.
iPhone Screenshots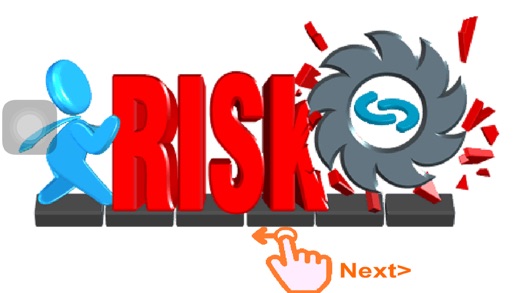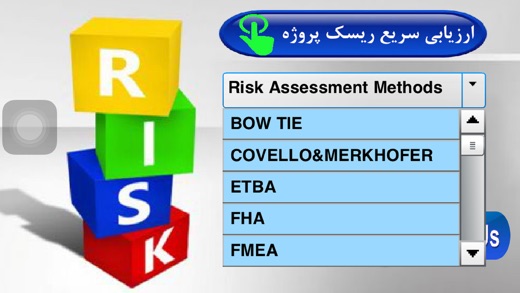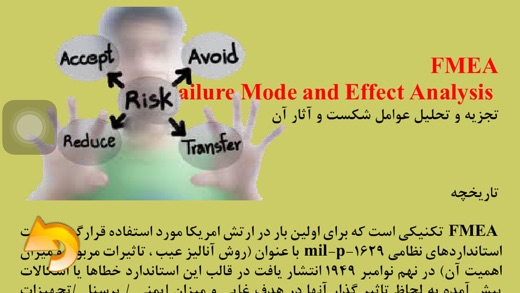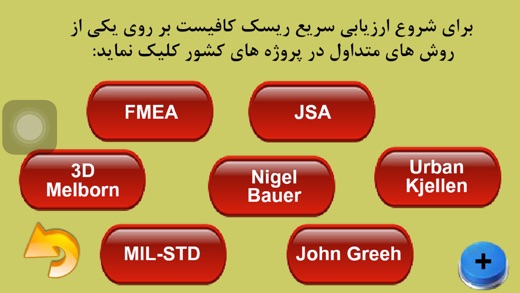 View in iTunes
$1.99

Category:

Education

Released:

Dec 03, 2015

Version:

2.1.0

Size:

30.5 MB

Languages:

English, Czech, Dutch, French, German, Italian, Japanese, Korean, Polish, Portuguese, Russian, Simplified Chinese, Spanish, Swedish, Traditional Chinese, Turkish

Seller:

Saeid Ahmadi
Compatibility: Requires iOS 5.1.1 or later. Compatible with iPhone, iPad, and iPod touch.