i Can Spell with Phonics
By Michael Harvey
Open iTunes to buy and download apps.
Description
Ages 5 to 7, plus Remedial, ESL and Special Needs.
Easy to use – Top quality speech – Educationally sound – It gets results!
*Get a 50% discount for quantities of 20 or more = ($1.49 each), via Apple's Education Volume Purchase Program (VPP)

Designed for children to use independently – Hours of learning fun.

Kids learn phonics at the same time as learning to read and spell 150 commonly used words. Spelling words are taught in meaningful context, but are also broken into "phonic chunks" and sounded out.

It's like training wheels for spelling success!

Beginning with two letter words, CVCs, short vowel sounds and simple rimes, before moving on to consonant blends and common digraphs, including: sh, ch, th, ck, oo, ee, ar, ir, or, er, ow, ay, ou, ai, and oa.

iCanSpell is easy to use. There are no complicated screens of function buttons to learn. Students can immediately concentrate on learning words instead of learning the app!


TO PLAY…
All you need to know is how to 'tap' - and how to 'drag'.

Tap "Play", then pick one of the five words to start (from easy to hard).

Each 10-word-lesson is made up of four activities.

Activity 1: Tap on the "phonic chunks" to build and sound-out each spelling word.
Activity 2: Name the pictures: Drag the vowels, beginning letters, rimes or digraphs to complete the words. (This may be completed strategically, or by trial and error.)
Activity 3: More "phonic chunks", but this time the spelling words are in proper whole language context, with engaging sentences and vibrant photographs.
Activity 4: Choose between two reward activities: "Match the Pairs" or "Word Search".


EDUCATIONALLY SOUND…

Words are sounded out every time the child spells them by tapping the 'phonic chunks'. This improves phonemic awareness, and models - very explicitly - the 'good speller' habit of sounding out words as you spell them.

iCanSpell only shows correct word images, never exposing learners to incorrect spellings, which can hinder visual assimilation of the correct letter sequence.

iCanSpell is purely educational, but peppered with just the right amount of cartoons, so it never seems like a chore!

No ads – No in-app purchases – No web links – No worries!


FOR TEACHERS…

The iCanSpell app requires no setting up, apart from choosing your voice accent the very first time you use it. There are USA, UK and Australian speech options. (You may change voice accent at any time in 'Settings' via the cog icon on the front screen.)

A specific word list may be selected for the lesson. Students can practice just CVC words, or concentrate on a specific short vowel sound, or on particular digraphs.
Playing through numbered Word Lists 1 to 15 allows students to progress through all 150 words, beginning with 2 and 3 letter words, right through to words of 4 to 6 letters.
Completed lists get a star, so you know where students are up to.

iCanSpell is a highly effective and enjoyable spelling app for beginners. It does not include irregular words, silent letters, split digraphs/magic E, and other more difficult 'phonic chunks'. There is no typing, and there are no spelling tests.
* All of these will all be introduced in our later apps!
(Please also note, you cannot add your own words.)

As well as being a useful tool for the early years classroom, iCanSpell is also suitable for older students needing more help with phonics. The activities are not babyish, and can be completed quickly or slowly at the students' own pace.

Literacy intervention teachers will find that students who struggle with most literacy tasks will thrive on iCanSpell.


A GREAT START…

Whether you are buying this app for your four year old who has already mastered the sounds of the alphabet, or for your eight year old who still struggles to read, iCanSpell will provide them with intensive phonics practice which is easy, fun and effective.
iPad Screenshots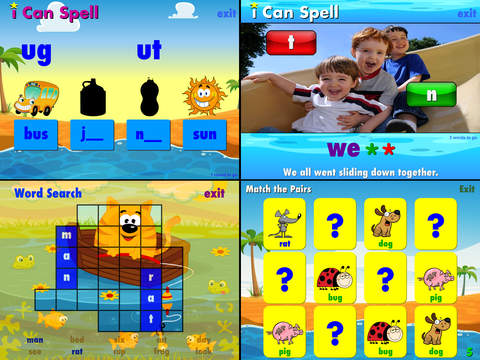 Customer Reviews
Great for targeting vowel sounds in speech therapy!
I love the variety of activities, high quality voice overs, intuitive design & nice graphics. Will be great to use with one of my patients who has very funky errors on vowel sounds. I often use apps "off label" (outside the original intent of the app.... find lots of great uses for apps by thinking outside the box).
Angela Moorad, MS, CCC-SLP
Developmentally Appropriate
I have trouble finding a phonics app that is developmentally appropriate for my students but this one is perfect! I LOVE you that the beginning sight words are CVC words that students can hear the sounds of each letter. Great work to the makers of this app!
Truly Academic!
This is such a wonderful app for building phonemic awareness! Beautiful images, sounds and practice are to be commended. So glad to have discovered this app :)
View in iTunes
$2.99

Category:

Education

Released:

Aug 15, 2015

Version:

1.0.0

Size:

219 MB

Language:

English

Seller:

Michael Harvey
Compatibility: Requires iOS 6.0 or later. Compatible with iPad.
More iPad Apps by Michael Harvey