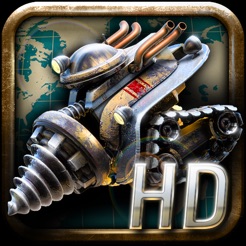 Description
Embark on an epic adventure with the fantastic digging machine. Travel the world in search of ancient artifacts, lost civilizations, and unimaginable treasure. Level editor included.

Manage fuel, temperature, damage, cargo space, oxygen, etc while searching for underground diggins. Sell your rare collection of artifacts to earn cash. Use cash to upgrade your digging machine, make repairs, or purchase additional supplies. Discover new hazards, such as ocean currents, methane gas pockets, geo-thermal vents, and a new species unknown to man...

Exclusive features only for the iPad:
* All new user interface
* Updated graphics taking full advantage of the iPads GPU
* Create, edit, and share your own levels with the built-in level editor
* Downloadable additional levels free for endless gameplay

5 unique locations around the world:
* Mid-West United States
* Antarctic tundra
* South American Amazon
* South Asian Ocean
* Eastern European Cavern

Plus:
* 8-12 hours of game-play in the campaign
* Hours of additional challenges
* Freeplay modes
* Dozens of new supplies available to help along the way
- Added all new Egyptian Campaign
- Fixed sluggish controls
- Misc bug fixes

Ratings and Reviews
Really good but...
The controls clearly need some refining. I purchased this hesitantly because I got the iPhone version for free and really liked it, even though some of the reviews seemed valid in their concerns. Turns out they were. Well, the controls on the iPhone version are better than the iPAD version. The joystick is loose and doesn't steer properly. When I point up, it sometimes goes down. Doesn't stop digging on a dime. I have to let off the joystick a little before I want to stop. Then, when I get the low fuel warning, it is almost impossible to get above ground in time because the digger is going back and forth and won't go UP.
Otherwise, I think this game is worth 2.99 (I would not pay more than this) and if you can workaround the wonky joystick, a lot of fun. What I do like about it over the iPhone version is that the map is larger so you can see a little better where you want to go. I will copy this to the Devs and see if they respond.
FAIL!!!!
If you put as much or less treasures in level editor, it crashes. If you dig every now and then you appear at the top instantly and fall through the dirt. This only happens in level editor. You can't put more than ten giant ants without it crashing. If you press objective, the close button is somewhere else on the screen, and there is a button that takes you to the menu. Unless you save, you have to start all over. I paid the full $6.99 and there are way better games for a dollar, especially the holiday discount. Now it's $2.99 and if I did not have it, I would not pay $0.99 right now. The levels are so short and there's only a few. They shortened all the levels from the iPod touch version called idig it expeditions. They just added one short Egyptian level. I would not recommend this app to anybody. As almost anybody else who gives one star, I say, "do not buy this app and I would not even give this app one star if I could."
ICade support would make this the best out there!
Add iCade support for 5 star rating!

I have hours on this... Im about half way through the eqypt level.
This game is very well done. I usually don't like... Money, buy upgrade games but this has me sucked in. So far all levels are really the same, but some how im still drawn in.

I can't wait for the water level. While I buy many games, i get board with them easily. Hours i've spent on this so far... As its extremely entertaining. Again, i dunno why.

I think the first of 50 games i have that i've given 5 stars. I think because i can't suggest anything I'd change. If anything some. Zoom in scenes... Maybe when i the surface, have it zoom in closer to the drilling machine, just to give a different view from normal,game play. Maybe a rock that can fall on you if you go under it? Ah la dig dug? But very polished as is.

P.S. i use to be a beta tester for activision and am listedm
in some of their game credits. So i know game play.
Information
Seller

InMotion Software, LLC

Size

37.4 MB

Category

Compatibility

Requires iOS 3.2 or later. Compatible with iPad.

Age Rating

Rated 4+

Copyright

© 2008-2011 InMotion Software, LLC

Price

$4.99
Supports
Family Sharing

With Family Sharing set up, up to six family members can use this app.