iA Writer
By iA Labs GmbH
Editors' Choice
Open the Mac App Store to buy and download apps.
Description
"Beautiful and simple" ***** The Guardian
"Everything goes away except for the writing experience" ***** Stephen Fry
"Writer has out-innovated Apple" ***** Fast Company

Best of App Store 2011, 2012, 2014, 2015

# Unmatched Writing Experience
iA Writer is designed to provide the best digital writing experience: Keep your hands on the keyboard and your mind in the text.

# Embed Pictures, Tables and Nest Textfiles
Include images from Library in your documents (.png, .gif, .jpg)—images are uploaded to Medium and WordPress when sharing a draft. Include comma separated value files as tables in your documents (.csv), or create advanced tables using MultiMarkdown. Build a manuscript from several chapters, embed source code files as code blocks, or nest text files into each other.

Note: Embedding only works for files in the same folder (or subfolders) as the master file. You can't embed files in a parallel or higher directory.

# Swipe Right to Library
iA Writer now comes with an integrated library for all your documents. With a swipe to the right you have easy access to all your texts in one place.

# Swipe Left to Preview
With synchronized scrolling Preview, iA Writer consciously separates form and content. It optimizes plain text writing while offering stellar formatted export—with world class typography.

# Focus Mode and Syntax Control
iA Writer is famous for offering a deeper focus on your text. Its unique tools improve your writing style by honing your concentration: One sentence at a time, or by highlighting different parts of speech.

# All Your Documents on All Your Devices
With seamless Dropbox and iCloud sync, iA Writer keeps your documents safe and at hand on whatever device you are using when inspiration strikes.

# Features
- Integrated document Library
- Synchronized scrolling Markdown Preview
- Beautiful Preview templates with curated fonts
- Add your own custom templates too
- Focus Mode fades all but the current sentence, for maximum concentration
- Convert formatting to Microsoft® Word .docx, and back again
- Also export formatting to HTML and beautifully styled PDF
- Share drafts to Medium and WordPress
- Auto Markdown formats text on-screen
- Night Mode
- Real-time iCloud and Dropbox sync
- Reading Time; plus sentence, word, and character count
- Customized for Retina displays
- Handoff support
- Full screen for total immersion in the text

# Contact
- Visit ia.net/writer for more information
- Visit ia.net/writer/support for support and feedback
- Let us know what you think on Twitter @iAWriter

We look forward to hearing from you…
— Information Architects Inc.
What's New in Version 4.0.4
- Improved compatibility with future versions of macOS
- Fixed crashes
Screenshots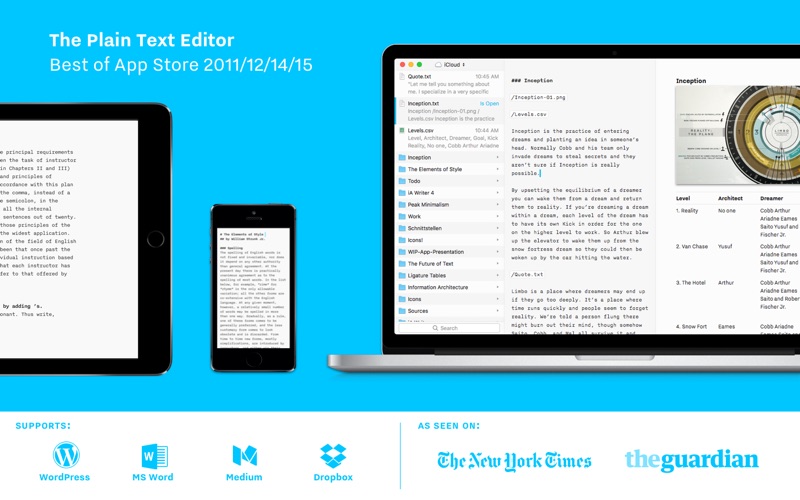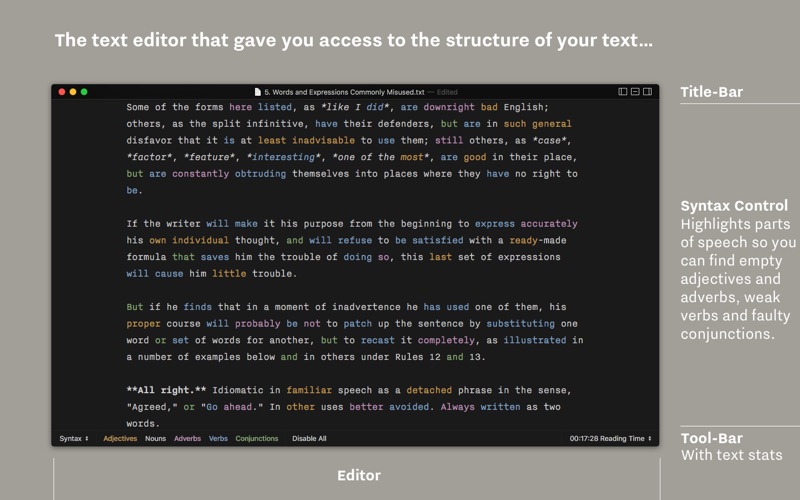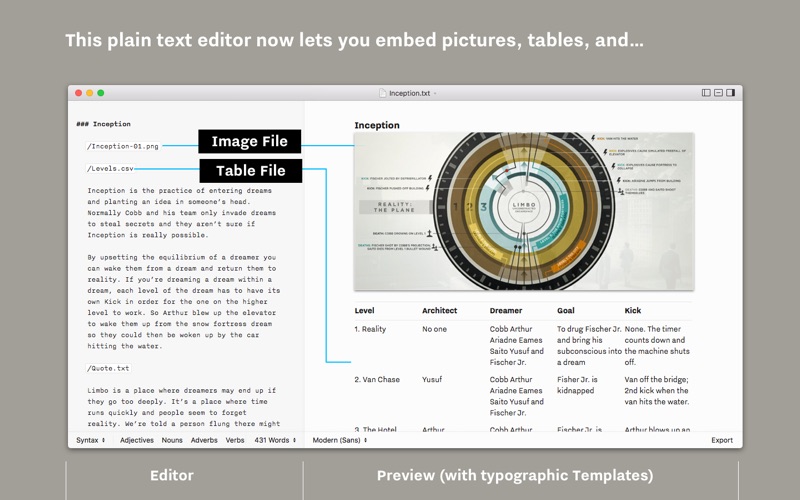 Customer Reviews
Tried to love…and could but can't use.
I feel bad about writing this review because I loved typing in this app.

I looked and looked at writing apps for a while; finally, I choose iA — The Focus Feature is excellent, and there is a fantastic content selection system at the bottom of the window. My one (out of three) main complaint was the navigation system (or lack of) on the left, so I wrote them; they got right back to me and said my requests were on the way — that was six months ago.

iA is clean and comfortable; it has power, but this poor navigation/organization system renders it disappointing. This app is useful for writing one page, not a book — or anything you write that has more than one page that you need titled and organized. My other negative criticism is I would like to see a button to switch between Syntax and Format (instead of a menu pull-down)— I also have enough screen real estate to display them both at once. Probably not meant for it so it's not a big deal but the font-styling integration (is probably par for this type of app but it) is not friendly.

Sorry, iA. I have been waiting months for something you said was (quickly) coming.
I need to organize on the fly and have it replicated (exported/rathered mirrored) in the Finder. I can not do it with iA.
Missing Some Essentials
First off, nothing but praise for the writing portion of the app. I love the font and color choices, and the syntax highlighting feature is something I've not found anywhere else. If that were the whole of the app, I'd give it an easy five stars, but it's not.

The Library is dreadful. There's no way to manually order text documents in it, and the single pane view makes it very hard to get a "birds eye" view of a logner form work. Add to this the weird alternating dark/light lines, and the seeming inability to navigate with any real ease between folders (I'd love a three pane setup or even a "tree view" a'la sublime text, et al), and you have something that should be simple but can be intensely frustrating to use.

I find myself in a similar predicament with the export styles. I love the idea, and the built in ones are great. But having to create my own CSS tables to make my own custom styles is mind bogglingly frustrating.

That said, I still find the app is more than worth the money I paid for it, and would reccomend it, if you can live with the little "quirks."
Replaces Ulysses - currently best Mac/iOS text editor
IAWriter offers an interface as good and clean as Ulysses, it offers the same icloud support, and you can easily export files from it for a FRACTION of the cost of Ulysses.

Very happy with this product.

I was not pleased with The Soulmen when they went subscription model shortly after I'd spent $100+ on their software across all my devices. They haven't provided any real upgrades to their product in some time. I don't see a reason to pay them a subscription. I don't want to rent a text editor. Text editors are a very simple application and all I want from them is clean and attractive design, easy exporting, and icloud support that syncs across my devices.

Not to mention that The Soulmen used shady tactics on the Apple store to erase all the negative reviews from their customers (removing their software and reuploading with no real difference other than version numbers).
View in Mac App Store
$19.99

Category:

Productivity

Updated:

Aug 25, 2017

Version:

4.0.4

Size:

11.7 MB

Languages:

English, German, Japanese

Seller:

iA Labs GmbH
Compatibility: OS X 10.11 or later, 64-bit processor