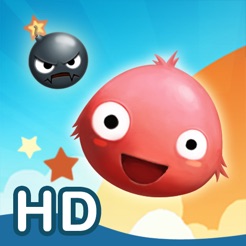 Description
To celebrate the launch of our latest baby, Happy Street.
iBlast Moki HD is free for a very limited time

iBlast Moki has been completely redesigned for the iPad with high-definition graphics.

★ IGN 2009 Awards - iPhone Best Puzzle Game 2009 ★

★ Most Highly rated iPhone game Q3 2009 based on PG.Biz Quality Index ★

★ IGF Mobile 2010 - Honorable mentions ★

--------------------------------------
- IGN.com - 9/10 - iPhone Best Puzzle Game 2009 Award - IGN Editors' choice awards

- macworld.com - 4.5/5 - iBlast Moki is an outstanding game you're sure to be enjoying for months to come.

- Touchgen.net - 5/5 stars - Best iPhone game of the year and best puzzle game 2009 - "I absolutely love iBlast Moki, and have awarded it my first ever 5 star review"

- TouchArcade.com - 4.5/5 stars - Best physics game 2009

- Gizmodo.com - Listed in 10 Best iPhone Apps of 2nd week of October

- 148Apps.com - 5/5 stars - "Physics-based puzzle games are numerous on the App Store, and luminaries such as the Enigmo series, Tiki Towers, and the Perfect Balance series have proven the iPhone to be a haven for the genre. iBlast Moki stands above them all with challenging gameplay and almost unlimited replay value."

- Appsmile.com - 5/5 stars - "iBlast Moki is a well honed, gorgeous platformer that will keep you playing for days."

--------------------------------------
For gameplay videos, please go to http://www.youtube.com/kroukicity

--------------------------------------
Do you love bombs, creating contraptions and solving physics puzzles?
iBlast Moki is an original physics puzzle game where you blast cute little Mokis with the help of bombs and other crazy items.

--------------------------------------
FULL Version Features

EXPERIENCE HOURS OF FUN AND DISCOVERY
- 85 levels, including several boss levels
- Enjoy the visuals of 7 completely different worlds with their own gameplay mechanics

EXPERIMENT WITH THE PHYSICS OF TONS OF DIFFERENT ITEMS
- Realistic physics when you blow things up
- Lots of different items to manipulate like ropes, rising balloons, and rotating wheels

SHARE YOUR CREATIONS
- Fully featured level editor included to create more puzzles
- Share your levels online, play and rate levels created by other players

PLUS+ ENABLED
- Add friends, race to the top of global leaderboards for high scores glory
- Earn awards and gamerpoints on Plus+, the free social gaming network

DO YOU BLAST MOKI?
- Visit our website, www.godzilab-games.com, check out existing trailers, follow us on Twitter (twitter.com/godzilab) and leave comments on our forums

iBlast Moki is presented by Godzilab exclusively for iPhone and iPod Touch
- Universal version to support iPad, iPhone and iPod Touch with Retina graphics
- Latest version of Plus+
Ratings and Reviews
Entertaining
Fun game. Good physics. I have to limit myself play time otherwise I could just keep playing until I finish all the levels in one sitting. What I like best is that there is more skill in finishing the levels with this game compared to Angry Birds (I would put these two in the same genre). With angry Birds I thought that there was too much luck involved with how things "fell." Here, it is easier to track how your changes affect the outcome since the bomb positions stay in place after each "failure." That's not to say it's easy, since some of the levels can take time to master. Overall a good, entertaining game.
Fun and engaging
I was introduced to iBlast Moki 2 HD first and finished all the levels with three stars and really wanted more. Buying the original seemed the only option. The game is essentially a series of Rube Goldberg style puzzles using bombs at first, but you will be challenged with setting your timers and the proximity of the bombs to send the cute Moki's through the 'maze' and into the portals that take them home.

I enjoy this game with my 8-year old and my 5-year old loves to watch the puzzles get solved.
Best village app ever!🏠
I usually never play village apps, but when I found this app I got addicted to it right away! The characters are super cute, the music is nice to listen to, the missions are always fun to do, and there are really cute mini games to play while you're at it! I totally recommend this app to people who love village apps and also for people who don't really like village apps as much too. You'll get addicted very fast!😀🌸
Information
Seller

Godzilab

*WEA.AppPages.Size*

19.2 MB

Category

Compatibility

Requires iOS 3.2 or later. Compatible with iPhone, iPad, and iPod touch.

Languages

English, French, German, Italian, Spanish, Turkish

Age Rating

Rated 9+ for the following:

Infrequent/Mild Cartoon or Fantasy Violence

Copyright

© Godzilab, Inc

Price

Free
Supports
Family Sharing

With Family Sharing set up, up to six family members can use this app.