iCab Mobile (Web Browser)
By Alexander Clauss
This app is only available on the App Store for iOS devices.
Description
iCab Mobile is a web browser for the iOS. It provides many unique and useful features you won't find in other iPhone browsers.

APPLE WATCH:
The Watch App is a remote control for iCab Mobile, so you can navigate, zoom, scroll, open bookmarks, links, the homepage, switch tabs or sitch on/off the fullscreen mode. it is also possible to let iCab read a web site using speech output.

FILE UPLOADS:
iCab Mobile can upload any files on web pages (Due to limitations of the iOS this does not everywhere, but it works fine on many web sites).

SEARCHING:
iCab Mobile comes with several default search engines you can choose from. You can easily add new search engines.

FILLING OUT FORMS:
iCab Mobile can save web forms and restore the form content later (manually or automatically). The saved forms data can be password protected. Supports many third-party Password Manager Apps as well.

FILTERS:
There's a built-in fully customizable filter feature. It allows to block resources, ads, banners, user tracking scripts, cookies etc. Supports AdBlock Plus/EasyList filters as well.

TABS:
iCab Mobile supports Tabs, so you can open multiple web pages at the same time. Links can be opened in Tabs (in the foreground or background) manually or automatically.

BOOKMARKS:
Bookmarks can be organized in folders. You can import/export the bookmarks from/to your PC/Mac browser.

FULLSCREEN MODE:
iCab Mobile provides a fullscreen mode where the whole screen is used to display the web page. No screen space is wasted for toolbars.

DOWNLOADS:
iCab Mobile has a built-in Download Manager so you can download almost all files from the internet. The downloads can be easily transfered to a Mac/PC/Linux computer but also to other Apps on the device which can open these files

MULTIUSER SUPPORT
You can create multiple user accounts, each user has its own private bookmarks, filters, settings, etc.

DROPBOX
iCab Mobile supports Dropbox. Export/Import bookmarks; transfer downloads, images, files, web pages to your Dropbox account.

TWIN BROWSER:
In this mode, you can have two browsers side by side on the iPad. This is especially useful on the large iPad Pro.

VOICEOVER
The App is also accessible for visually impaired and blind users. If VoiceOver is enabled, the App plays soft ticks while a page is loading, so blind users are able to identify when the page load has finished.

OTHER FEATURE:
- Configurable multi-touch gestures
- QuickStarter feature
- AirPrint support
- Browser ID (UserAgent) is configurable
- iCab Mobile fully supports international domain names
- Cookie Manager
- Private Browsing (no history and no cookies are stored)
- Privacy settings allows to delete all kinds of private data (history, cookies, databases, saved forms, passwords etc.)
- URL autocompletion
- Simple built-in RSS reader
- Save images, whole web pages, PDF files
- Kiosk Mode - a restricted variation of the fullscreen mode for Kiosk environments.
- History
- Addressbook support lets you access the web pages from the addressbook.
- When launching iCab can either open an empty page, the homepage or restore the Tabs which were open the last time
- Page-Compression is supported to save bandwith.
- There are different color schemes and designs
- Document Sharing lets you pass downloads and files to other Apps in the device



The App includes a store providing several InApp purchases. These are meant as a tip jar. The InApp purchases are available for different prices, so you can pick the amount for the tip yourself. Doing so will unlock a few cool features as a reward, these are always the same, regardless of the amount of the tip. Users who have purchased the App within the last 12 months do get all these features for free, no need to buy one of the InApp purchases. Though they can nevertheless give me a tip, if they want to... ;-)
What's New in Version 9.10.0
- Added Drag & Drop support for the iPad under iOS 11.
You can drag Bookmarks, History entries, Reading list items, Links and the FavIcon as web addresses and Download entries as files. The App is able to receive web addresses in the bookmarks and reading list window to store the address as new bookmarks, and in the URL field, the Tabs in the Tabs toolbar and in the web site area to open the address directly. The App also receives files in the Downloads Manager to store the file there. Dragging a web adress into the downloads window will download the file, dragging a file into a tab will directly open it here.
You can also directly drag a login entry from the 1Password App into a web site with login form, to fill out the form.
In the "User Interface" settings you can even disable the "Drag" operation for the bookmarks, history, downloads and reading list. This can be useful if you do not use Drag & Drop. The problem is that Drag operations and the contextual menu are both initiated by long-pressing on an item. If there's a contextual menu available for an item for which Drag & Drop is provided as well, the contextual menu will be delayed by the iOS, so it will open after about 3 sec instead of after only 1 sec. So switching off the "Drag" operation will reduce the delay back to 1 sec again.

- New option in the Privacy setting to clear all the private data at once

- iCab Mobile supports the new "Files" App of iOS 11. The downloads of iCab Mobile can be accessed from within the "Files" App if the "Downloads Sharing" option in the Network settings of iCab Mobile is either set to "iTunes" (in which case the files are accessible by iTunes and via "On your device" within the Files App) or set to "Apps" (in which case the files are accessible via "Files of iCab Mobile"). It you switch off the "Downloads Sharing" option in iCab Mobile, the downloads are not accessible by other Apps at all.

- Supports the new screen of iPhone X

- Several smaller optimizations for iOS 11

- Bugfix: Better support for HTML frames when filling out web forms.

- Bugfix: When having multiple bookmarks selected at the same time, it was impossible to move the selevtion to a higher folder level within the bookmarks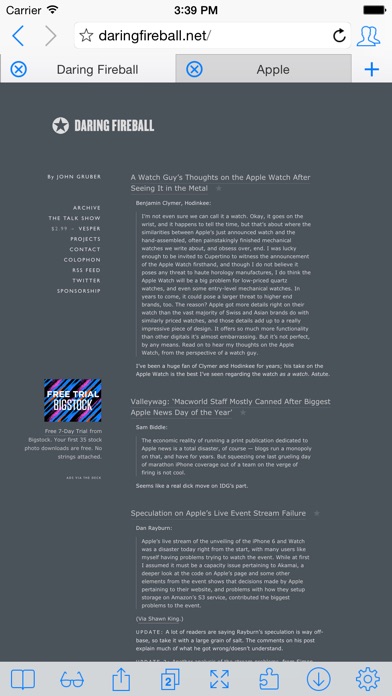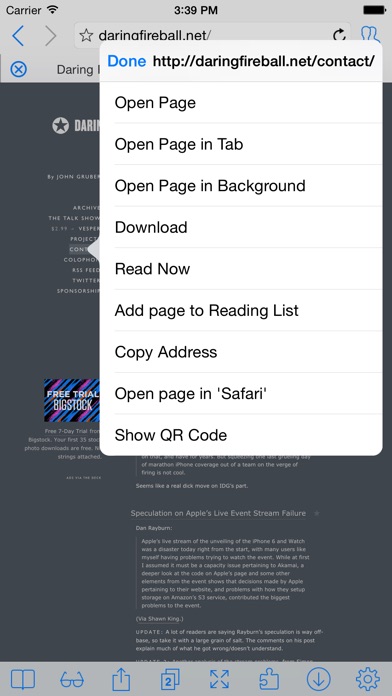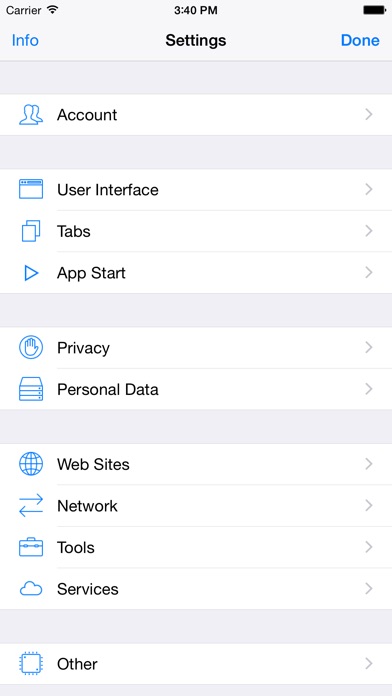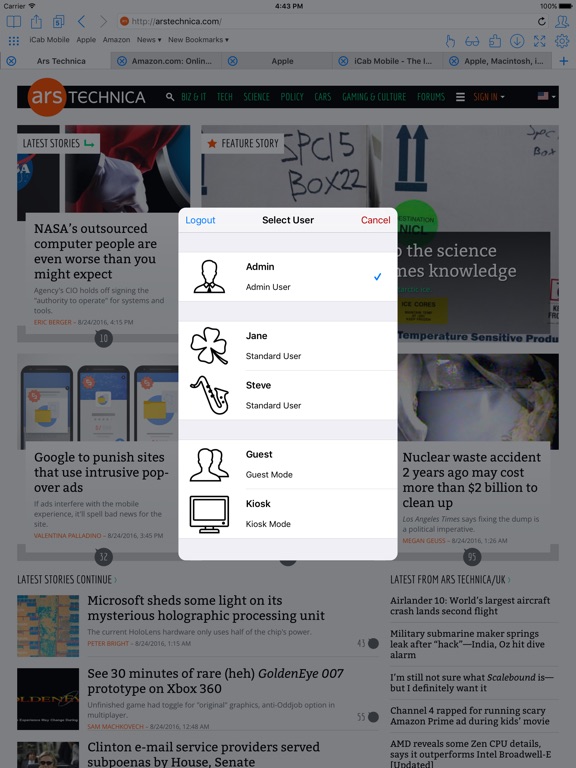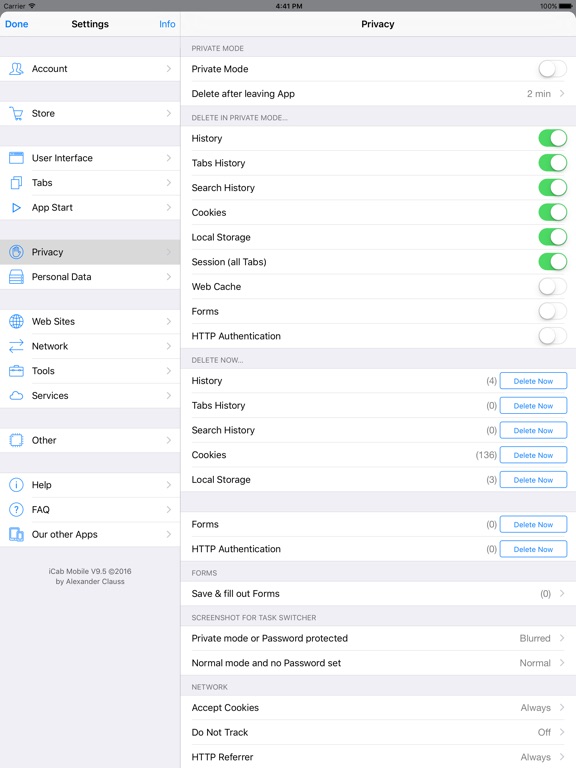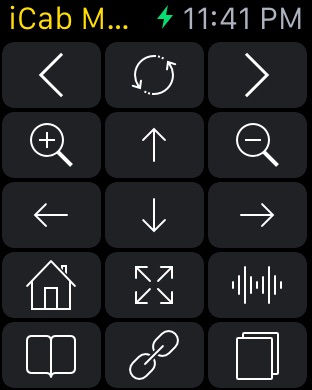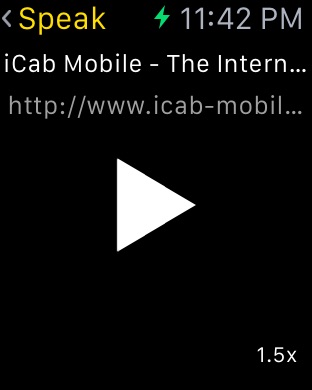 Customer Reviews
Very happy with purchase
I used an old (now unavailable) version of the Mercury browser for a long time on my iPad, as I was unable to find another mobile browser that combined as many features while being very customizable.
My search for a replacement has ended with iCab.
Fast browsing. Feature rich. File download management. Multiple user setup (with passwords). Lots of options for customization. Pretty much all I want.
I'm pleased to see the developer actively updating and being quick to take advantage of new iOS 11 features as well.
I would gladly make this purchase again.
perfect tools &nice author
When I use this tools to some website I found that some ads can't be block,so I send an email to author then he reply me!!!! And tell me to add the url to block ads,it really get effective,thanks a lot!!!!!!
Why?
I loved this app till the last update. I wish I could roll it back.
View in iTunes
This app is designed for both iPhone and iPad
Offers Apple Watch App for iPhone
$1.99

Category:

Utilities

Updated:

Sep 25, 2017

Version:

9.10.0

Size:

20.0 MB

Apple Watch:

Yes

Languages:

English, Catalan, Czech, French, German, Italian, Japanese, Polish, Russian, Simplified Chinese, Spanish, Traditional Chinese

Seller:

Alexander Clauss
Compatibility: Requires iOS 7.0 or later. Compatible with iPhone, iPad, and iPod touch.
Top In-App Purchases
Upgrade plus Generous Tip$2.99
Upgrade$0.99
Upgrade plus Extra Generous Tip $5.99
Upgrade plus Tip$1.99