iCarBlackBox
By 21pixel
This app is only available on the App Store for iOS devices.
Description
techgadgetsnews
"Avoid buying those expensive black boxes for cars with the iCarBlackBox you get that under a US$1."

Geeky Gadgets
"iCar Black Box Records Your Driving."

Slash Gear
"iCar Black Box is perfect for the accident prone."

TechChee
"iCarBlackBox, a 99-cent black box for recording car accidents right on your iPhone."

WalYou
"Take Safety to the Next Level With the iCar Black Box."
"FreeAppReport.com Showcased App!"

★ This Apps works only over iPhone3Gs (iPhone3Gs, iPhone4).
No iPhone 3G.
Additionally this Apps does not properly working with Jailbreaked iOS. ★

"In the event of a car accident, you can be free from the matters of right and wrong."


iCar Black Box is a software that combines a number of technologies (Video, Audio, GPS, G-Impact Sensor) to automatically record a car accident in the event a collision takes place.
The User can review the circumstances of the crash with the iCar Black Box. The User can not only view what is occurring at the moment of the collision, but can also check the speed of the moving vehicle, date and time, location, road conditions, and more through video and audio.



If iCar Black Box detects a certain degree of impact, it automatically sends an emergency message including the exact location of the accident to the emergency contacts as designated by the User. iCar Black Box is capable of sending SMS, emails, and as well as directly dialing 911 (or other local emergency numbers as set by the User).

When the User is involved in a severe accident and no one is around to help, iCar Black Box can send an emergency message and call for help.

★★★★★ FEATURES ★★★★★

Customizable Settings
Can select speedometer units (Metric/US) Customizable recording time
Customizable G-sensor sensitivity depending on road conditions and type of car (sensitive ~ insensitive)
Emergency Contact List (SMS, email)
Customizable Emergency Message (Default Emergency message pro- vided)

Additional Functions
The Emergency Recording button may be pressed to start recording in the event an impact was not detected, or additional recording is desired.
When a light crash is detected, the iCar Black Box will automatically cancel the save function after 5 seconds if the User does not prompt the applica- tion to save.
When a hard crash is detected, the application will automatically save the recording after 10 seconds.
When a hard crash is detected, the application will send an emergency message as designated by the User.

Detailed Information
Sending an accident movie file (from the iPhone camera roll)
Detecting and saving an accident point by GPS
Detecting the speed and the type of the accident by Oscilloscope Graph and G-sensor. (X-Up & Down movement (road condition), Y- Left &Right (side accident), Z -Front & Back movement (front & rear accident))
Accident point can be linked to Google Map App.
What's New in Version 1.1
Fixed issues
iPhone Screenshots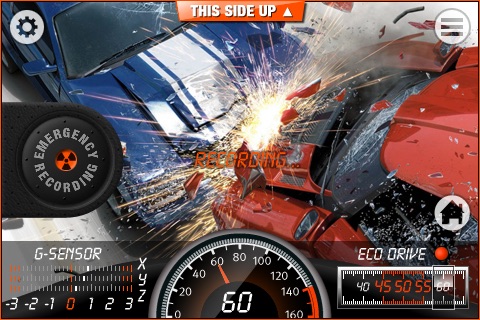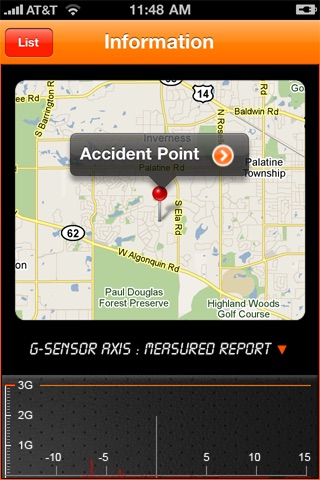 Customer Reviews
Good concept needs upgrading
The concept of the app is good but there are a few bugs and upgrades that needs to be added. The creator hasn't done an upgrade since a had the app so I don't see it happening any time soon. The upgrades should include turning the flash off for night driving it doesn't need it (driving hazard), allow us to be able to play music when using it and if possible navigation. The bug I am having with it is recording video. I have an iPhone 4 and it will save a short recording maybe like 2-3 mins anything above that it just keeps loading and doesn't save. So personally I wouldn't get this app until he decides to do the upgrades.
Update or remove it!
Nice interface, but that is where it stops. LED on at night with no way to turn off, inability to multi-task with music in the background or answer a call, inability to simply record the preceding 3 minutes and, in case of accident, the following 30 - 60 seconds (THAT is what you want a blackbox app to do in case of an accident).

It could be an awesome app. But, the fact that this has not been updated in nearly 18 months is troubling. Looks like the developer just took the money and ran.
Recording starts from refreshinh
The reason u want a black box app in your car is because you can save recording timeframe from the moment of accident backwards. This app refreshes whenever you might set or leave it default 10 min. Any luck the recording refreshes and accident happens after that this may not give you enough timeframe as recording can be saved only after it refreshes. It may only record 1-2 sec. It may save max 9min 59sec only recording was initiated by shock or emer button being pressed just less than 9 min 59 sec after its refresh. It must record previous preset min after recording was requested.
View in iTunes
$0.99

Category:

Utilities

Updated:

Jan 08, 2011

Version:

1.1

Size:

5.2 MB

Language:

English

Seller:

Jung Kil Choi
Compatibility: Requires iOS 3.1.3 or later. Compatible with iPhone, iPad, and iPod touch.
More iPhone Apps by 21pixel