Icewind Dale: Enhanced Edition
By Overhaul Games
Open the Mac App Store to buy and download apps.
Description
Evil stirs beneath the Spine of the World.

In the northernmost reaches of the Forgotten Realms lies the region of icy tundra known as Icewind Dale. Journey deep into the Spine of the World mountains, a harsh and unforgiving territory settled by only the hardiest folk. Encounter fearsome beasts that have learned the cunning and ferocity needed to survive among the snow-shrouded peaks. Confront an evil that schemes beneath the carven glaciers and mountainsides to wreak destruction upon the face of Faerûn. This is the world of Icewind Dale: Enhanced Edition.

Originally released in 2000, Icewind Dale is a Dungeons & Dragons game set in Wizards of The Coast's legendary Forgotten Realms. This Enhanced Edition allows a new generation of players to experience this epic adventure.

- Swords and Sorcery: Discover dozens of new spells and items, including new magic armor and weapons.

- Blackguards and Wizard Slayers: Select from almost 40 new kits and classes to create the perfect adventuring party.

- A New Look: Experience the Enhanced Edition's all new interface, including the new Quickloot bar.

- Bring A Friend: Join your fellow adventurers in cooperative, cross-platform multiplayer games.

- See The Unseen: Explore quest content cut from the original game, now finished and restored.

- More to Experience: Enjoy the countless bug fixes and improvements that await you in Icewind Dale: Enhanced Edition!"
What's New in Version 1.4.0
- Added Korean and Russian localizations
- Added options to fine-tune enemy damage and experience point bonuses on non-Core-Rules difficulty settings
- Over 100 bugfixes

For a complete and comprehensive list of changes, please visit www.IcewindDale.com
Screenshots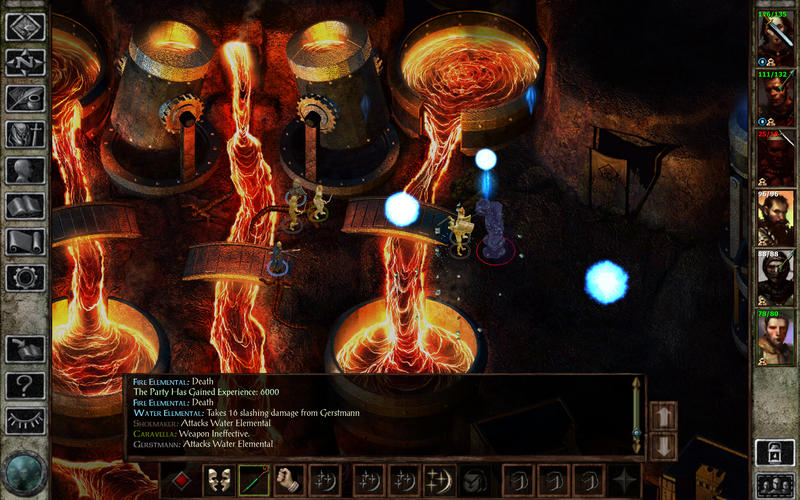 Customer Reviews
Great Game!
If you like Baldur's Gate you definately will enjoy this game. The story can be annoying at times, movement on some of the maps can be as well but overall a fun game to play. Well worth your time and money.
A classic infinity engine AD&D game.
Old game, came out in 2001 or 2002, but a classic built with the infinity engine. This game is similar to Baulder's Gate. Baulder's Gate was such a hit Baulder's Gate II and the two Icewind Dale game were made to capitalize on the concept and feel. Solid 2000 era game.
Another great Dungeons & Dragons from Forgotten Realms
These RT RPG by Forgotten Realms, D&D games, have a deep flavor distinct from JRPG that simply should not be missed!

You can't compare Forgotton Realms games to any $1 rpg: they're just way bigger than than, on a whole different 2d plane of existence.

These games are a realtime simulation of the Dungeon and Dragons Role Playing Games: 2D art scenes hand made with great care (immense world size for 2d), interesting characters, sound effects, music, and voice actors. The reason for getting IWD RPG is that it's crafted to emerse you into it's world. There were many many D&D style games made for PC but BD/IWD were simply done to a level no one else had done - or maybe still have done. (ok Ultima VIII was great - but is just way older). IWD/BD are turn based or realtime - settings vary this on a slider; they are "realtime strategy, not arcade", when battling. There is an IWD II (2002, newer than BD II) but not for iMac (yet?)

Icewind Dale is a twin of Baldur's Gate II; both made from BD I. All three are good and no point in putting one above the other. I've played several hours and am no where near the end of the first story, very happy with it. I had BD I and II long ago - they do not get old, new stories and situations stay fresh. IWD is a full D&D style game - the japanese rpg (playstation rpg) just are not and not realtime, though the min. age for playing is a little higher because of that.

These RT RPG by Forgotten Realms, D&D games, have a deep flavor distinct from JRPG that simply should not be missed.
View in Mac App Store
$19.99

Category:

Games

Updated:

Mar 12, 2015

Version:

1.4.0

Size:

2.60 GB

Language:

English

Seller:

Overhaul Games Inc.
Compatibility: OS X 10.6 or later