iCharacter Sheet 4e - Free
By Digital Adventures, LLC
Open the Mac App Store to buy and download apps.
Description
iCharacter Sheet 4e - FREE!

Now save and print out your Dungeons & Dragons® character on your Mac anytime you want!

Note for free version: This app download is the Free version of iCharacter Sheet 4e. Certain functions are disabled in this version so buyers can get a "feel" for our application. Characters cannot be saved in the Free version, nor can they be exported as HTML for email.

Digital Adventures, innovative designers of RPG applications for nearly a decade, is proud to present the first in our line of RPG character sheets for the iPad under the iCharacter Sheet brand: Dungeons & Dragons 4e.

This app contains a detailed character sheet that has everything you need to bring your 4th Edition D&D to the gaming table. No more scribbling mistakes or erasing holes in your paper sheet, the iCharacter Sheet 4e puts all of your character's stats, abilities, powers, equipment, powers, and campaign history on your Mac computer.

Features for this app include:

* Five different tabs to input your information: Main (Stats, Attack, Defense, Saves, Hit Points), Abilities (Skills, Action Points, Feats, Languages, Destiny), Powers (all Power categories, Magic Items), Other (Companions, Rituals, Equipment, Background, Wealth), Notes (free form entry for campaign or other information).

* Import an image for your character from any downloaded pic.

* Multi-line entry system that scrolls down to give a larger entry window.

* Pop-up Powers and magic item entries to give you more entry information.

* Export your iCharacter Sheet to an HTML file that you can email to yourself or your Dungeon Master, or to then print the file for your next game! (disabled in free version)

Future upgrades to this app are in the works to further broaden functionality and add additional tools for the D&D player.

It is important to note that the iCharacter Sheet 4e is not a character generator, and contains no coded or database driven D&D 4th Edition rules or game information. The iCharacter Sheet 4e is an input-only tool, per legal usage as outlined by Wizards of the Coast, the owners of Dungeons & Dragons.

The iCharacter Sheet brand and iCharacter Sheet 4e application product are trademarks of Digital Adventures, LLC, ©2011, ALL RIGHTS RESERVED. This product's format, programming code, and presentation is copyrighted by Digital Adventures, LLC and its partners. Purchase of this product subjects the buyer to the Mac App Store legal Terms of Conditions regarding purchase and use.

Use of the Dungeons & Dragons brand, property of Wizards of the Coast, falls within the confines of their 4th Edition Game System License and can be reviewed at www.wizards.com. As of this release this product has been approved for distribution by Wizards of the Coast.
Screenshot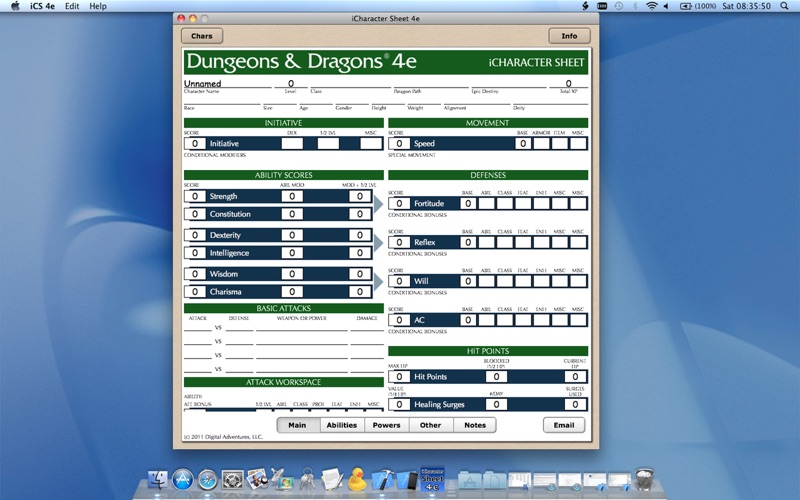 Customer Reviews
Does what it says, but not really all that useful...
To begin, this app does what it sets out to do: give a D&D player an app which allows them to manage a character sheet from his or her computer instead of using paper. That being said, that's ALL it does. There are no bugs, glitches, or broken elements that I could see, but I'm still not happy with it. The reason for this is that the developer didn't dream big enough.

Here are my complaints:
- The app doesn't do any calculations. For example, when the user types in the ability scores, the modifiers should pop up automatically. They don't. This would be an easy feature to add (if 12 or 13 then 1, if 14 or 15 then 2, etc.) which would make the app functional.

- The app is 100% manual entry. It could be vastly improved by adding drop down menus (with an option for manually adding unique items) for things like weapons and armor, which could then tie in with my first point and automatically affect the character's stats.

- The app uses Comic Sans as the font, which the developer must have been unaware is anathema to intelligent life-forms.

Bottom Line: I'll be looking out for version 2 of this app. It has promise, but as it stands, you should only buy it if you have handwriting that completely illegible, because this is no different than doing your character sheet with pencil and paper.
Ehmmmmm. . .
It is just a character sheet. This does in fact reduce wear on your actual paper, but it does little else. I am kind-of glad that I did not buy the main product, because it looks like it might not have anything else to it.

I know that the description says it is only an input tool, but even ON THE CHARRACTER SHEET, there are arrows that lead from one place to the other. Not to mention, the way that Wizard's character sheet is made is very redundant. I'm not entirely sure of Wizard's' legal restrictions on this, but it might be a better product if the electronic format would fill in places as major factors are set. Such as filling in the rest of the line once the character's strength and level are input. In fact, there are several straight-up character sheets online that do that. And those are completely free.
excel better
at first glance i was excited, but after installing i find it is very basic, it serves it purpose partially, but it cuts off part of the character sheet and you can not access it to add the stuff you need to, second while it saves having to write a sheet each time it would be better if it had an auto function like several of the xcel sheets i have found that automaticly fill in stat bonuses and do the math for you. but it is a good start... not ready to pay for the full version... YET... but will keep an eye on its development... if it grows a little ill look into it. thanks :)
View in Mac App Store
Free

Category:

Games

Released:

Jun 14, 2011

Version:

1

Size:

1.1 MB

Language:

English

Seller:

Digital Adventures, LLC
Compatibility: OS X 10.6 or later