iConfess - Confession Handbook and Guide
By Blueinstinct App Solutions
This app is only available on the App Store for iOS devices.
Description
This app is now free in order to encourage everyone to go to the Sacrament of Confession regularly.

If you would like to donate any amount to help fund the continued development of this app, you may send any amount via paypal to floydpiedad@gmail.com. I can also accept bitcoins via my wallet: 1CwrvqJdXw5XTtb4VadW8zWkgFrwrjTYdz

God bless!
---------------

This is the first and original Confession guide for Roman Catholics on the iPhone, and featured in several Catholic blogs and videos such as: http://www.youtube.com/watch?v=g5KftViTzRM.

IMPORTANT: This is not meant to replace the Sacrament of Penance or Confession. Nothing can.

This is a comprehensive guidebook and tool for Roman Catholics taking the Sacrament of Confession. It helps the user do a thorough Examination of Conscience in preparation for Confession, and facilitates the remembrance of what to confess to the Priest.

It uniquely provides an easy to navigate electronic book with the added ability to:
- Search for any content
- Flag an item for easy reference during Confession
- Do a detailed Examination of Conscience with the ability to flag individual sins so you can go through them one by one as you take your Confession with the Priest
- Optional icon badging of number of flagged notes/sins to constantly remind you of what to consider on your next Confession
- Logging of all your Confessions to remember important points discussed with the Priest
- Built-in notepad for taking down notes to discuss with the Priest during Confession

This guide to the Sacrament of Reconcilliation covers the following areas:
- About Confession
--- What, why, and how
--- What is a sin
- A thorough Examination of Conscience
--- The Ten Commandments, each examined in detail
--- The Seven Deadly Sins
--- Other types of sins
- Prayers for Confession
- Readings on Confession

How to have a good Confession with this app:
1. Do the Examination of Conscience and go through each of the Ten Commandments, marking those sins which you think you committed since your last good Confession by tapping on the flag icon.
2. Review your flagged items and re-phrase the sins by copy-pasting or entering them into the notepad facility of the app. Include special circumstances like how many times you committed the sin, as well as anything which might make the sin more or less grave.
3. Do the Sacrament of Penance or Confession with a Priest, reading from your notepad as you go along to help you remember what you need to discuss with him.
4. Take down the important points suggested by the Priest, as well as any resolutions you may have, using the Confession Log feature

Here are a few of the wonderful feedback we have received from people who have used this app:
- "It has been over a year since I last went to confession and your App is just what the doctor ordered. I'm trying to prepare for a good Confession and this will certainly help me."
- "It's a great app. I'm a former protestant minister of 18 years My family and I converted in January 2006. I place a high value on this sacrament and find iConfess app to be very beneficial in aiding consistency, frequency and - if you will -quality of my Confession."
- "Just wanted to let you know that this app motivated me to hit the confessional in under 24 hours from when I installed it on my phone. It is an invaluable help in examining my conscience correctly in light of true Church teaching, too! I've sung this app's praises on my Facebook profile in hopes that more people buy and use it."

Content has been researched from authoritative Catholic sources such as the Vatican's Catechism of the Catholic Church, Catholic.org, HolySpiritInteractive.net, CatholicParents.org, CatholicCulture.org, and EWTN.
What's New in Version 1.9
Fixes for password support for iOS 7.
iPhone Screenshots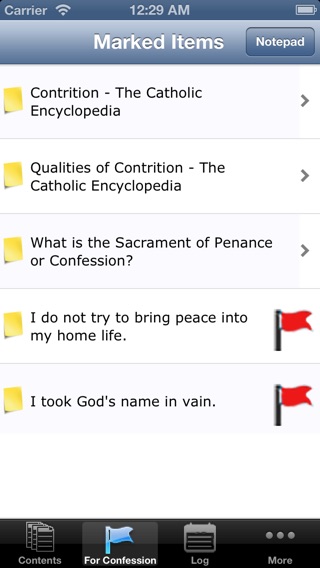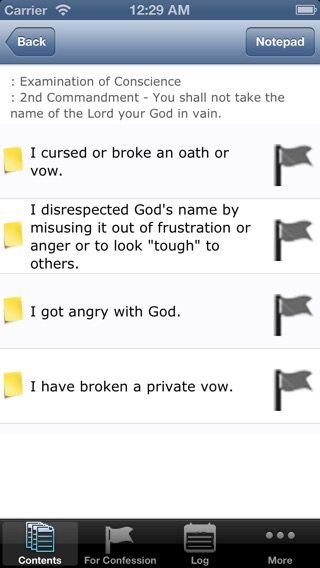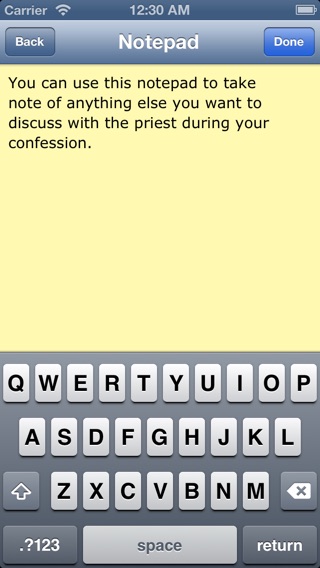 Customer Reviews
Helpful app
I agree with some of the reviewers regarding password issue and lack of prompt care of this important issue from the developer. However and in my opinion, one should not give the lowest rating as the app still VERY useful even without this "password-lock" feature. We must not forget that this app is free as opposed to comparable apps that have to be purchased. Also, this and other similar apps should be more used as guides and not so much as solving methods. Give the developer(s) the credit he/she deserves.
Best confession app on the market
I see that some have written negative reviews about password protection but I have used this app for year and there is not a suitable replacement at any price on the market. I have looked at several and purchased many. After using iconfess, all the other apps fall short. The examination of conscience is superior to it competition. I hope you bring it back.
Do Not Use ... CAUTION app NOT secure!!!
Good idea poor execution.
Master Password settings DO NOT work. Please do not use the notepad feature or log to write sensitive , issues of conscience. The password can be bypassed by pressing cancel and your confidential thoughts will be exposed.

Upon further review app has not been updated since 2014-IOS 7, this is unacceptable and I am surprised that Apple/ ITunes does not have stringent quality improvement guidelines in place.

I was a satisfied multiple year user of this app with my old IPhone when app first came out. No more with IOS 9

Again it's a good concept poor execution and follow up use with caution by not storing or using log or notepad. Please report to iTunes and request developer to update or remove from App Store as this is a great disservice to its user who trusted in its security mechanisms. Thank you for reading. God bless you.
View in iTunes
Free

Category:

Reference

Updated:

Dec 12, 2013

Version:

1.9

Size:

6.6 MB

Language:

English

Seller:

Floyd Piedad
Compatibility: Requires iOS 6.0 or later. Compatible with iPhone, iPad, and iPod touch.
More iPhone Apps by Blueinstinct App Solutions