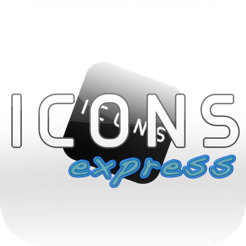 Description
Icons Express is the little brother to Icons 3.0. Icons Express comes with all of the essential features you would need to generate and preview iOS, Android and custom sized Icons.

Icons Express is perfect if you don't want to add a lot of extras to your icons. See below for the included features that Icon Express offers.

- Preview with Rounded Corners
- Preview with Shine & Rounded Corners
- Export with Rounded Corners
- Export with Shine & Rounded Corners
- Export for iPhone, iPad and iPhone 4
- Export for Android
- Export Custom Size
- Export iTunesArtwork (512 x 512)
- Set a Custom Icon Name

Icons Express is simple to use. Just drag your 512x512 image file into the app and Icons Express will immediately load all of the icon previews to instantly see how your icons will look in all available sizes. What you do from there is up to you, when you are satisfied with the outcome, export your icons for immediate use.

If you want to see all that Icons Express has to offer please consider purchasing Icons 3.0 the ultimate Icon generation tool for all of your icon needs.

Supports PSD, PNG, TIFF, BMP, JPEG and many other file formats.

If you have any questions / comments / suggestions / issues you can visit the support site and leave a comment or email me at chris@chris-fletcher.com I try to answer all comments on the same day I receive them.
Ratings and Reviews
Really cool app – thanks, Empoc!
When I downloaded this I didn't expect much – maybe it would not work, or maybe it would be so complicated that I couldn't use it. Neither. It worked perfectly – it was easy to use, did everything right, and there was basically no confusion of how it worked. In response to what Marc Steinberg said, iOS apps are not the only use of these icons. In response to what Gilbert Heroux said, of course it's a demo, because it says ***FOR A LIMITED TIME*** on the top. You save by hitting the "export" button in the top right corner of the window and choosing a location. The confusion must have been caused by the window saying "open" instead of "save", which should probably be fixed in the next update. Another useful fix would be having it automatically resize an image to 512x512 when the image is dragged on, but I have no qualms about the current system.

Anyway, thanks for making this great app! This was impressive, and I plan to use it a lot!
Great small app. Works as advertised!
Icon's express is a great addition to any developer's toolbox. It's small, lightweight and it's unique interface is easy to navigate. It's help me improve the look of my icons and easily generate and name the files that are plug and play. Great job - it's apps like these that make the app store such a great thing.

I can't understand the whiners and low raters. If you want something that does more or something else. Search harder, there are plenty of options. No need to slam a dev who worked hard to deliver a great app.
Perfect for Mobile Developers
Great app. I was looking everywhere for a simple and useful icon making utility. Before this app, I would have to export for each format and rename the icons. Doesnt seem like a lot until you want to change or tweek an icon, then this app is invaluable. Also useful for previewing what the icons will look like before you deplay the application. WELL DONE! Its also FREE! I will be looking at more apps from this developer. Thanks Again.
Information
Seller

Empoc, LLC

Size

1.5 MB

Category

Age Rating

Rated 4+

Copyright

© 2011 Empoc, LLC

Price

$0.99
Supports
Family Sharing

With Family Sharing set up, up to six family members can use this app.