Mega Man® II
By Beeline Interactive, Inc.
Open iTunes to buy and download apps.
Description
Be sure to check out the all-new Mega Man X now available in the App Store.
------------------------------------------------

Mega Man® is back and better than ever in this updated version of the legendary platformer. For the hardcore Mega Man fan, the new Classic Mode allows you to experience the game in its original incarnation with all the enemies, movement and action you remember.

More casual players can toggle off Classic Mode and enjoy a rebalanced gameplay experience with more forgiving controls, scaled-down enemies and an auto-fire option.

Both modes can now be played in landscape mode in addition to the portrait mode that was available in the original release.
------------------------------------------------
Features:
* Utilize top-down virtual game controls in either portrait or landscape.
* New Classic Mode for hardcore Mega Man fans.
* Battle your way through 14 levels, and conquer 8 Robot Masters, each with a unique weapon!
* Bringing the original classic NES game to the palm of your hand!
------------------------------------------------
Check out other awesome games from Capcom: Who Wants To Be A Millionaire 2010, Are You Smarter Than A 5TH Grader?™ 2010, Mega Man® II, KENKEN®, Resident Evil: Degeneration™, Resident Evil® 4 Ghosts™'N Goblins, Street Fighter® IV and more!


Follow us on Twitter: https://twitter.com/CapcomMobile
Follow us on Facebook: http://www.facebook.com/CapcomMobile
What's New in Version 1.5.2
- updated for iOS 4 support
- minor bug fixes
iPhone Screenshots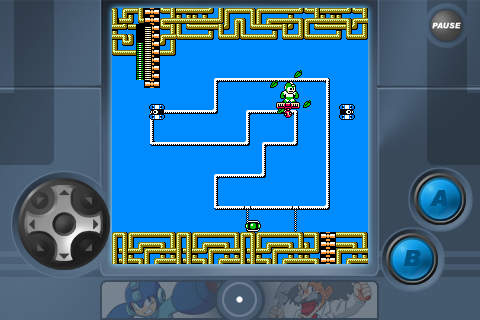 Customer Reviews
Awesome port, but some issues
First off, I'd like to say Mega Man 2 on the NES is an awesome game. This port of that game is pretty awesome as well. (And only $1!)

Even so, I have a few gripes with this port. Sure the controls are clunky, and that took a while to get used to because there are no physical buttons like on the NES, but playing this on an iPad really helps.

My biggest issue with this game is a bug I ran into on normal mode. In Wily's Castle, Area 2, my sound completely quit for the remainder of the game. Even so, I continued playing, and it was still quite fun, even with a few more minor glitches due to this bug. I beat the game and I was excited to see the ending, wishing for the sound to come back when the app reset my iPad. Just great. Please fix this.

Also, this game is very short. I beat it in an hour or two. This game was awesome for the NES because of the limitations of the system, but when I beat the game, I wanted a little more. What I would have really enjoyed was a bundle of the first 3 Mega Man games in one for a higher price, now that would be awesome!

All in all, this app is a lot of fun, but a few annoyances held it back from being amazing. Definitely worth the cheap price. If you enjoy retro games, this app is for you.
Very faithful port
Pretty much everyone thinking of buying this app is a mega man fan, so I'll give you he info that you need to know. Nothin is removed or cut out of this game, it's the full mega man 2. It has been tweaked a little and reworked a little. For instance, some enemies like the guys on clouded throw lightning twice as fast, the shrimp in bubble mans stage move extremely quick, and some enemy attack patters are more unpredictable now. Other than that the original games bugs have been removed and there are new features (like the save feature) that are great. Easy mode is WAY too easy, and normal is just a little too hard sometimes. Also all the boss robots are a lot weaker. Ultimately though all the changes made are small and insignificant to the whole game, and on top of that most of he changes make the game even better. If you like mega man 2 AT ALL or ANY mega man game for that matter, get this. Fun classic gameplay, tight controls, solid frame rates and no crappy NES sprite flicker. PLUS it's only 99 cents. Get it! Now!
best for iPad
this game is a quite faithful and fun port if the original mega man 2, one if the best nintendo entertainment system games made. This port, however, seems to be intended for the ipad and not the iPhone. Because the iPad and iPhone have no buttons, the app has to virtualize them, they appear on the touch screen itself. This actually works very well if you have an iPad and expanded the app to fit the screen (this is achievable by selecting the "x2" button on the corner of the screen if the app appears to fit only half of your screen.) Best played in landscape mode to better allow use of the virtual buttons, about half of the screen is used for controlling the game and the other half for viewing it. On the iPhone this is a different story. One must squint their eyes just to see what is going on, and the buttons are too small to be of use. Final verdict: a must have for gamers on the iPad... But for iPhone owner it's best to try to avoid setups like this.
View In iTunes
$0.99

Category:

Games

Updated:

Sep 08, 2010

Version:

1.5.2

Size:

39.8 MB

Language:

English

Seller:

Capcom Interactive, Inc.
Compatibility: Requires iOS 3.0 or later. Compatible with iPhone, iPad, and iPod touch.
More iPhone Apps by Beeline Interactive, Inc.