Camera+
By LateNite Apps
This app is only available on the App Store for iOS devices.
Description
Over 10 million sold!

"The Clarity filter is iPhone photography's secret sauce—it adds pro-camera crispness to almost any shot."
— Kevin Sintumuang, The Wall Street Journal

"If the iPhone's standard camera is like a digital point-and-shoot, the Camera+ app is like a high-quality SLR lens."
— TIME: 50 Best iPhone Apps 2011

"improves on almost every aspect of the built-in camera app"
— Charlie Sorrel, Wired

"tap tap tap definitely has a winner on their hands with Camera+"
— Steven Sande, The Unofficial Apple Weblog

Winner: Best Visual Design, Best Photography App
— Best App Ever Awards


It's all about one thing... great photos!

Whether you're a seasoned photographer or someone who's barely touched a camera, Camera+ will make you love taking photos.

Touch Exposure & Focus
Set exposure separately from focus. You can now easily control how light or dark your shots come out.

Shooting Modes
Use the Stabilizer to steady your iPhone and get the sharpest photos you can. There are countless uses for the Timer including taking the highest-quailty self-portraits. Capture all the action by using Burst to take rapid streams of shots.

Digital Zoom
Up to 6× zoom with advanced digital processing provides you with quality that simply blows away the competition.

Front Flash
How many times have you wanted to take a pic of yourself in a dark room but couldn't. Well, now you can!

Horizon Level
Use the Horizon Level to eliminate taking crooked shots.

Clarity
Clarity is one of the biggest breakthroughs to happen to image processing in a long time. Clarity analyzes your photos and makes several intelligent adjustments that magically bring out details and breathe life into dull photos. With Clarity, you'll stop throwing out bad photos… you'll be amazed to see what it can do to photos that you'd typically consider unusable, like shots that came out too dark.

Scene Modes
Most modern digital cameras all have scene modes to help you get the best photos for your particular situation. With Camera+, you get to choose from several scene modes including Food, Sunset, Night, Portrait, Beach, and many more.

Effects
Professional photographer, Lisa Bettany created a slew of stunningly beautiful effects. Make your photos shimmer with "HDR"… get down and dirty with "Grunge"… fill your pics with emotion and despair with "So Emo". And this is just the tip of the iceberg… there are dozens of 1-touch effects for you to experiment with.

Lightbox
All the pics you take in Camera+ go in the innovative Lightbox where you can quickly and easily skim through them and get rid of bad shots. You save only the photos you're satisfied with so that your camera roll stays neat and clean.

Sharing
Whether you want to show your results to your friends and family or the whole world, Camera+ has got you covered. Proudly share your photos on Facebook, Twitter, and Flickr. Or go the more personal route and email or message them from right within the app.

iCloud Lightbox sync
Automatically sync your Camera+ photos between all of your devices. Shoot all day on your iPhone… and then edit at night on your iPad.

Crops
If you didn't line-up your shot perfectly when you took it, you can easily fix that with Camera+. And when you want to get a bit creative, we setup a bunch of popular crop sizes for you. With a single tap, you can make your pics square, 4×6, 8×10, and more.

Borders
With Camera+ you get several great border designs, from simple black and white borders to more gritty designs, you'll be able to add wonderful finishing touches.

Captions
Have some fun with your photos by putting captions on them. It's a great way to really personalize your favorite shots.
What's New in Version 9.1
Introducing Camera+ 9.1 with more RAW POWER… and more POP!

For you photographers who want total control over your photos and wish to attain the best possible quality in doing so, you'll be very pleased to hear that in Camera+ 9.1 we've enhanced the RAW capabilities that we recently added in Camera+ 9 to help you do just that.

Specifically, when you have Camera+ set to save the RAW photos when you shoot, we've added options to enable you to either keep together or separate the JPEG/TIFF and RAW portions of your photos when you go to save them. So you can now either save them as single combined photos or separate each into two, with one being the RAW DNG (digital negative). Separating the photos can make it easier to deal with them if, for instance, you move them to a computer for further processing.

Additionally, we've added options so that you can export either just the JPEG/TIFF portions or just the RAW portions to your Camera Roll. You can access these new export features via the action button in the RAW Lab, and via long press or 3D Touch on the Save button in the Lightbox.

Did somebody just say 3D Touch??

Along these lines, we've also added 3D Touch capabilities to several areas of Camera+. Most notably, you can now 3D Touch the Lightbox icon right from the camera screen to access the most recent photo in your Lightbox. So now you have zippy access to the last photo you've shot and you can do things like copy it… save it… or share it without having to jump into the Lightbox. You can now even quickly delete those inadvertent thumb shots and unwanted photobombs right from the camera screen. Nifty, eh?

But we caught the 3D Touch Fever and didn't stop there… so you can now 3D Touch various elements in the Lightbox, too. "Precisely what?" you ask? Well, where would the fun be in that if we just told you. For those of you with 3D Touch-capable devices, you know that 7/8 of the fun of 3D Touch is the mystery-meat aspect of it where you just start jamming your thumb on various things and hope that something magical will peek and/or pop. So we won't ruin that experience for you by telling you anything further. Consider it an early Easter Egg hunt. Enjoy!

Moving back into the 2D realm where there are far less mysteries & surprises… we've renamed the AutoSave section of the menu to Save because we've added some save-related functionality and it all lives nicely under that heading now. The new functionality is a feature that enables you to choose between either revertible or non-revertible edits when you save your pics to your Camera Roll. Revertible pro: you're able to undo any edits to your photos, even after saving them. Revertible con: saved photos take up more space on your device. And vice-versa for non-revertible, of course. Sidenote: Autocorrect has been beaten to submission regarding trying to change "revertible" to "reversible". WIN!

For you metadata geeks who like to be all in-the-know, we've added a few niceties, along with some spit & polish to the ever-informative Info panel.

And finally… coming to you directly from the Department of When You Remove Existing Features, It's Guaranteed to Bite You in the You Know What, No Matter How Insignificant You Think They Are: we've added a "new" JPEG Downscaled quality option to compensate for the recently removed Optimized option. Or you can look at it as us "re-introducing" it with a different name and better functionality. Or mayyybe even "un-retiring" it? Take your pick. We'll just be over here growling, but with our tail between our collective legs…

If you peer over the horizon, you just might be able to catch a glimpse of Camera+ 10 making its way toward you. One word for now: AMBITIOUS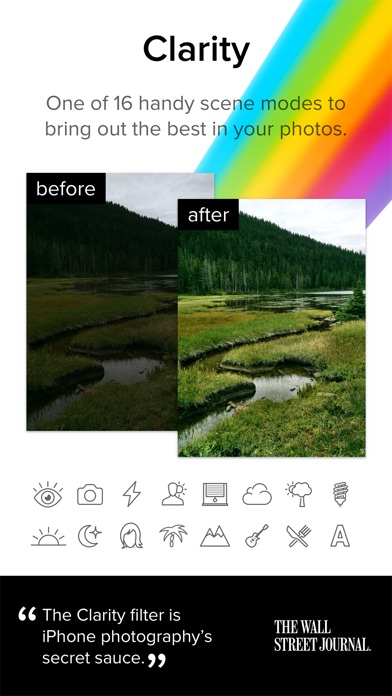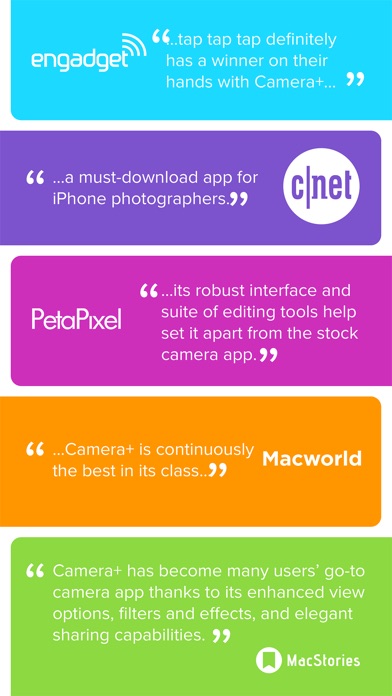 Customer Reviews
Nordic233
I have been a customer since tap~tap~tap first started. I watched it get better and better. I don't know if the creators remember me but a few Years ago I wrote a manual. Basically I took their user manual which were in no specific order on line and printed them all. Then made dividers between the sections and designed a slick looking title cover. I took a few pictures and sent them to the creators. I only did this for myself because I love this app. I've probably this app to over 150 people and they became believers. Actually this type stuff I do for a living. I'm a marketing director for a medium sized firm and making a user manual was kind of fun. But it's obsolete now. The technology is so advanced that anything you do will be no good because of changes. This app has come a long way. For those who have read this, order this and if there's any charges for add ons buy them! You so t be sorry. There is no one app better then this in the entire world. I commend the engineering photographic experts for their many hours of hard work. I hope that you all have achieved your rewards and payback time. Thanks a ton for your work.
Jimmy
Gotta love that macro…
I am a professional photographer, and although I shoot with a Canon 50D during sessions with clients, I shoot my macro florals with my phone. As long as I get quality images from my phone, this is fine. I can't carry a huge camera around all day, so the iPhone, it is. I'm putting together all sorts of ideas with these florals, and soon they will be a huge part of my business. People often ask how to purchase them, so I feel very excited and encouraged. Anyway, before this app came along, I was using a clip-on lens. After awhile, clip-on lenses can start to cause damage to any phone, so I was really happy to discover a free app that shoots in macro. My only complaint: The images are sometimes strange looking. Hard to explain. They have a sort of false look to them. Too sharp yet oddly blotchy almost like a watercolor painting. I truly don't know how to articulate what I'm seeing. I manage to get rid of some of that in post processing, but do wish there was nothing to 'get rid of'. Okay one more complaint: Sometimes it's very hard to focus, and I find this frustrating. I don't mean to sound negative! It's a great, app. I'm grateful for it. Thanks!
From Best to Worst
This was my go-to camera app for years, but have finally decided to abandon. As far as quality goes, it it still the best app, but it has become so buggy that I just can't deal with it anymore. This app has gotten so slow, and crashes a LOT!! I now expect it to crash when saving more than five images at a time. The Clarity effect in the lab is stellar, but you apply it and then go out of editing mode for that image, and it changes. It removes some of the effect. I use this as well as four other members of my family and we all have the same issues. This app has become a horrible battery hog. It will eat your battery up in no time when shooting with it. And, if something happens that you need to capture quickly, I wouldn't advise using this app. It now takes forever for it to open and then get to camera mode.

Yet and still, this app still takes the best photos, hands down. But it has become so frustrating to use, that I will use something else for capture, and just use Camera+ for editing only. Please fix what used to be a great app.
View in iTunes
Offers Apple Watch App for iPhone
$2.99

Category:

Photo & Video

Updated:

Mar 22, 2017

Version:

9.1

Size:

89.2 MB

Apple Watch:

Yes

Languages:

English, French, German, Italian, Japanese, Korean, Portuguese, Simplified Chinese, Spanish, Traditional Chinese

Seller:

LateNite Apps
Compatibility: Requires iOS 9.0 or later. Compatible with iPhone, iPad, and iPod touch.
Top In-App Purchases
I <3 Analog Filter Pack$0.99
Hollywood Filter Pack$0.99
More iPhone Apps by LateNite Apps