Camera+
By tap tap tap LLC
Open iTunes to buy and download apps.
Description
Over 10 million sold!

"The Clarity filter is iPhone photography's secret sauce—it adds pro-camera crispness to almost any shot."
— Kevin Sintumuang, The Wall Street Journal

"If the iPhone's standard camera is like a digital point-and-shoot, the Camera+ app is like a high-quality SLR lens."
— TIME: 50 Best iPhone Apps 2011

"improves on almost every aspect of the built-in camera app"
— Charlie Sorrel, Wired

"tap tap tap definitely has a winner on their hands with Camera+"
— Steven Sande, The Unofficial Apple Weblog

Winner: Best Visual Design, Best Photography App
— Best App Ever Awards


It's all about one thing... great photos!

Whether you're a seasoned photographer or someone who's barely touched a camera, Camera+ will make you love taking photos.

Touch Exposure & Focus
Set exposure separately from focus. You can now easily control how light or dark your shots come out.

Shooting Modes
Use the Stabilizer to steady your iPhone and get the sharpest photos you can. There are countless uses for the Timer including taking the highest-quailty self-portraits. Capture all the action by using Burst to take rapid streams of shots.

Digital Zoom
Up to 6× zoom with advanced digital processing provides you with quality that simply blows away the competition.

Front Flash
How many times have you wanted to take a pic of yourself in a dark room but couldn't. Well, now you can!

Horizon Level
Use the Horizon Level to eliminate taking crooked shots.

Clarity
Clarity is one of the biggest breakthroughs to happen to image processing in a long time. Clarity analyzes your photos and makes several intelligent adjustments that magically bring out details and breathe life into dull photos. With Clarity, you'll stop throwing out bad photos… you'll be amazed to see what it can do to photos that you'd typically consider unusable, like shots that came out too dark.

Scene Modes
Most modern digital cameras all have scene modes to help you get the best photos for your particular situation. With Camera+, you get to choose from several scene modes including Food, Sunset, Night, Portrait, Beach, and many more.

Effects
Professional photographer, Lisa Bettany created a slew of stunningly beautiful effects. Make your photos shimmer with "HDR"… get down and dirty with "Grunge"… fill your pics with emotion and despair with "So Emo". And this is just the tip of the iceberg… there are dozens of 1-touch effects for you to experiment with.

Lightbox
All the pics you take in Camera+ go in the innovative Lightbox where you can quickly and easily skim through them and get rid of bad shots. You save only the photos you're satisfied with so that your camera roll stays neat and clean.

Sharing
Whether you want to show your results to your friends and family or the whole world, Camera+ has got you covered. Proudly share your photos on Facebook, Twitter, and Flickr. Or go the more personal route and email or message them from right within the app.

iCloud Lightbox sync
Automatically sync your Camera+ photos between all of your devices. Shoot all day on your iPhone… and then edit at night on your iPad.

Crops
If you didn't line-up your shot perfectly when you took it, you can easily fix that with Camera+. And when you want to get a bit creative, we setup a bunch of popular crop sizes for you. With a single tap, you can make your pics square, 4×6, 8×10, and more.

Borders
With Camera+ you get several great border designs, from simple black and white borders to more gritty designs, you'll be able to add wonderful finishing touches.

Captions
Have some fun with your photos by putting captions on them. It's a great way to really personalize your favorite shots.
What's New in Version 9.0.2
9.0.2

Come they told me
Pa-rumpa-pum-bum
A new Update to see
Pa-rumpa-pum-bum
Our finest Apps we bring
Pa-rumpa-pum-bum
And fix the Broken Things
Pa-rumpa-pum-bum
Rumpa-pum-bum
Rumpa-pum-bum
May all the Bugs be gone
Pa-rumpa-pum-bum
Now I need Rum.


What's new in Camera+ 9

iPhone 7 Plus dual lens support

For those of you with big pockets (both in the literal and figurative sense) who are fortunate enough to have a shiny (in the literal sense if you opted for Jet Black™), new iPhone 7 Plus, you'll be very happy to hear that Camera+ now has extensive support for the dual lenses it sports. You're now able to explicitly choose to shoot with the wide angle or telephoto lens so you can get exactly the lens you desire for the given shooting situation. If you prefer the simplicity of not having to think about those sorts of things like lens pickin', you can just keep the lens switcher set to Duo mode and let your iPhone 7 Plus do its magic.

One thing worth knowing along these lines is that in Apple's Camera app, the 2× zoom button sort of implies that it behaves as a wide angle / tele switcher, but it's actually not (sometimes it's a wide/tele switcher… sometimes it's a 2× digital zoom button… and sometimes it's something else altogether). The "tell" here is if you set it to 2× then put a finger over the tele lens (the one on the right side if you're looking at the back of the phone). If you're expecting to snap a pic of your finger, you'll be surprised in some situations… when lighting conditions are relatively dark, the system will use the wide angle lens (to prevent an underexposed photo, since the tele lens has a higher ƒ-number of 2.8 than the wide angle lens' ƒ-number of 1.8… in other words, this somewhat confusingly means it has a smaller aperture, which therefore lets in less light). Now to make a long story even longer, one of the benefits of the dual lenses is that the system can combine info from both lenses, resulting in a better photo than one taken with a single lens. In any case, we've implemented our Duo lens mode to be consistent with Apple's Camera behavior, but we've also enabled you to choose precisely which lens you want. Hopefully at least some of you will have found at least some of this informative. Undoubtedly, some others of you have had a flashback to some high school science class, have fallen asleep by now, and are drooling on your desk. The More You Know :STARSWOOSH:


RAW shooting

If you're using an iPhone 6s, 6s Plus, SE, 7, or 7 Plus, you now have the privilege of shooting in RAW. You'll find this new setting in the (newly renamed) Quality & Format menu. For those of you not in the know, shooting in RAW can provide you with the highest quality shots your iPhone camera is capable of taking. RAW photos actually store more information than normal JPEG or TIFF photos, so when you edit these photos, you'll have the opportunity to pull out otherwise lost details to help you achieve the perfect photo.


RAW editing

To go hand-in-hand with RAW shooting, we've added the capabilities for you to make adjustments to the pics you've shot in RAW. The way to look at this in the world of Camera+ is that the photos that come out of your camera sensor have some processing applied to them by the system. The items that end up in your Lightbox right after shooting are the "developed" versions of these photos. You can then edit them using Camera+'s suite of editing tools like The Lab and apply our various filters to them. But now, with RAW thrown into the picture (bad pun'd), you have the opportunity to "re-develop" the pics fresh from your camera using a new suite of editing tools we call the RAW Lab.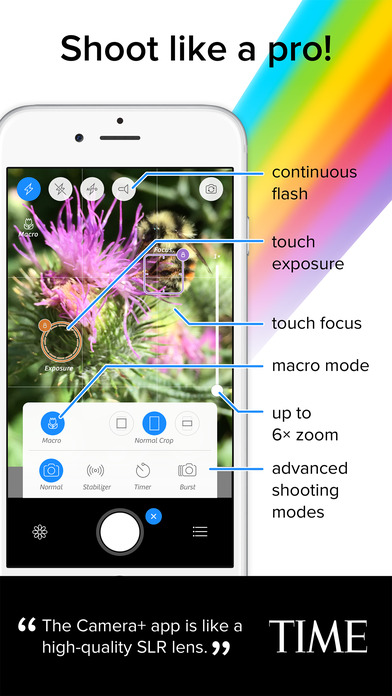 Customer Reviews
Massive UX flaw despite great features
As a photographer it was great to find an app that mimics the control of dslr and some photoshop features. Started with the free version and upgraded within a few hours. Next day I ditched my big camera for the phone for my daughter's birthday adventure. Shot easily 100 photos and several venues. Got home and wanted to look at photos to discard bad shots and determine editing needs. Hit "photos" assuming the photos would be there. They weren't. They weren't in the cloud, there was no way to download the shoot to my desktop. There was no way to just view the photos unless you went through them one at a time and saved them. I didn't even get to that point because I initially thought the problem was that there were two of the same app and maybe something was pointing to the wrong database, so I got rid of one of the duplicates. The problem was that it wasn't a duplicate because when I bought the app, instead of adding the pro features to the free version, they installed a new app with an identical logo. All the new photos were on the second app, and lightbox doesn't automatically save or backup, nor does it leave the photos when you uninstall the app. It doesn't give explicit warning that you are deleting photos either. It would be like all the pdfs disappearing if you uninstall adobe reader...insanely bad design. All my kids birthday photos are gone because of the cascade of thoughtless UX design.
Honest Review
First off, please understand that I am not one of those reviewers who had a incident with the application, so decided to give it a dirty review. Now that that's out of the way, I would like to give this application a 2/5. My reasons for that rate being: whenever I transfer a photo from my camera roll to the actual application to edit it, it automatically adds more pixels. Don't get me wrong, this application has done me a lot of good in the previous years! Maybe I'm using it incorrectly; maybe you have to take photos on the application itself for them to look nice. But, I found as I've upgraded to an iPhone 7 and the 6s before this—that this application just really lowered the resolution of the photos. Maybe they haven't updated it in a while. But, if you're like me and want to use this as an editing application, I would recommend just using Instagram or something along those lines. I just feel, for a paid application, I shouldn't have to resort to my original photo to post when I want to edit it to make it look even better. I hope this was helpful. Also, a thanks to the application developer. As I said, this application has done me a lot of good in past/recent years!
Camera+ is the best ever.
The best part of this camera app is everything. The settings I can control, or not. Macro and editing.

Super tech support too!

No in-app ads.

I love Camera+.

It is the only app that I can find right now that is ready for the iPhone 7 Plus. It will take photos with both of the new lenses and also take these photos in RAW. In addition, it will take photos in duo mode utilizing both of the lenses f stops and getting the best results from them.

You can choose how to save, jpg, tif or raw.

In addition you can take photos in macro mode.

I have an Olloclip. When I have the 7x lens on, I will still put Camera+ in Macro mode.

It works great in regular mode with the Olloclip.

You can edit your photos with Camera+. I have done this and their tools are great.

You can save your photos to Camera+ or to the Camera Roll. You choose. The guy who wrote a review saying otherwise was wrong.

I just can't say enough great things about this app!!!

I have used the Apple app and despise how it works. It adds extra light to my photos and is clumsy and not intuitive.

You are the boss in Camera+. You can set the settings or go with auto.

Buy it!!! You won't regret it.
View in iTunes
Offers Apple Watch App for iPhone
$2.99

Category:

Photo & Video

Updated:

Dec 21, 2016

Version:

9.0.2

Size:

88.9 MB

Apple Watch:

Yes

Languages:

English, French, German, Italian, Japanese, Korean, Portuguese, Simplified Chinese, Spanish, Traditional Chinese

Seller:

tap tap tap LLC
Compatibility: Requires iOS 9.0 or later. Compatible with iPhone, iPad, and iPod touch.
Top In-App Purchases
I <3 Analog Filter Pack$0.99
Hollywood Filter Pack$0.99
More iPhone Apps by tap tap tap LLC