HexaLex
By Nathan Gray
Open iTunes to buy and download apps.
Description
Now on SALE! 33% off for a limited time!
"The whole thing is marvelous. The graphics are really stellar, and the controls are obvious, and perfect." -TheAppEra.com

"Hexalex delivers a fun word gaming experience that will delight Scrabble gamers." -BuzzFocus.com

* Featured by Apple: App Store's New and Noteworthy!

* Gold Award, 9.5/10 - GamersDailyNews.com

* Gizmodo: Week's Best Apps

* MacWorld: 4/5 Mice

* TUAW Daily App
__________________________________________
Introducing HexaLex

Scrabble fans, meet the world's first hexagonal crossword game. HexaLex takes the classic, easy to learn but hard to master game and adds a new dimension. Hexagonal tiles let you play words in three directions instead of two. Words interact in surprising ways! But have no fear, thanks to the innovative instant feedback system, tutorial, and detailed built-in help, you'll be laying down major scores in no time. If you're hooked on Scrabble or Words With Friends you're going to love HexaLex!
__________________________________________
FEATURES:

* Game Center Leaderboards/Achievements & Retina Display graphics

* 2-4 player online games, with push notifications when it's your turn.

* Feed your inner geek with extensive stats and records tracked in each game and over your career.

* Leaderboards & over 30 Medals, with or without Game Center

* 4 computer opponents for single-player gaming.

* Play online games in the plane or on the subway! Your moves will be sent the next time you've got an internet connection.

* All the tools demanding crossword gamers love, including tile shuffle, dictionary search, and a 2-letter word list.

__________________________________________
REVIEWS:

"Every one of us needs to snatch this up." - TheAppEra.com

"I will go out and say that this is even better than the traditional" - AppAdvice.com

"...fans of Scrabble will be immediately at home as soon as they start up this great app." - PlatformNation.com

"...for fans of Scrabble or word-games this is definitely a great implementation of a classic game." - AppSpy.com, 4/5

"Seriously, playing Scrabble now seems ghetto." - iTunes review
What's New in Version 2.4.0
Version 2.4 brings lots of improvements and fixes!

* New stats: double-doubles and triple-triples
* New record: most words formed in one play
* See your score as you drop tiles
* See player names in-game
* Sound enabled for push notifications
* Dictionary updates
* Smoother scrolling of game board for older devices
* Fix: Prevent AI from getting stuck passing forever
* Various other improvements

iPhone Screenshots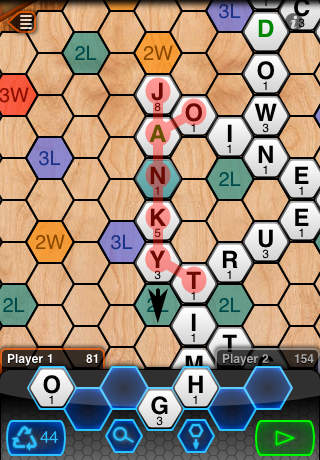 Customer Reviews
far better design and engineering than WWF
To be fair, WordsWithFriends was always a Scrabble knockoff, but when newtoy was acquired by Zynga (which is actually a different company from Zango, another spyware manufacturer), all of the usability features were tossed out the window to feed zynga's spyware facebook features, the game began crashing and "repairing" itself after every move due to lack of quality control (after one update!) and the look and feel was changed across the board to transmit one simple message: "You are Zynga's b*tch."

When WWF users complained, WWF's app store rating dropped from 5 stars to a 3 star average, and their sales rank plummeted like a hunk of lead. That's when Zynga turned on their in-game "rate me now!" nags, at which point all the real reviews were buried under the quasi-literate utterances of cowed 6 year olds ("omg awesum!") and the defective product shot back up the charts.

Anyway, Hexalex features a more original gameplay concept, is built solidly enough to work as intended, doesn't exploit its user base with nags and spyware, and sports nice touches like "Achievements", statistics, leaderboards, and other features lacking in the marketing-driven Words With Friends Zyngabomination.
Fantastic game!
I absolutely love this game! It is a great variation on your standard crossword tile games. The hexagonal tiles and board allow for word formations in 3 directions. The features included in this game are top notch. I highly recommend this game, and if anyone would like to play, please look me up! I'd love to find others to play the game with. This game is worth every penny you pay for it, and then some!

A suggestion for something to add to the already great features included: a teacher function, where, after you make a play, the computer can show you where you could have made your highest scoring move.

Perhaps also an ad-supported free version that doesn't include as many features (for example: 2 player only, standard rules only, fewer stats viewable) may help bring additional players to the game.
Interesting and enjoyable game!
I find Hexalex to be an entertaining game similar to Scrabble with enough differences to make my brain work. I know that English does now have nearly 1 million words, and it seems that some of the more obscure ones are in the game's list of acceptable words. I have a reasonably extensive vocabulary, coming from a family where reading, Scrabble and crosswords were main activities. I don't mind the obscure words as much as I mind there not being anyway in the game to look them up. Are they nouns, verbs, adverbs, etc.? It's difficult to play off them when you don't know. Aside from that it's fun and an exercise for the brain, so if you're a word nerd, get this game.
View In iTunes
$1.99

Category:

Games

Updated:

Apr 02, 2011

Version:

2.4.0

Size:

10.7 MB

Language:

English

Seller:

Nathan Gray
Compatibility: Requires iOS 3.0 or later. Compatible with iPhone, iPad, and iPod touch.