Pure Sleep Premium* | AmbiScience™ • Binaural & Isochronic Ambient Sleep Utility
By Tesla Audio Sciences
This app is only available on the App Store for iOS devices.
Description
*** The Best Selling Line of Brainwave Apps - Since 2008 - Enjoy. ***

>> THE ONLY APPS WHICH ALLOW THE USER TO SLEEP, USING OUR ENTRAINMENT, WITH 2.1 SPEAKERS OR HEADPHONES. <<

PRAISED BY APPLE, MACWORLD.com, TUAW.com, iPHONE LIFE, INFORMATION WEEK AND THE NEW YORK TIMES OVER 600,000 USERS WORLDWIDE.
** Type 'Tesla Audio' in search today **

"The quality of the tracks are far superior than any other app." - eENL
Make sure to check out our 'Pain & Depression Relief' app today!

Let AmbiScience™ take you on a sonic journey with a combination of ambient electronica and a variety several effective programs that attune your brain to desired states of mind using the BEST entrainment frequencies. Tune your mind to help you sleep or relax.

HOW DOES IT WORK?
Once you choose a particular frequency, such as the 'sleep' frequency, this state is then more quickly achieved than normal. This is done by a mixing of tones sent to each ear - the difference between the two tones, that your brain creates, is called binaural entrainment. We also include isochronic entrainment, which is a different form, using a single pulsating tone in each ear - people who don't respond to binaurals, often respond to isochronics.

THE ONLY APP
AmbiScience is the only app, which includes binaurals and isochronics in ONE. Plus, FULL LENGTH MUSIC tracks - not just sounds.

PROGRESSIVE ENTRAINMENT
This app also offers Progressive entrainment, which is a gradual inducement to your chosen entrainment.

FEATURES:
- 30 Pro Music Tracks (over 40 mins.)
• 13 Nature Loops
• 3 Noise Tracks
• 2 Sound Tracks
• 7 Entrainment Tracks:
-- 3 Isochronic Entrainment Tracks
-- 3 Binaural Entrainment Tracks
-- 12min Progressive Entrainment Track
• Create your own CUSTOM programs!
• MULTITASKING audio available!
• PERFECT SEAMLESS Loops and Tracks!
• Full-Featured presets / Multi-Track Save
• Countdown timer w/fader and end chime
• Alarm with Snooze and Auto quit
• Adjustable independent volumes
• HIGHEST QUALITY audio! Easy to use!

30 BEAUTIFUL AMBIENT MUSIC TRACKS:
• Tesla at Twilight
• Didgeridoo Dreams
• Angel Ascension
• An Evening Rain
• High Plains Japan
• Joseph's Dream
• Desert Sunrise
• The Power Plant
• An Android's Dream
• A Peaceful Place
• The Highlander Chimes
• Tesla's Study
• A Southern Sunrise
• Drifting Towards a Dream
• The Shore of Raw
• An Asian Rain
• The Drums of Hypnos
• Drown them Out
• The Siren of Raw
• An Ocean Dream
• From Distant Hills
• The Sleeping Gypsy
• Do Robots Dream?
• The Pulsating Stream
• When the Winds Blow
• In My Dreams
• Legacy
• Into the Void Again
• Dreaming of You
• The Keeper of Time

13 NATURE LOOPS (in PRESETS):
• Rain
• Waves
• Stream
• Birds
• Chimes
• Night
• Waterfall
• Thunder
• Wind
• White, Brown and Pink Noise
• OceanSurf 3D (amazing 3D sound!)

PLUS! 2 SOUND TRACKS:
• Just the Rain
• Just the Waves

BRAINWAVE/ENTRAINMENT PROGRAMS:
(headphones/earbuds or 2.1 speakers are RECOMMENDED - the iPhone/iPod speaker is not able to produce some of the frequencies below)

- 7 Entrainment Programs:
• 2 PowerNap: Binaural and Isochronic
• 2 Sleep: Binaural and Isochronic
• 2 Deep Sleep: Binaural and Isochronic
• 12min. Progressive Isochronic Sleep prog

• Isochronic - headphones not required.
• Binaural - requires headphones.

AUTO-LOCK must be set to 'Never' for alarm to function, and be sure to enable
AIRPLANE MODE to avoid interruptions.

NOTE: If you experience performance issues (missing tracks, no sound etc), you may have gotten an 'incomplete' download and should re-install the app.
NOTE: The iPhone/iPod speaker not capable of producing most of the entrainment effects listed - best to use earbuds/headphones or external 2.1 or higher speakers.

Go to teslasoftware.com for a VIDEO tutorial. Type 'TESLA AUDIO' in search today. Follow us at http://twitter.com/TeslaSoft
What's New in Version 1.4
Added 3 *New* Tracks
Added *New* Nature Sounds via Presets
Allows playing of iPod Music Tracks in app
Share w/friends feature added
Location Services added for Alarm accuracy and improved functionality

Try our *NEW* Relaxophilia App today! Great *NEW* music by Christor Wretfors Enjoy!

iPhone Screenshots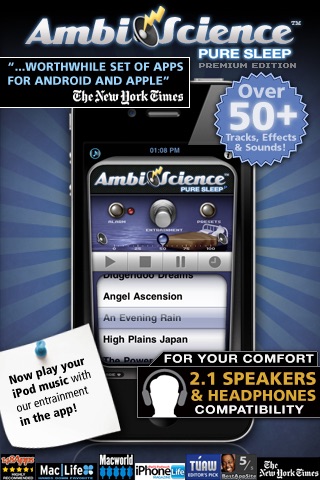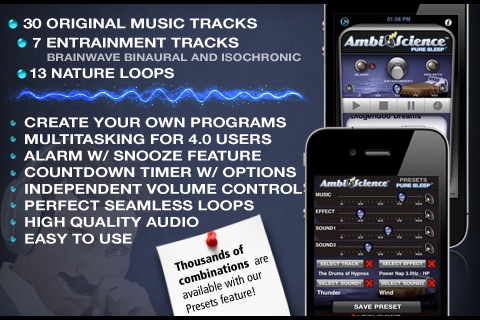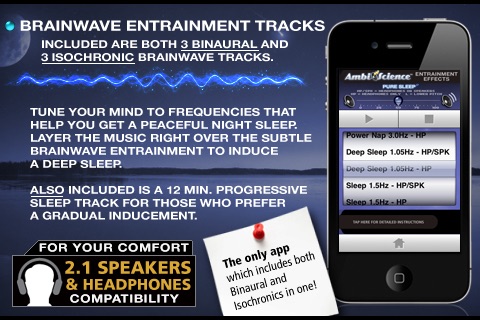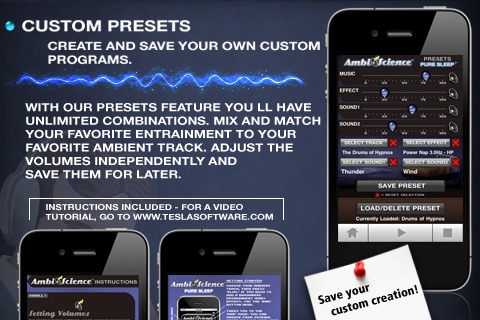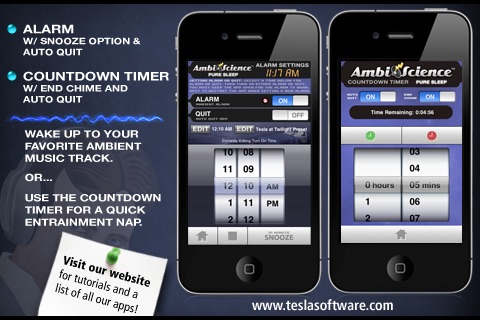 Customer Reviews
Best sleep app I've ever used!
I just recently got the new iPhone 6 and it works perfectly with it. As others have said, the save preset option would be a very nice thing to fix in the near future. Aside from that, I love this app! I live with 5 other people, I'm a pretty light sleeper, and I work very early in the mornings. I generally have to go to sleep around 8 to get a good nights rest and take a sleeping aid of some sort to kick start the process and hope to drown out the normal house noises. The first night I tried this, I fell asleep within the first 10 minutes. I only know this because, I received a text 10 minutes after I put my earbuds in and set my phone down. I woke up confused wondering what time it was and why someone was texting me so late. When I woke up the next day, I was refreshed, energized, and ready to take on the world. It's been a week since I've first started using this app and I can already tell you that it's hard for me to sleep without it. Best sleep and dreams I've had in a while. Good job, creators. Now, if you could update the app to work with iso 11. Can't use it anymore and this is my go to for drowning out the house noise along with my the tv on which my husband uses to fall asleep.
Recommended by my doctor
My pain management Dr. actually gave me MP3s with binaurals on them just like these and told me 1) it doesn't work instantly because several sessions are required in order to properly "train" your brain for it to work, and 2) for best effect DO wear ear buds since the Freqs in each ear have to be different! (I've worn them for months & the idea a grown person would actually choke on the cords is just plain stupid).

This app is just as good as what my Dr gave me.

In summary-- it's science people, learn to google! And invest the required time to correctly train your brain or don't expect it to work right. It takes consistency but cured my sleep problem. Not a fake review, I'm a real person, ask me personally: GoldenSockPuppet at gmail.

People who tried it once or twice and decided it doesn't work obviously are unaware it can take Several consistent uses for your brain to get used to it and relax. This should be explained by the developers better if they want fewer dissatisfied customers. I only knew to do that because my doc explained it.
Best sleep ever!
I have owned this app for over a year and use it every single night. My wife loves it, too! We have about four different presets that we use along with binaural beats and we both are waking up more rested and energized even when we sleep shorter periods. I even bought a set of 3.1 speakers to hook it up by the bed every night. My son is getting treatments at a hospital several nights a month, and Ambiscience Pure Sleep with headphones is a must-have for sleeping on a poor sleeper sofa with all the noises in a hospital. With the awesome sleep I get, this is by far he best couple of bucks I have ever spent! I would pay $20 forint now that I have seen ow much it helps!
View in iTunes
$1.99

Category:

Medical

Updated:

May 10, 2011

Version:

1.4

Size:

190 MB

Language:

English

Seller:

Tesla Software, LLC
Compatibility: Requires iOS 3.0 or later. Compatible with iPhone, iPad, and iPod touch.